The 12 Best Leather Totes To Buy Now & Use Forever
We only recommend products we love and that we think you will, too. We may receive a portion of sales from products purchased from this article, which was written by our Commerce team.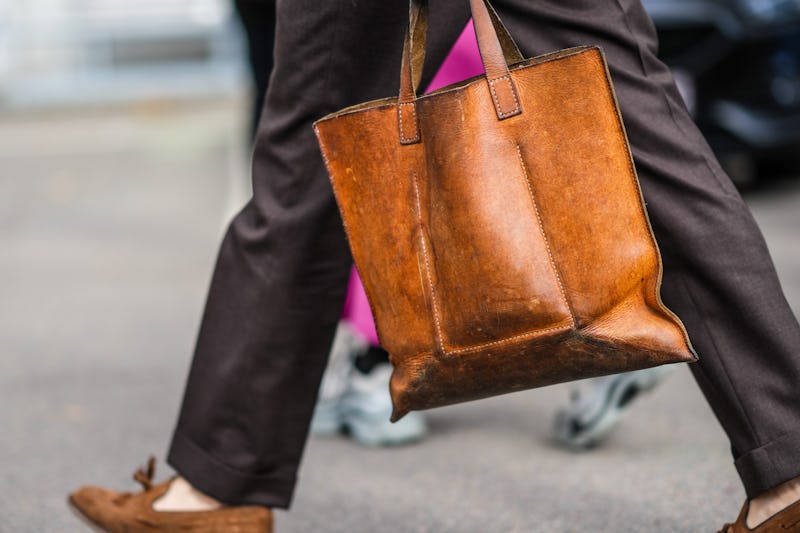 Edward Berthelot/Getty Images Entertainment/Getty Images
When you need a bag that can go the distance, the best leather totes are good-looking carryalls with enough capacity for the daily grind; and, thanks to their long-lasting construction, you'll reach for them for years to come. Whether you're in the market for a trendy tote bag, a spacious commuter bag, or an investment-worthy day-to-night bag, here's what to consider to get the most bag for your buck.
What To Look For When Shopping For Leather Totes
Material
When shopping for leather products, you're likely to come across two terms: Full-grain and top-grain. Full-grain leather is the most luxurious option, as it uses the entire hide; top-grain leather is a quality but less expensive alternative, as the top layer of the hide is sanded down. That said, some brands — even higher-end ones — don't specify the type of leather they use, and instead simply list the material as "genuine leather." Since genuine leather totes can be cost-prohibitive (and some people prefer not to wear real leather), you'll find a few high-quality, budget-friendly faux-leather bags on this list, as well.
Regardless of which type of leather you choose, think about whether you'd like your tote bag to have a lining. A lining will protect your leather bag from capless pens and rogue lipstick marks, but going without allows for the natural leather to show and makes for a less structured bag.
Size & Shape
In terms of structure and shape, keep in mind both what and how much you plan to carry, as well as your preferred carrying style. A bigger bag has more room for shoes, a change of clothes, and the like, but the extra size adds bulk. Not a problem if you're looking for a weekender bag for trips, but less ideal for your daily tote bag.
On that note, consider whether you'd like a bag with one roomy main compartment — also ideal for an overnight bag — or, if you don't want a bag that can hold the kitchen sink, look for one with a divided interior that keeps daily essentials organized and within easy to reach. Also, some bags have a full-zip or snap closure for extra security, while others are open for easy access to your things. Here as well, the option you choose is totally dependent upon your personal preference.
The handle drop is worth considering, too, to make sure it hangs at the length that's most comfortable to you, whether that's snugly under your arm, further down your torso, or one that can be worn as a close-fitting crossbody bag. Some options also have top handles for more versatility.
Lifestyle
Of course, none of the above details matter if the bag isn't built for your life. A leather tote for work is even more practical when you add a padded laptop compartment or USB port that keeps you charged. Frequent travelers might appreciate travel bags with trolley sleeves or a small shoe compartment. Need a tote you can wear for both errands and after-work cocktails? Consider this your permission slip to splash out on a designer bag you'll use constantly.
Whatever your daily essentials might be, the best leather totes can handle the load.