The 10 Best Oversized White Button-Downs
We only recommend products we love and that we think you will, too. We may receive a portion of sales from products purchased from this article, which was written by our Commerce team.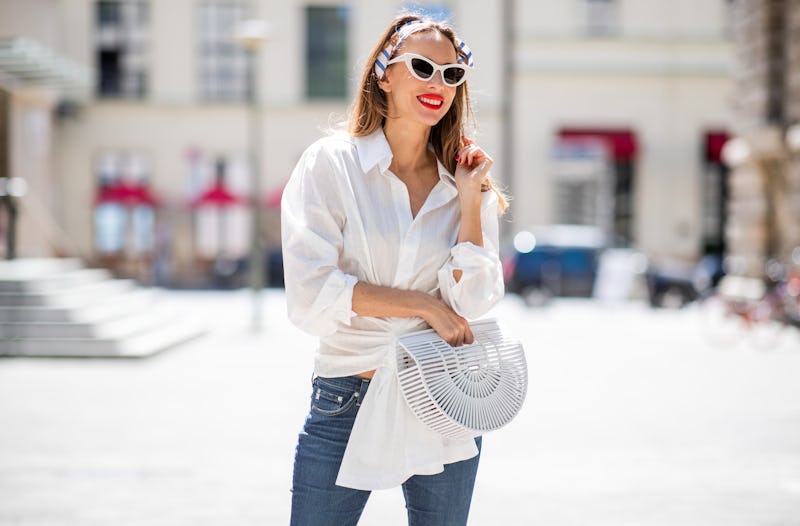 Christian Vierig/Getty Images Entertainment/Getty Images
If you yearn for a backyard Hamptons soirée á la Ina Garten or dream of Diane Keaton's beachside home in Something's Gotta Give, then you're probably into Tik Tok's latest obsession: the coastal grandma aesthetic. This trend consists of chilled white wine or iced tea, chic finger foods, woven shopping baskets, and, most importantly — sartorially speaking at least — an oversized white button-down shirt. Apart from being timeless and versatile, the best oversized white button-downs have a relaxed, effortless fit that can be worn all year round — and some of the most stylish ones can be found on Amazon.
What To Look For When Shopping For The Best Oversized White Button-Downs
Oversized white button-down shirts come in an array of styles and fabrics suitable for any occasion and season. Lightweight, breathable linen shirts can be thrown over a bathing suit and worn as chic coverup; a short-sleeve cotton shirt is an easy way to dress up a pair of jean shorts in the summer or classic straight-leg jeans in the winter; and a warm, cream-colored corduroy shacket is the perfect layering piece for the cooler months.
What they all have in common is their roomy fit, as opposed to the close, tailored fit you'd typically find in a dress shirt. Of course, "oversized" means different things to different people; but when you're shopping, you can look for terms like "generous" and "loose fit" in the product description to ensure it has a relaxed cut. Since these shirts inherently run large, you can pick up your usual size. If you're after an extra-roomy fit, get a size (or two, or three) larger.
How To Care For Oversized White Button-Down Shirts
When it comes to caring for this closet staple, it's important to make sure you're washing it correctly to maintain the fabric's integrity and prevent shrinkage. Some shirts can be washed on the delicate cycle and air dried, if possible; if you must use the dryer, put it on low heat. Others, like those made of viscose, generally need to be hand washed and air dried. If you have any doubts, washing your shirt in cold water and air drying will typically be your best bet; and to maintain that crisp white color, make sure you only throw it in the wash with other whites. Because I love making things as easy as possible, I've included care instructions for each shirt listed ahead.
Whether you're looking for a billowy linen blouse or a crisp, clean Oxford, I've rounded up the best oversized white button-downs to take you from beachside strolls to sunset cocktails (and, okay, the office).