10 '90s-Style Plaid Skirt Sets To Channel Your Inner Cher Horowitz
There's nothing Clueless about this look.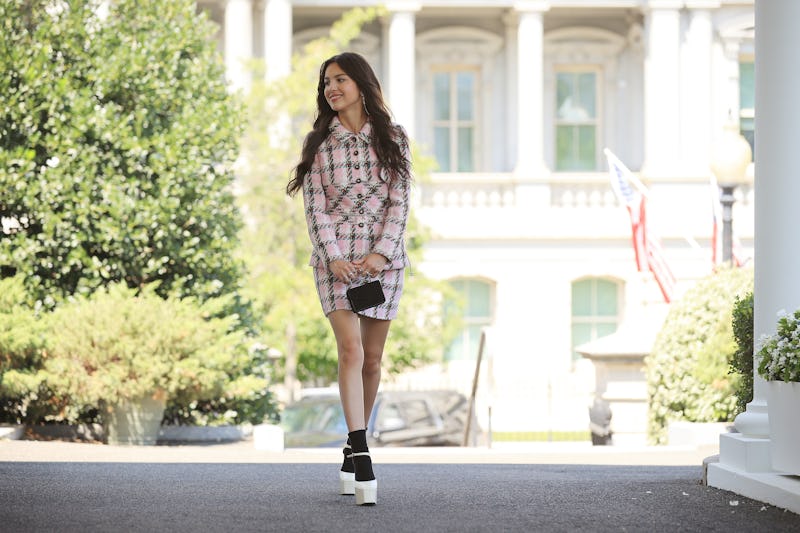 Chip Somodevilla/Getty Images News/Getty Images
I can trace my personal obsession with plaid skirt sets back to my first viewing of Clueless, sometime in the late '90s. The cult classic spawned countless trends that would go on to define the era, from fur-lined cardigans to slinky slip dresses (which were, in fact, dresses, according to Calvin Klein, anyway). But it's the plaid skirt set — featured prominently on the movie poster — that instantly cues up all sorts of nostalgia for the days of beepers, trips to Blockbuster, and beverages like Snapple and Fruitopia.
For those unfamiliar with the brilliance that is Clueless, Cher Horowitz (Alicia Silverstone) and Dionne Davenport (Stacey Dash) were the ultimate '90s queen bees. They ruled the halls of Beverly Hills High with an iron wardrobe of bright colors, vibrant patterns, and playful silhouettes. Their coordinating plaid skirt sets, in particular, made fashion history — so much so that 25 years later, Olivia Rodrigo's 2021 White House appearance conjured up comparisons to the iconic ensembles. The "good 4 u" singer arrived in the nation's capital last July wearing a pink vintage Chanel skirt suit.
From Cher to Olivia, a head-to-toe plaid look strikes just the right balance between timeless and trendy. It's the perfect 'fit for date night, whether you're heading to a fancy dinner or a big concert. Ready to channel your own inner '90s starlet? You've come to the right place: Ahead, check out 10 different plaid skirt sets that you can start shopping right now. Your closet — even if it's not automated by some fancy software à la Cher in the movie — will thank you.