The 10 Best Sandals For Back Pain, According To An Orthopedic Surgeon
These are the features to look for to prevent overworked muscles and unnecessary pressure.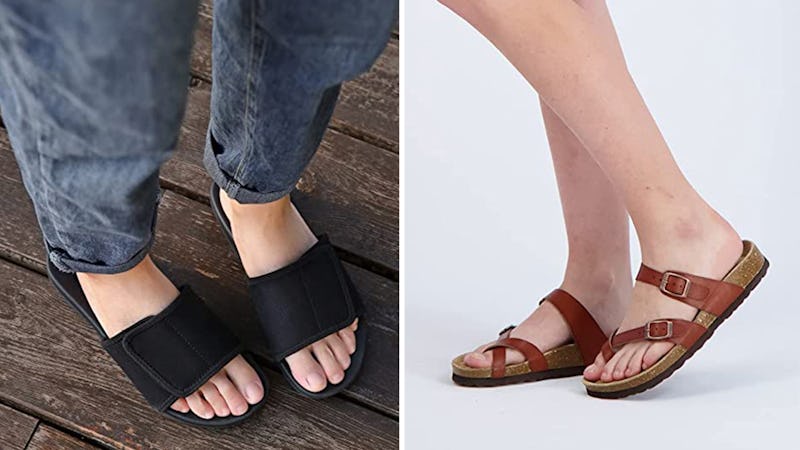 Amazon
We may receive a portion of sales if you purchase a product through a link in this article.
Contrary to popular belief, open shoes don't have to mean significantly less support. The best sandals for back pain have all of the necessary features to prevent overworked muscles and unnecessary pressure. In order to find those features, I spoke with an orthopedic surgeon to inform recommendations.
The Expert
Dr. Gbolahan Okubadejo, M.D., is a board-certified New York City-based spinal and orthopedic surgeon who leads The Institute for Comprehensive Spine Care. He attained a bachelor's degree in biology from Brown University and earned his medical degree at Johns Hopkins.
What To Look For In Sandals When You Have Back Pain
Insole: According to Dr. Okubadejo, run-of-the-mill flip flops "don't provide enough support or padding" in the insole, which is the material inside of the shoe that makes contact with the foot. If it's too flat, it "will not absorb impact when you walk" and not "have the proper arch support to [...] ensure you are walking with your natural gait." That said, too much padding can "change the way you naturally walk, which may lead to back pain." Look for a supportive insole that's contoured and well-cushioned while remaining structured to the shape of the foot.
Sole: The sole, or the bottom of the shoe, is "not as critical as the insole," Dr. Okubadejo wrote to Bustle — but as with any shoe, it should be thick and textured enough to prevent slipping. Some supportive sandals also have special materials in the sole that further absorb shock.
Heel: While high heels are notoriously tough on your back, you don't want your shoe to be totally flat, either. "Shoes with a slight heel are best," Dr. Okubadejo wrote. "A heel that's the same height as or lower than the toe of the shoe affects the way your leg and pelvis turn. This will affect your spine and lower back negatively."
Upper: Finally, there's the upper — the fabric that covers the top of the foot — and in the case of sandals, that typically refers to the straps. Look for adjustable or stretchy straps in order to ensure the most secure fit. "The fit has to match your foot size and width," Dr. Okubadejo wrote. "If sandals are too rigid, they inhibit the natural movement of your feet," but straps that are too loose "will prevent the foot from gripping the shoe properly."
Using these criteria and a few of Dr. Okubadejo's direct recommendations — the first three picks — these are the best sandals to prevent back pain.
Shop The Best Sandals For Back Pain
In a hurry? These are the expert picks for the best sandals if you have back pain:
1. The Overall Best Supportive Sandals
This is Dr. Okubadejo's first recommendation for a supportive, pain-reducing sandal. It's also a fan favorite with over 5,000 ratings, and one of my personal picks from my own closet. In terms of construction, the Vionic Rest Kirra sandal has all of the recommended features for long-term comfort, including an orthotic arch-support footbed, a raised heel, a secure adjustable strap, and a thick, nonslip sole. Unlike so many other orthopedic sandals, though, this pair is sleek and stylish with its triangular leather or suede upper, and even options with perforations for a lace-like appearance.
Available colors: 14
Available sizes: 5 — 11 (including select wide options)
One reviewer wrote: "I've had chronic back pain for 5 years. No doctor could figure out what was wrong with me. I was looking for cute walking shoes for an upcoming trip because my back pain flares up when I'm walking for 20 min. I came across the Vionic brand and that's how I found out about orthopedic shoes. I tried these for a day at work and not only did my backpain not flare up, my backpain decreased substantially!"
2. A Slightly Cheaper Pair That's Still Stylish
These Dr. Okubadejo-recommended Rockport Ridge sling sandals have an anatomically molded footbed, a thick sole that absorbs shock and improves traction, a microfiber interior lining, and an adjustable ankle sling. On top of all that, they're still surprisingly stylish: The genuine leather upper has detailing and perforations that look so good, some reviewers have even worn them to weddings. Needless to say, they're a great all-around value.
Available colors: 13
Available sizes: 6 — 11 (including select wide options)
One reviewer wrote: "These are honestly the best pair of shoes I own. I'm sorry the season is changing and I won't be able to wear them again until the spring. I purchased these shoes because I have a true wide foot with no arch and pronation. Also, My back and hip hurts if I stand too long. With these shoes I can walk around the city and back with limited pain."
3. The Most Supportive Slides
These MEGNYA slides are Dr. Okubadejo's third and last recommendation, and it's easy to see why: Despite the fact that they slide on with ease, they have an adjustable upper for a custom fit, a raised heel with a deep heel cup to support your body at its foundation, and an orthopedic insole that's a favorite among those with plantar fasciitis or lumbar pain. This pair also features a thicker, flexible, rubber outsole that prevents slipping inside and outside of the house.
Available colors: 5
Available sizes: 5 — 11
One reviewer wrote: "I have a complication on my total knee replacement surgery in 2008 and since that time, I was having problem with standing up, back pain, and knee pain (on both knees). As soon as I received the slippers, I have worn it and it helps a lot on my knees and back pain. It is worth the money!"
4. The Affordable Cork Sandals With 50,000+ Reviews
There are several reasons why these CUSHIONAIRE Luna sandals are a top seller with over 65,000 reviews and a 4.5-star overall rating, and most of them have to do with their supportive, customized fit: For one, the more you wear them, the more the cork footbed molds to the shape of your feet. For another, the vegan upper straps have a soft lining and are adjustable in two separate places. Finally, they come in a wide range of sizes, including half and wide options. Plus, many color options are just $25.
Available colors: 21
Available sizes: 5 — 13 (including select wide options)
One reviewer wrote: "I bought these shoes for a college summer program and continued to use them throughout the summer. I hit 10,000 steps almost every day during the summer, so these were used a LOT. I have extremely painful back and joint issues, most likely from some sort of autoimmune disease, so having good support is extremely important. These didn't hurt at all and the support was really good."
5. A Great Supportive Flip-Flop
At first glance, these Vionic sandals look a lot like your basic flip-flops — but in terms of comfort and support, there's nothing basic about them. For one, they have an EVA molded footbed that's podiatrist-designed to hug your arches for all-day support. For another, the thong strap is soft, so you don't have to worry about gripping with your toes or getting blisters. Also unlike your average flip-flops, the heel is raised and cupped to support your natural gait.
Available colors: 16
Available sizes: 5 — 12
One reviewer wrote: "I love these sandals. They match anything with blue and well... support my feet like no flip-flop ever will. If you are tired of your ankles, knees, hips and back hurting, try a pair. Yes, they are an investment, but not having to go to the Doctor or being in pain is worth EVERY cent."
6. The Best Sports Sandals
For walking, hiking, touring, and more, there are these Skechers On-The-Go sports sandals. They've been called "seriously the most comfortable sandals" and have a durability level that's "off the charts," according to reviewers. The all-over straps hug your foot with soft fabric, and the ankle is fully adjustable with Velcro. Last but definitely not least, the high-rebound insole has responsive cushioning for shock absorption, support, and comfort.
Available colors: 9
Available sizes: 5 — 12 (including select wide options)
One reviewer wrote: "I had severe leg pain in my right leg and an aggravated arthritic knee from my expensive "orthopedic sandals". All along I thought it was something triggered by my back, sciatica. A day in the Skerchers — no more leg pain. My podiatrist technician pointed out they have a slight arch, cushioning footbed, and a slight heel — all positives."
7. The Best Wedge Sandals
If you're looking for some added height, wedges are often more stable and supportive than traditional heels, because the front of the shoe is also raised. Even though these Skechers sandals offer 2.5 inches of lift, they still help to minimize back pain thanks to the contoured memory foam insoles. Their stretchy straps offer just enough give, so the sandals should hug your feet without feeling too tight.
Available colors: 2
Available sizes: 5 — 12 (including wide options)
One reviewer wrote: "I have nerve damage in one leg and severe lower back pain so I have not worn heels in years. I bought these for a wedding and I was pleasantly surprised to see that these were so comfortable that I was able to wear for several hours without any discomfort!! Would recommend to anyone without hesitation. No problems whatsoever. I was even able to dance in them with no issues!"
8. The Best Waterproof Sandals
Birkenstocks are known for their quality, support, and comfort levels — but these toe-post flip-flops combine all of that with waterproof convenience. Reviewers note that the synthetic material is a lot like that of Crocs, so it's quick-drying, washable, and can handle any amount of moisture. In addition to a supportive, contoured insole and a durable outsole, this pair also has an adjustable strap with a pin buckle for a customized fit.
Available colors: 2
Available sizes: 36 — 38
One reviewer wrote: "I have poor arch supports and I needed some form of waterproof sandal to wear while by the beach or working in the yard. They are safe as well with the grip compared to other rubber tongs/sandals. I can walk on tile and have wet feet with these Birkenstocks and I will not slip and fall. For me safety is importance. All I wear now is Birkenstocks. My feet feel real good in them and I recommend them to anyone especially people with poor arch support and back problems. I know they help me."
9. Best Budget Flip-Flops
If you can't sink $75 into a pair of flip-flops — even if you really want to — these orthotic sandals are an affordable alternative well worth considering. Their EVA midsoles are biomechanically contoured to hug your foot with extra stability and elevation through the heel in addition to serious arch support. Waterproof rubber soles keep you upright, while the grosgrain woven toe strap promises to feel soft right out of the box. They're classic, casual, and unassuming: perfect to throw on and go.
Available colors: 8
Available sizes: 6 — 11
One reviewer wrote: "I have a lot of issues in my back from a car accident. I can't wear flats can't wear heels can barely stand for more than ten minutes without pain. I bought these for a trip to Hawaii. I wanted something I could put on with a sundress or shorts something comfy but cute and these were that. I wear them as slippers around the house and to the grocery store. I think I should buy a backup pair."
10. An Affordable Sandal That Looks High-End
These Athlefit sandals look similar to the expert's top pick, but they're a more accessible option for people on a budget. The orthopedic sandals' contoured footbeds include good arch support and a deep heel cup, with massage bubbles and a soft suede finish. Their adjustable ankle straps keep your feet secure — with a smidge of elastic so they have just enough stretch. Add to all that a soft fabric toe post and chic faux leather uppers for a sandal that pretty much does it all.
Available colors: 7
Available sizes: 5.5 — 11
One reviewer wrote: "Great value. These sandals are as comfortable as my Vionics and the only difference is the man made material vs. leather. I'll be buying them in more colors."
Expert:
Dr. Gbolahan Okubadejo, M.D., is a board-certified New York City-based spinal and orthopedic surgeon who leads The Institute for Comprehensive Spine Care.
This article was originally published on