The 11 Best Shoes For Ankle Support, According To A Podiatrist
Your ankles will thank you.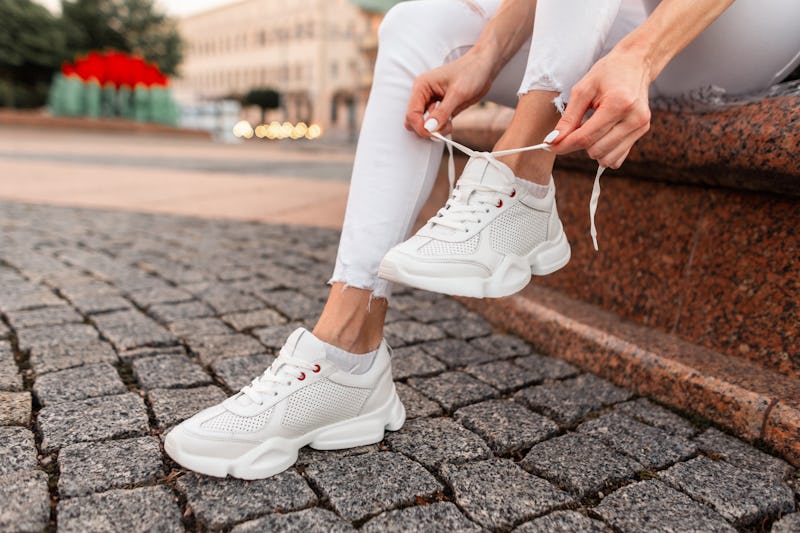 Shutterstock
We may receive a portion of sales if you purchase a product through a link in this article.
Footwear that provides adequate support to your ankles is crucial, whether you're recovering from an injury or just planning to spend a lot of time on your feet. The best shoes for ankle support tend to be lace-up styles, but you can also find other options that help minimize strain with the help of deep heel cups, cushioning, and arch support. I talked to a board-certified podiatrist to understand what to look for — and what to avoid.
About The Expert
Gregory Alvarez, DPM, is a board-certified podiatrist at the Ankle & Foot Centers of America in Fayetteville, Georgia. A Fellow of the American College of Foot and Ankle Surgeons (FACFAS), he received his medical training at the Ohio College of Podiatric Medicine and completed his residency at Atlanta Hospital in Atlanta, Georgia.
What To Consider When Shopping For The Best Shoes For Ankle Support
What To Avoid
Not surprisingly, shoes like high heels and flip flops aren't the best choice if you're looking for ankle support. "Due to their elevated heel heights, [high heels] can cause instability and put extra strain on your ankles," explains podiatrist Gregory Alvarez, DPM. When shopping for a pair of comfortable dress shoes, Dr. Alvarez advises that buyers "stick to lower-heeled options with arch supports."
"Similarly, sandals can also be problematic as they lack the cushioning and ankle support needed for long-term wear," Dr. Alvarez says. (The open-back design of a sandal doesn't provide the structure required to keep the ankle securely in place.) That said, if you need something for summer, look for a sandal with a deep heel cup — this will help create a shoe with more stability that keeps your foot secure each time it makes contact with the ground.
Support Features To Look For
As you might suspect, a shoe with a high collar (the part of the shoe that surrounds the ankle) is one of the main features to look out for, as this will help brace your ankles — but that's not the only factor. "When it comes to ankle support, the primary feature you should look for in a shoe is adequate cushioning," Dr. Alvarez explains. "The more cushioning a shoe has, the more shock absorbency your feet and ankles will experience when walking on hard surfaces." Wearing shoes without adequate cushioning, he warns, "can cause stress fractures in the feet due to repeated impact from walking on hard surfaces."
"Additionally, look for shoes with support features such as arch supports and deep heel cups — these can help provide additional stability and reduce the likelihood of developing common foot problems like plantar fasciitis." Plus, Alvarez notes, shoes with a sturdy frame and secure fit will go a long way.
Last but not least, the most comfortable and supportive shoes won't be overly tight or compressive, and ideally should be adjustable with laces to give you a snug but comfortable fit.
Ready to do some comfortable, strain-free walking? These are the best shoes for ankle support in a variety of sizes and styles.
Shop The Best Shoes For Ankle Support
In a hurry? These are the best shoes for ankle support:
Expert:
Gregory Alvarez, DPM, board-certified podiatrist at Ankle & Foot Centers of America in Fayetteville, Georgia