The Best Sulfur Soaps
We only recommend products we love and that we think you will, too. We may receive a portion of sales from products purchased from this article, which was written by our Commerce team.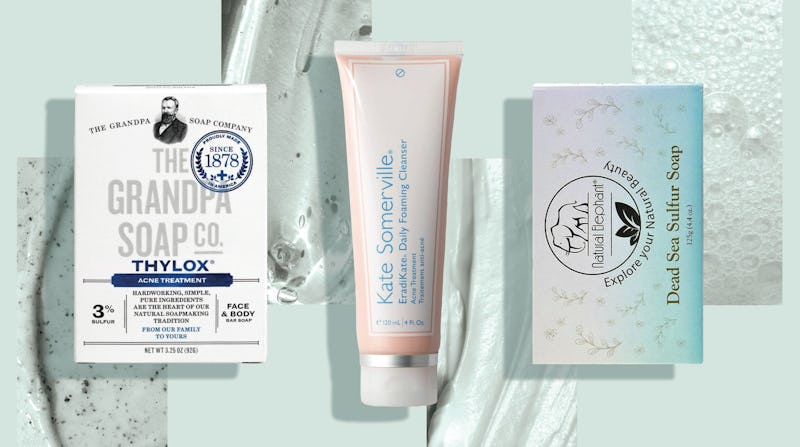 Bustle/Amazon
When it comes to treating acne without a prescription, sulfur is kind of an unsung hero. The over-the-counter ingredient is a natural element with antifungal and antibacterial properties that can stop acne-causing bacteria in its tracks, and it also has mild exfoliating benefits — something that can help prevent future (and even heal current) breakouts. Sulfur can be found in all different types of products, but for today's purposes, we're going to be focusing on sulfur soaps. Whether you prefer a traditional bar soap or a foaming cleanser, the best sulfur soaps are formulated with 3 to 10% of the active ingredient. If your skin is particularly oily or congested, you can look for a soap that pairs sulfur with salicylic acid to help deep-clean your pores, while those with dry or sensitive skin will want to look for additional moisturizing and soothing ingredients like glycerin, avocado oil, vitamin E, and aloe vera.
Sulfur tends to be gentler on sensitive skin than most other acne treatments. In fact, sulfur soaps and creams are sometimes recommended to help with other inflammatory skin conditions like rosacea and seborrheic dermatitis. If you have sensitive skin or you're using sulfur to treat one of these other inflammatory conditions, be sure to stick with a formula that only uses sulfur as the active ingredient, and avoid added ingredients like salicylic acid, benzoyl peroxide, alpha hydroxy acids, and retinol. You'll also want to start with a lower percentage of sulfur (between 3 and 5%) to ensure that your skin can tolerate it, as even gentler actives can sometimes cause dryness or flaking.
With all of those benefits, it's only fair to warn you about sulfur's one drawback: it smells. Described as a rotten egg smell, there's really no denying that it's less than ideal. However, some sulfur products use fragrance to mask the scent (unfortunately, you may need to skip those if you have sensitive skin, though). And because these soaps and cleansers get rinsed right off, the sulfur scent shouldn't linger for long.
Shop The Best Sulfur Soaps
In a hurry? Here are the best sulfur soaps:
About The Author:
Marissa DeSantis has worked as a beauty writer and editor for nearly 10 years. Her pieces can be found across print and digital publications like Bustle, Evening Standard, Teen Vogue, and InStyle.