Think Comfy Panties Can't Be Sexy? Bloomers Intimates' Cult-Fave Underwear Is Here To Prove You Wrong
Sexy and comfortable aren't mutually exclusive.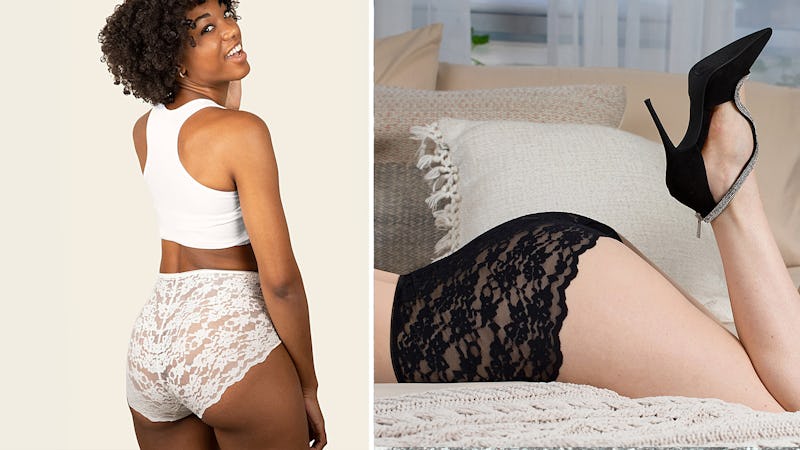 When it comes to intimate apparel, feeling sexy and being comfortable don't have to be mutually exclusive. Take Her Highness Lace Briefs from Bloomers Intimates, which is quickly becoming a cult-favorite among lingerie fans. The brand's signature panty combines style, support, and a decent size range for an undergarment that's as close to crowd-pleasing as they come. Find out more about the brand and why its classic briefs might be the next addition to your top drawer — and how you can save 15% on a pair of your own.
Why You'll Love Her Highness Lace Briefs
Full-coverage underwear often gets a bad rap — it's not always known for being the most stylish underwear choice — but Her Highness Lace Briefs are proof that this cut can be both beautiful and easy to wear.
Made of a soft, sheer floral lace crafted of 82% nylon and 18% spandex, these briefs have coveted four-way stretch for a smooth fit and gentle hold, without pinching or digging. The 100% cotton lining is comfortable and breathable, while the pretty, seamless scalloped edges lay flat against your skin to minimize panty lines underneath your clothes, if that's something you care about. There's a lot to love about the full-coverage, high-waisted style, too, from its light support under tailored clothes, to the classic pin-up aesthetic when they're worn alone.
The panties come in six colors to complement a range of skin tones and personal styles, from bold Ruby to minimalist Pearl. Whichever shade you choose, your order will come with a mesh laundry bag to ensure your panties stay in excellent condition, even after several washes. (For best results, the brand recommends either hand-washing or turning the underwear inside-out, placing them in the laundry bag, and washing on the gentle cycle.)
The Women Behind Bloomers Intimates
It's no surprise that Bloomers Intimates' lace briefs are designed with such thought and intention, as the company itself was co-founded in 2021 by mother-daughter duo Dr. Shaula Alexander Yemini and Noa Arias with the mission to create a modern "granny panty" — which, until then, had apparently been an oxymoron. As Dr. Yemini, a former tech industry exec, says on the brand website, "I thought to myself, 'I can't be the only woman in the world looking for comfortable, sexy granny panties."
In an interview with Brand Fifty, Arias, a former marketing executive at L'Oréal Paris and American Express, said that she initially laughed off her mother's idea before getting on board. "At first I was not interested in talking to my mother about her underwear," she quipped. But after failing to find chic full-coverage styles in stores, she said, "I saw there was an interest and a need" from women at all stages of life. "There's a category of woman, whether she's 30 [...] or my mother at 90-plus who really cares about being well-groomed," Yemini reiterated.
Yemini and Arias went through a period of trial and error with designers and fabrics before finding their perfect design, then took the risk of launching their start-up during the COVID-19 pandemic. They found that even in quarantine, there was a demand from women of all ages, body types, and lifestyles for beautiful underpinnings that made them look and feel good.
Beautiful Panties Designed To Suit Every Shape, Size, & Age
In keeping with the brand's ethos, Her Highness Lace Briefs are designed to satisfy women at every stage in their life, whether it's a new mom who wants a break from basic postpartum panties or older women who are over wearing thongs.
Rave reviews reflect the diversity of their fans. "These underwear are a game changer!" raved one customer. "Comfortable, flattering, and confidence boosting." Another wrote, "I am a mature woman and needed to find underwear that is comfortable on my body and does not leave panty lines. A bonus is having something that is also pretty and sexy. These undies meet all those criteria."
Bottom line, Bloomers Intimates aims to make everyone feel great in their undergarments. "I love these panties so much," wrote one satisfied shopper. "They have this retro bordello sexy vibe, don't dig in to my tummy, and make my butt look incredible. And they're super comfortable. Love this brand solving the issue of how to be comfortable and sexy!"
A note on sizing: Her Highness Lace Briefs are available in sizes XS to XXL. The brand includes a handy fit guide on its website, but if you're between sizes, it recommends sizing up.
This article was originally published on