7 Bright Ideas For Colorful Box Braids
Plus, how to care for them.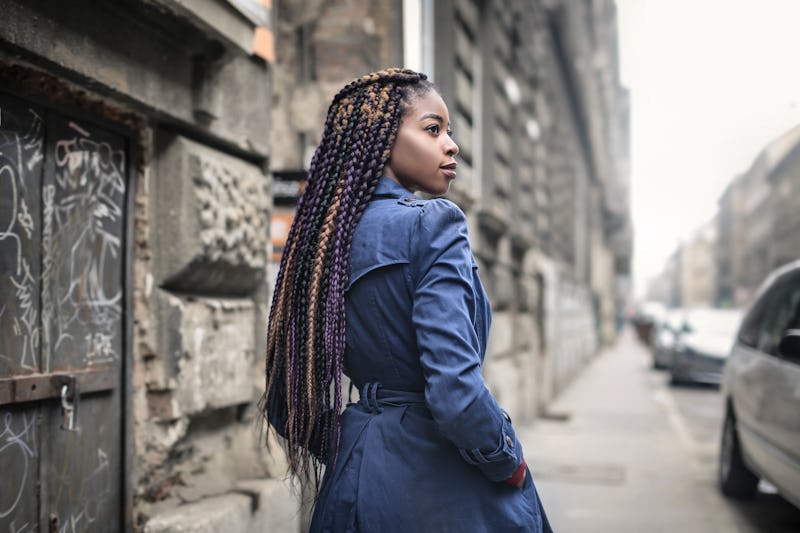 Shutterstock
When it comes to box braids, the styling options are truly endless. You can switch up the braiding pattern or even add accessories if you really want to get creative. Wearing box braids with color also makes for long, cascading plaits that are as stunning as they are long-lasting and protective.
Janet Jackson and Brandy's braided styles were iconic in the '90s. And with celebs like Storm Reid, Keke Palmer, and Zendaya rocking the go-to protective style in recent days, there's no shortage of inspiration. "Box braids are so popular right now," Monaè Everett, Texture Style Awards creator and hairstylist to stars like Brittany Howard and Laya DeLeon Hayes, tells Bustle. "Over the years, box braids have become more and more elaborate with both the patterns and colors. Gone are the days of only having dark brown or black braids."
Experimenting with fun shades like purple, blue, and green is an easy way to zhoosh up braids, adds Robin Groover, Curl Rehab ambassador and professional hairstylist. "[And] a great combination is copper and golden blonde with the dark roots." In terms of styles, Groover suggests playing with different braid sizes or even adding loose curls for a wispy look. "Box braid hair jewelry is popping, too," she says.
Using colorful braiding hair is a great, low-maintenance way to experiment with a new hue (box braids can last from six to ten weeks ), but caring for your hair is essential. According to Kayleena Johnson, braid stylist at BEAUTYBEEZ, "taking care of your scalp is crucial when you have box braids. Your scalp is more exposed than usual, so make sure you're keeping it moisturized and protected." (She recommends using a conditioning treatment like Naturally Drenched Rebalance Treatment or a silk turban to protect locks from frizz and bedhead.) Another tip for keeping your box braids looking healthy? "Make sure you dip the braids in hot water after styling has been completed," says Darling ambassador Xia Charles, a braiding expert who works with Beyoncé.
While box braids are totally DIY-able (just note that it might take several hours), visiting a professional hairstylist — or better yet, a braiding specialist — is always a good idea. Before you book an appointment, consider the many, many ways to rock box braids with color. As evidenced by the below list of fun examples, you'll have a hard time picking just one.