15 Athleisure Brands That Are Great Alternatives To Lululemon
You'll be aligned with these amazing options.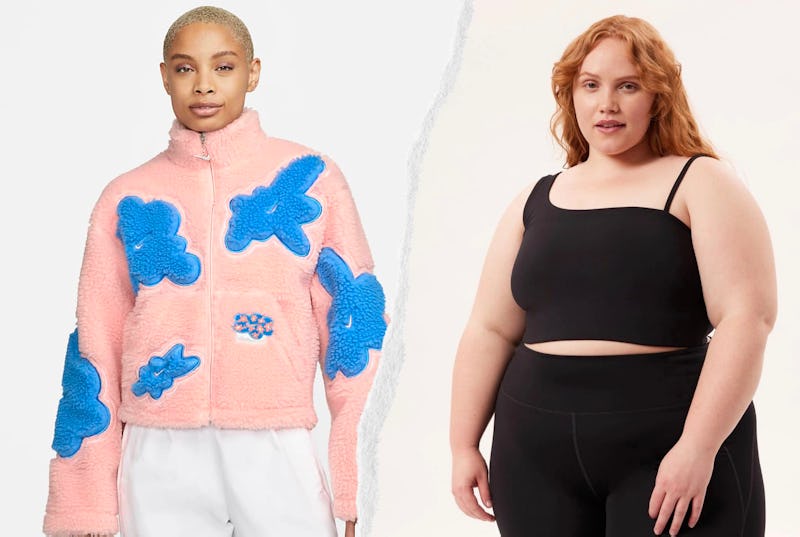 Nike / Girlfriend Collective
Athleisure owes a lot to Lululemon. Founded in Canada in 1998, it quickly became the untouchable activewear retail giant it is today. Referred to by some as the founders of the movement, the instantly recognizable brand led the way for many (many) others like it.
Today, the matching set is ubiquitous. Nearly every brand — activewear or not — has its own take on the trend. A push toward leggings-as-pants was only exacerbated by two plus years of the COVID-19 pandemic, with more demand than ever for cute, comfortable clothing.
Of course, Lululemon, and brands like it, are so much more than leggings-makers these days. They're treasure troves of clothing that span across the entire athleisure spectrum: from bras, to shorts, to tennis outfits, to parkas, and more.
And though Lululemon has its iconic, secret sale section, it's hardly the only place to go to get your hands on a really great pair of leggings anymore. So, while you might remain forever true to your Aligns and Wunder Unders, there's never been a better time to add a few other, equally amazing brands to your repertoire.
Ahead, 15 brands that are great alternatives to Lululemon.
We at Bustle only include products that have been independently selected by our editors. We may receive a portion of sales if you purchase a product through a link in this article.