BYOMA's Latest Launch Is Taking SPF To A Whole New Level
Plus, five other beauty launches to note this week.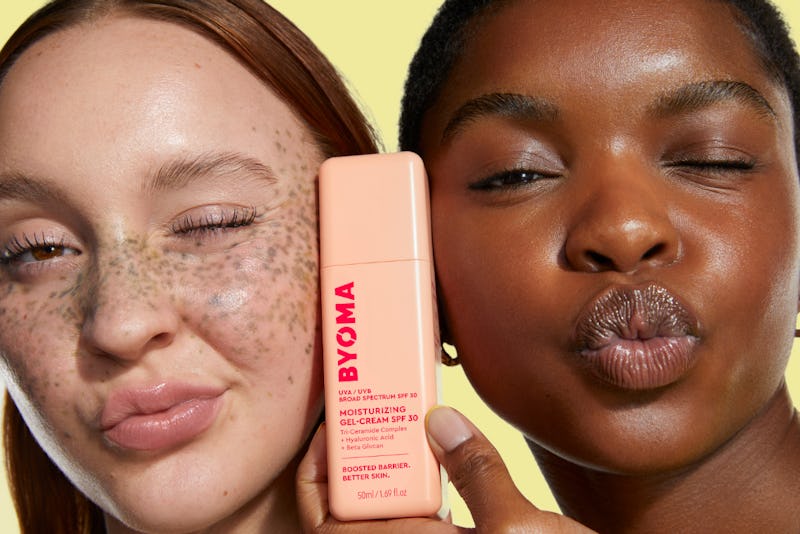 BYOMA
We may receive a portion of sales if you purchase a product through a link in this article.
By now we all know by now that wearing SPF is a year-round commitment, but it's quite difficult to find a SPF to commit to that doesn't feel heavy on your skin or leave an unflattering white cast. Luckily we've found a gem with skincare brand BYOMA's most anticipated launch, the Moisturising Gel-Cream SPF 30. Its deeply hydrating, non-greasy, and lightweight formula makes it a breeze to use daily in any skincare regimen.
Made with a chemical complex of three SPF agents (homosalate, octisalate, avobenzone), this SPF moisturiser provides photostable protection from UVA/UVB rays while shielding skin from the damaging effects of environmental aggressors. Also featured in the formulation is BYOMA's proprietary Tri-Ceramide Complex, which helps rebuild the skin barrier and restore natural moisture levels, too. Powerful humectants like hyaluronic acid and beta glucan deliver all-day hydration for a plumper and dewier look. The gel-cream texture blends effortlessly and works well under makeup.
This SPF moisturiser is vegan, cruelty-free, fragrance-free and dermatologist tested. It features a recyclable bottle with a reusable pump — with refills soon to come. For those with oilier skin types, using this SPF moisturiser on its own should be enough. But if you have drier skin and need the extra moisture boost then you can pair the SPF moisturiser with BYOMA'S Moisturising Rich Cream.
If you're looking to take your whole beauty routine up a notch then read on for five more exciting beauty launches below.
Bustle product reviews and recommendations are written and conducted by writers and editors with expertise in their fields. Testers often have specific experience with the situation or product at hand, and/or their review or recommendation is provided in consultation with experts. You can learn more about our standards here.We may receive a portion of sales if you purchase a product through a link in this article.