TikTok Is Offended By The Handbag Carrie Bradshaw Gave Her Assistant
This scene is so polarizing.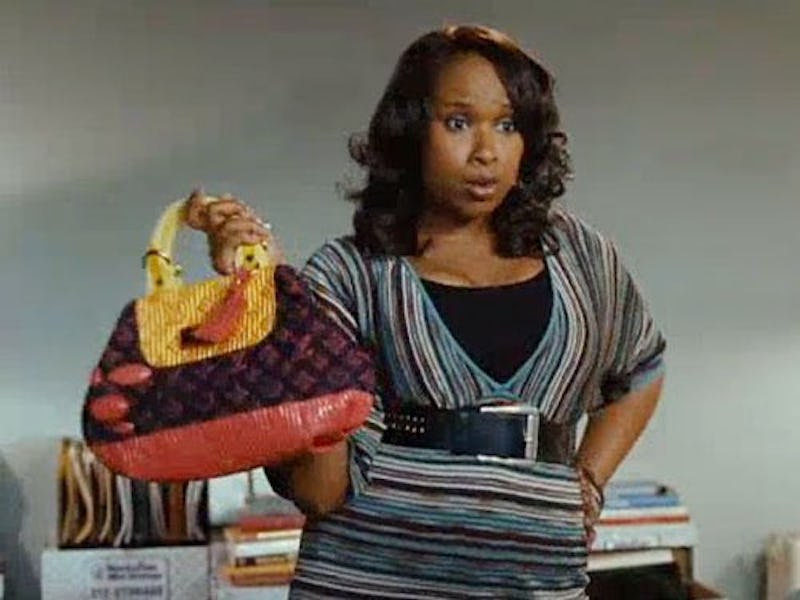 HBO Max
TikTok is asking the question we've all been wondering since 2008: What was with that bag Carrie Bradshaw gave her assistant?
Though she was a minor character in the first SATC movie, Louise from St. Louis (Jennifer Hudson) played an integral role in Carrie's life. Hired after Carrie's return from her would-be honeymoon in Mexico, Louise was tasked with managing Carrie's transition back into single life.
She unpacked Carrie's apartment, organized her closet, calendar, and inbox, set up her new phone, and single-handedly saved her failed engagement. Without her guiding hand, Carrie might never have reunited with Big, resulting in their romantic courthouse wedding and years-long marriage. And after all that, Carrie repaid her with what might be the most controversial handbag in movie history.
Like Carrie, Louise moved to New York City searching for what Bradshaw dubbed "the two Ls: labels and love." Toting a parade of rented designer bags, Louise was ever lusting over her boss's closet. So, when Louise quit to move home with her new fiancé, Carrie gave her a going away gift that has haunted the internet for years.
Though it was intended to be a generous and thoughtful gesture, Carrie hyped Louise up with a massive Louis Vuitton box, only to reveal a candy-colored, logo-embroidered bag that even Y2K-obsessed TikTokers might pass up on Depop.
The top-handle shoulder bag featured panels of clashing hues (egg yolk yellow, deep navy blue, and reddish coral), bubble stud embellishments, a coral luggage tag, a silver front clasp, and a shiny, patent base that contrasted with the matte fabric upper.
As someone who's famed for her personal style — specifically, her shoes and handbags — gifting an assistant a bag that Carrie herself would never wear is a strange move.
Fashion TikTok is still disturbed by the choice nearly 15 years later. Clips of the exchange are going viral, labeled as "the most traumatic moment in film history." Watch here and decide for yourself.