Why CeraVe's Moisturizing Lotion Has Such A Devoted Following
Here's what dermatologists think of the hydrating TikTok sensation.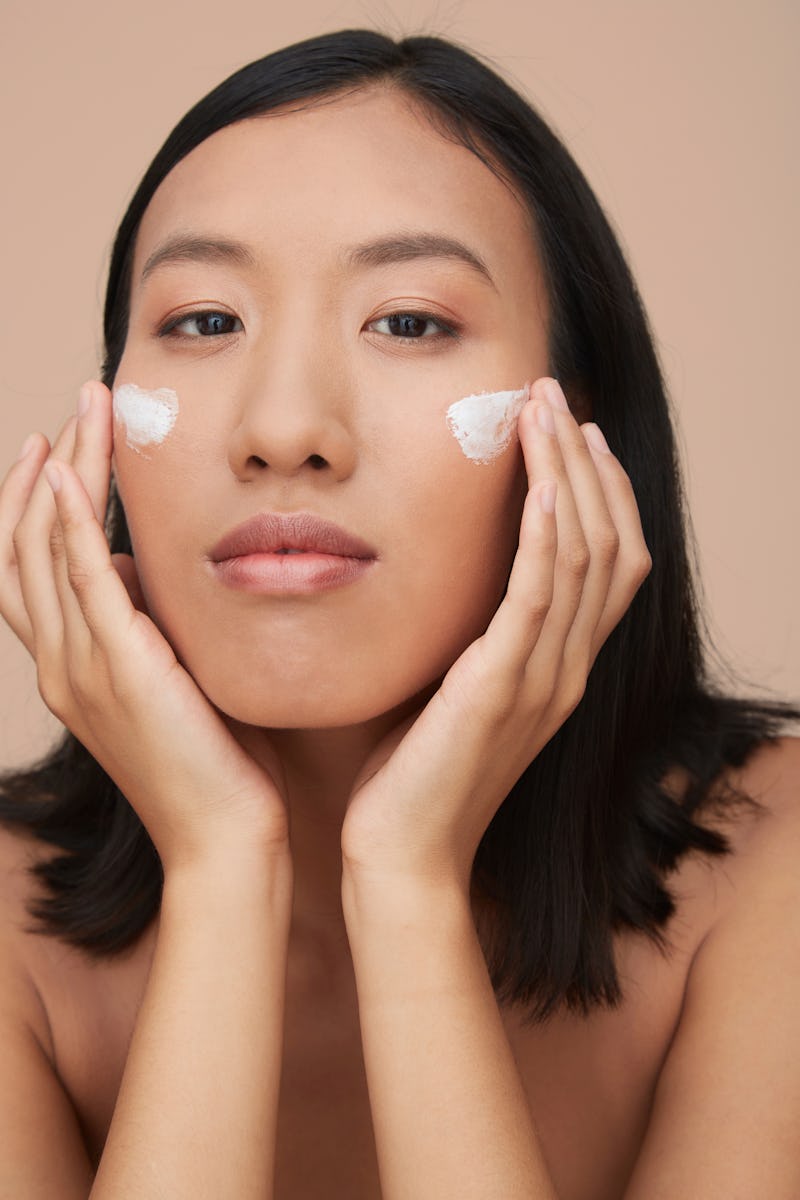 Westend61/Westend61/Getty Images
Traditionally, a fad follows the rule of "out with the old, in with the new." These days, however, it's in with the even older — especially when it comes to TikTok trends. In fact, the app's user base is so nostalgic it's prompted a surge in once-stagnate searches for '90s and early 2000s-era products, according to data from Ubiquitous, an influencer marketing agency specializing in TikTok. Examples of the phenomenon include Clinique's Black Honey lipstick and mini UGGs, but the most-searched Y2K-era product of 2022 is likely one you wouldn't expect: CeraVe's Daily Moisturizing Lotion, for which Google queries increased by 950% over the past year.
This wave of popularity is almost certainly tied to TikTok, where the #cerave hashtag has amassed 2 billion views, followed closely behind by #ceraveskincare and #ceravemoisturizer with roughly 124 and 17 million. Skin care aficionado Hyram Yarbro has a lot to do with this boom: The TikTok and YouTube influencer has over 10 million followers combined on both platforms and famously dubbed CeraVe's simple product line a must-have. This caught fire, and led to an even larger following and renewed interest in the staple drugstore brand — a large chunk being Gen Zers of the TikTok generation newly discovering the product that launched back in 2005.
If you're wondering about exactly why people are so obsessed with CeraVe's Moisturizing Lotion — or if you're missing out — you're in the right place. Captivated with the CeraVe saga, Bustle queried the experts: What's the big deal with the skin care product? Read on for everything to know about the hydrating sensation.
We at Bustle only include products that have been independently selected by our editors. We may receive a portion of sales if you purchase a product through a link in this article.
What Is CeraVe's Daily Moisturizing Lotion?
CeraVe's moisturizing lotion is exactly what it sounds like: a lotion that hydrates the skin. However, it's unique in the sense that the line was developed by dermatologists, and thus remains a top-tier drugstore staple for many doctors and skin care experts despite its accessibility and lower-than-average price point (it costs $14 for 12 ounces). "You don't need to break the bank for quality skin care products, and CeraVe products are a perfect example," Dr. Adarsh Vijay Mudgil, M.D., board-certified dermatologist and founder of Mudgil Dermatology, tells Bustle. "I recommend CeraVe to pretty much all my patients because the products are reasonably priced and they work well for all skin types."
He's not alone. Board-certified dermatologist Dr. Viktoryia D. Kazlouskaya, M.D., Ph.D., echoes this, asserting that CeraVe's products are "great" — though she's especially fond of its viral moisturizer. "I recommend Cerave moisturizing lotion to many of my patients with dry skin, sensitive skin, and/or atopic dermatitis," she continues, noting that it was specifically formulated for dry and sensitive skin. It's also one of the National Eczema Foundation's official recommendations.
How The Daily Moisturizing Lotion Affects The Skin
What makes the product so beneficial for all skin types? It's all due to its robust blend of ceramides and hyaluronic acid, explains Dr. Snehal Amin, M.D., board-certified dermatologist at MDCS Dermatology. "These are two gold standard, naturally occurring skin care ingredients," he says. And ceramides play an essential role in maintaining a healthy skin barrier. "It holds the top layer of cells together and protects it from allergens and irritants, so maintaining and replenishing ceramides is important for all skin types — even acne-prone," adds Amin. It's also an especially important ingredient for those with skin conditions such as psoriasis and eczema, he continues, as these conditions signify a compromised barrier.
Meanwhile, hydrating humectants hyaluronic acid and glycerin are hard at work ensuring the skin attracts and maintains its moisture. TL;DR? Ceramides, hyaluronic acid, and ceramides are essentially the PowerPuff Girls when it comes to hydrating your skin. "This is the trifecta of moisturization," Mudgil tells Bustle. "All [ingredients] are stand-alone great moisturizers, but as a combo, they are tough to beat."
Atop its hydrating elements, this lotion is super sensitive-skin friendly. According to Kazlouskaya, it's an especially ideal choice for people prone to skin irritation or allergic reactions, and that's because it's fragrance-free, oil-free, and non-comedogenic. Amin also notes that it's similarly beneficial for oily and acne-prone skin due to its delicate, non-pore-clogging consistency. "It provides lightweight hydration and moisture without sticky residue," says Amin. "It's simple skin care with high quality, vetted ingredients that will not irritate the skin."
And that, dear readers, is why the lotion is so popular. If you've been convinced, shop the beloved moisturizer below.
Studies referenced:
Del Russo, J. (2016). Understanding the Epidermal Barrier in Healthy and Compromised Skin: Clinically Relevant Information for the Dermatology Practitioner. J Clin Aesthet Dermatol. https://www.ncbi.nlm.nih.gov/pmc/articles/PMC5608132/
Experts:
Dr. Adarsh Vijay Mudgil, M.D., board-certified dermatologist and founder of Mudgil Dermatology
Dr. Viktoryia D. Kazlouskaya, M.D., Ph.D., board-certified dermatologist
Dr. Snehal Amin, M.D., board-certified dermatologist at MDCS Dermatology