Coco&Eve's Cyber Monday Sale Is Too Good To Miss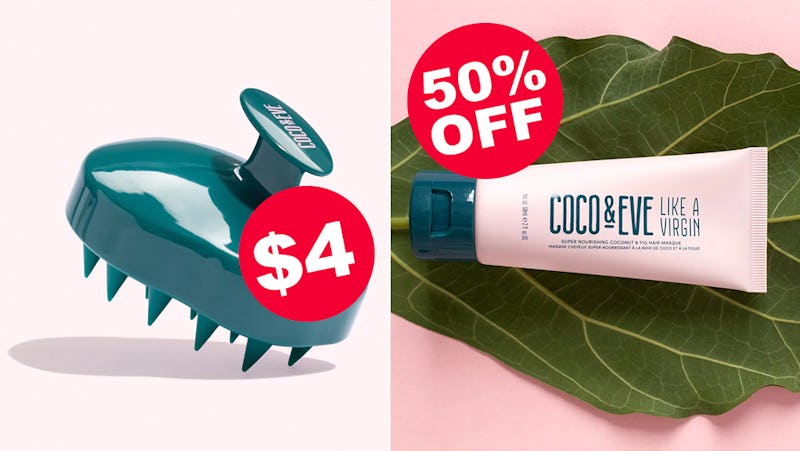 We may receive a portion of sales if you purchase a product through a link in this article.
Coco&Eve launched Like A Virgin Hair Masque in 2018, and it found internet fame almost overnight. The before-and-after pictures showing dry, damaged hair transformed into silky strands after just 10 minutes made it a viral sensation. Then, the award-winning mask paved the way for the rest of Coco&Eve's extensive hair, tanning, and body care range, known for its natural ingredients, rich textures, intoxicating scents, and formulas that have helped to nourish hair and skin the world over.
Whether you haven't tried it or you swear by the stuff, now is the perfect time to stock up because, for Black Friday (November 18th through the 28th), Coco&Eve is offering up to 50% off their products.
20% This Cult-Favorite Hair Mask
The Like A Virgin Hair Masque is undoubtedly the most famous (and beloved) product in Coco & Eve's lineup, and for good reason. This highly concentrated hair masque is a 5-in-1 treatment that aims to restore dry, damaged hair in as little as 10 minutes. The mask works to deeply hydrate and condition, helping to treat split ends and to nourish hair from root to tip. It also comes with a free 'tangle tamer' brush to help unfurl your knots and make sure the masque is evenly distributed.
50% Off The Travel-Sized Version
Travel with this smaller, TSA-approved version of the cult-favorite Like a Virgin Hair Masque when you need to revive your hair post-flight. The travel tube also makes a great gift for friends or as a stocking stuffer. Or you can keep it in your gym bag along with the Tangle Tamer. Revive, restore, repair, condition and tame — all while you're on the go.
50% Off This Scalp Massaging Shampoo Brush
A shampoo brush is the key to ensuring your hair masks and shampoos really do their job. A few benefits of this Coco&Eve brush: it's made to increase blood circulation, gently exfoliate your scalp, and basically just give you a lovely head massage. Built with an easy-grip handle, the brand recommends using the brush with their Super Hydrating Shampoo. "This has got to be the best shampoo brush I've ever used," one reviewer wrote. "It doesn't tug my hair even when it's matted and/or tangled, and can still reach my scalp."
50% Off This Exfoliating Mitt
Self-tan enthusiasts know that a good exfoliating scrub is necessary before any kind of bronzing application. Coco&Eve's Deluxe Exfoliating Mitt is the tool you need to remove old self tanner — and dead skin, of course — to prepare your skin for a fresh application of their Bali Bronzing Foam.
This mitt gently removes dead skin cells and dry skin, as well as stimulates blood flow. And when it comes to bronzing, it helps ensure a streak-free tan. Use this mitt with or without water, and when you need to remove old self tanner, just apply a small amount of soap to the dampened mitt and scrub.
50% Off This Detangling Brush
For hair that snares easily, the Tangle Tamer is made to not only detangle your hair gently, but minimize breakage and damage along the way. Designed with a two-tiered bristle system, this compact-sized detangler works on all hair types. The Tangle Tamer also comes free with the Like a Virgin Hair Masque — after you apply the mask, run through your hair with the detangler to ensure even application and the smoothest hair possible.
30% Off A Pre-Shampoo Scalp Scrubber
If your scalp is itchy and flakey, this Deep Clean Scalp Scrub could be a game-changer. The coconut shell exfoliant aims to revive and renew your scalp by targeting oil, flakiness, and product build-up. It also has caffeine to help strengthen hair follicles and create a healthy environment for hair to grow. The scrub is also formulated with coconut oil to hydrate your skin and hair, peppermint oil to soothe and cool irritated skin, and ash from Balinese volcanoes to absorb excess oil.
20% Off A Body Exfoliator
This triple-exfoliating buffing sugar scrub is formulated to help boost your circulation and instantly smooth skin, preparing your skin for a perfect self-tan. Coconut flower sugar and shell powder work hand in hand to help renew and revitalize skin, while volcanic pumice rids skin of dead skin cells to help restore it. Virgin coconut oil helps to soften skin while improving the appearance of stretch marks and cellulite.
25% Off A Self-Tanner
The Honey Bali Bronzing Foam has a lightweight, non-sticky formula that glides on easily for a non-streaky tan. Its green-gray base helps to create a natural-looking glow, and its tropical mango and guava scent is created using the lush botanicals of real mango, fig, cocoa, coconut, and lotus extract.
This article was originally published on