10 Ways To Nail TikTok's Dark Academia Aesthetic
So many tweed blazers and leather loafers.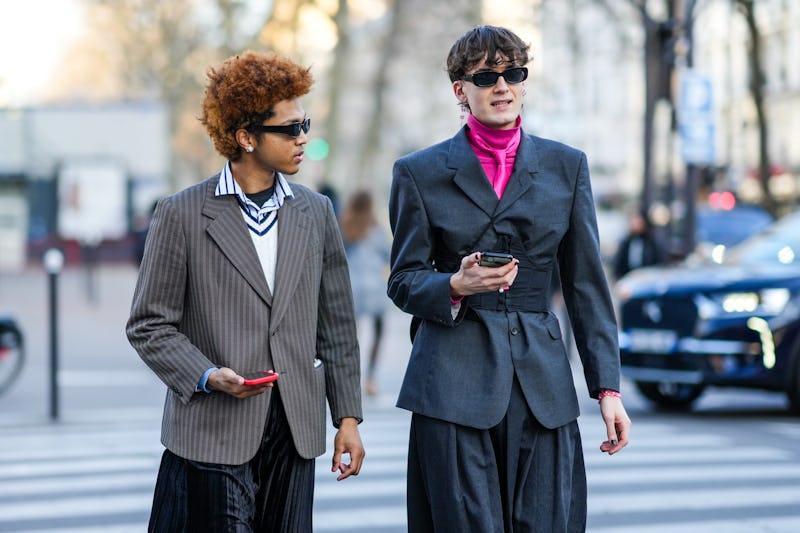 Edward Berthelot/Getty Images Entertainment/Getty Images
Haven't quite nailed down your 2022 fashion aesthetic yet? Relatable. With countless trends to consider — from the Y2K resurgence to the cottagecore phenomenon — there are plenty of options to pull inspiration from. But today, we're here to make a not-so-subtle case for giving Dark Academia a try.
In case you're not yet immersed in this TikTok subculture, here's what you need to know: It's a mix of styles, from classic preppy to worn-in vintage. Essentially, the objective is to look like you just walked off the set of a Harry Potter movie, or like you're about to teach a class on Greek literature.
On TikTok, searching for videos tagged with "Dark Academia" yields thousands of pieces of content, with creators sharing their moodiest, slightly edgy, slightly gothic ensembles. You could easily spend hours scouring the platform for #OOTD inspo, which includes everything from oversized tweed blazers to tailored plaid pants. Dark Academia embraces a romanticized view of all things considered to be traditionally "academic" — think lecture halls, libraries, letter writing — you get the idea. It's like if college only had the learning aspect and not, you know, all the dating drama and terrible hangovers.
Whether you're currently a student or not, Dark Academia offers a stylistic roadmap that you can refer to whenever you need some fashion motivation. And while this subculture hasn't gone mainstream yet, its popularity continues to grow. To add elements of the cute-and-sorta-spooky Dark Academia lifestyle to your wardrobe, check out the shoppable round-up below.