Dyson's Airstrait Is The Two-In-One Hair Tool That Dreams Are Made Of
Here's everything to know about the buzzy launch.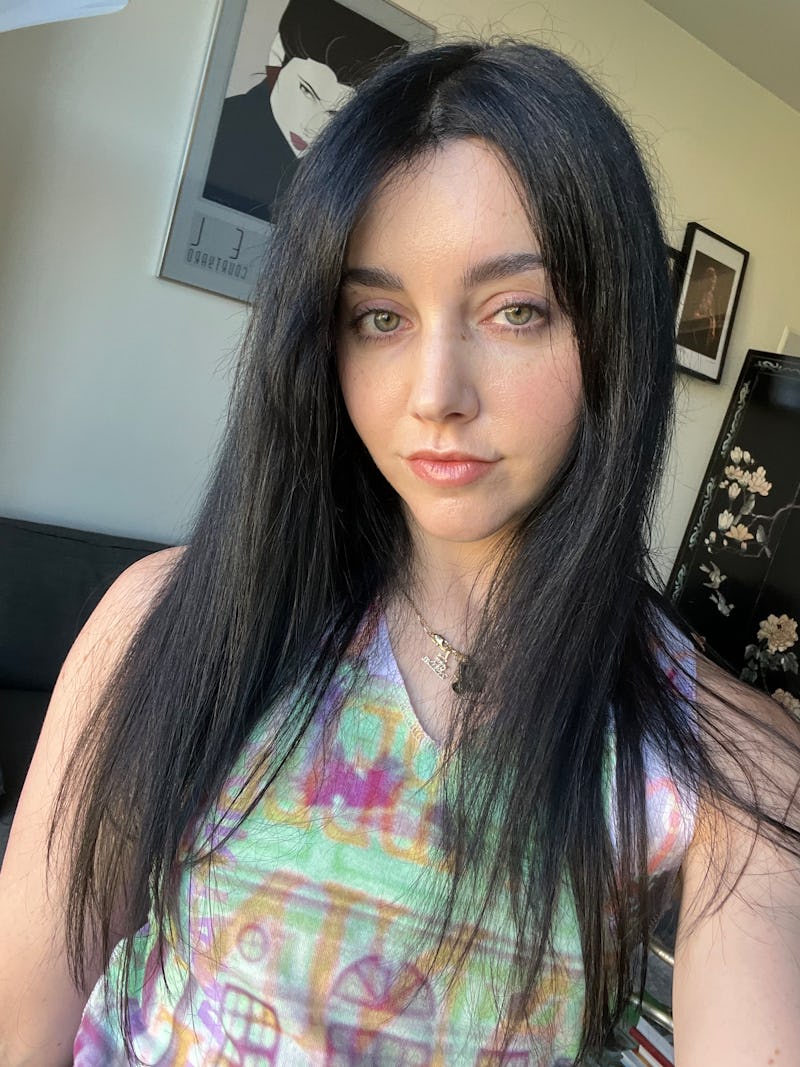 We may receive a portion of sales if you purchase a product through a link in this article.
When it comes to my hairstyling routine, I'm a lazy girl through and through. I wash my hair as infrequently as possible, throw some product in it to keep strands in place, and use my Dyson Airwrap to zhuzh my curtain bangs — that's it. My brain can't compute using a round brush with a blow dryer, so that's out — and the reason why I'll either air dry or rough dry my strands.
While I've tried two-in-one stylers, they all tend to use so much heat and leave my hair frazzled and fried. But then I found myself at a Dyson launch event where Sir James Dyson introduced his latest creation in the beauty realm: the Dyson Airstrait, a wet-to-dry styler that uses the brand's signature airflow technology — rather than hot plates — to dry and straighten the hair. Sing to me, Paolo.
This baby is the biggest innovation from the brand since the industry-beloved Airwrap, and it's already racked up over 1.2 billion views on TikTok despite having only been available less than a week. Needless to say: I was rather excited to try it out for myself. Read on for everything you need to know about the Dyson Airstrait along with my honest review on whether it's worth the hype.
Fast Facts
Price: $499
Best for: Speedy smooth blowouts
My rating: 4.5/5
What we like: It's quick and it works on all hair types
What we don't like: It's pricey; it doesn't really smooth the roots
The Dyson Airstrait
Similar to Dyson's other hair tools, the Airstrait relies on powerful, targeted airflow to do its styling job. This one looks a lot like a traditional straightener, but has apertures running along each side. As you glide the contraption along your hair, airflow streams out of these apertures at a 45-degree angle, which works to straighten as it dries. Also, FYI: The Airstrait works on hair types 1 through 4. It's a big claim, but I got to witness it in action on multiple hair types at the Dyson launch event, so I can confirm it's true.
You can use it on wet hair, or you can use it on dry hair for a style refresh. It has a mode for each (which is displayed on the tiny LCD screen on the device) — "wet mode" has higher heat settings (175, 230, and 285 degrees Fahrenheit) while "dry mode" has two (250 and 285 degrees), and you can choose between low or high airflow for each. There's also a cold shot that seals your style in place. Besides that, you can toggle the lock button on the side of the machine to close it and simply use as a root dryer via the vents on the sides. (If you've just finished a workout but don't want to wash your hair, this can come in handy.)
For ultimate efficiency, the tool actually senses when it's against your hair. When it's not (but it's still on), the speed drops to low airflow. And if you don't use it for three seconds, it automatically pauses until you move it again.
My Hair
I have really fine hair, but I have a lot of it. Though it has a slight wave to it, it typically dries pretty straight — and, regardless of whether I let it air dry or style it myself, it almost always gets frizzy at some point in the day. I've tried everything, but the best solution I've found so far has been the Dyson Flyaway attachment. I'll use this on the Supersonic to glide over my strands before leaving the house for a quick smooth, and it does the trick.
First Impression
I was eager to see just how smooth the Airstrait would make my hair. To put its prime function to the test, I started with freshly washed hair that was still wet after being wrapped in a towel for five minutes. I put half of it up, turned the device on to the wet setting at the lowest heat, and slowly glided it over the front section. At the event, Dyson said the slower you go, the better it works, so I tried being patient with my speed. After my first pass, my hair was infinitely smoother and almost dry. I did another pass and could've gotten away with that — my hair was pretty much dry — but I did three just to see the results... which were rather mind-blowing, to say the least.
The Results
Freshly washed hair.
After using the Dyson Airstrait.
I styled the second half of my hair with the next highest heat setting and did three passes on each section. By the time I was done, a mere eight minutes had passed, and I had totally dry, totally smooth, straight hair. I repeat: It took me eight minutes to transform my wet strands into their newfound Cher-level state.
At the launch event, Dyson kept stressing that the Airstrait doesn't flatten your hair the way other straighteners do — and he was 100% right. I couldn't picture what straightened hair would look like without every ounce of volume sucked out of it, but this device showed me: My strands could look super sleek without being smashed lifelessly against my skull.
I also realized that the apertures on the device function similarly to the flyaway attachment for the Supersonic. Rather than erratic strands sticking out in every possible direction (like I'm used to after straightening my hair), the Airstrait managed to keep my hair in place. Read: down and tucked away. To make sure it stayed that way, I used the cool shot setting over each section — then admired my 'do in the mirror with awe.
Worth It?
Dyson hair tools are an investment, but you're getting real innovation for the price tag. At $499, the Airstrait delivers on its claims, and it excels at each. Beyond taking your hair from wet to dry (and straight), it can refresh and smooth dry strands, and rough dry your roots — all without the heat damage.
If you already have a straightener or are considering getting one, it's worth noting that this isn't your typical product in the category. It maintains volume as it smooths and it doesn't sizzle your strands into oblivion. And, as I said: It doesn't use hot plates, so it's exceedingly healthier for your hair. IMHO, the Airstrait is definitely worth it, especially if you're a lazy girl like me. It's just so easy and quick to use; I already know it's going to become a staple in my morning routine.