Epres' Bond Repair Treatment Has Replaced Olaplex In My Routine
My fragile hair has never felt stronger.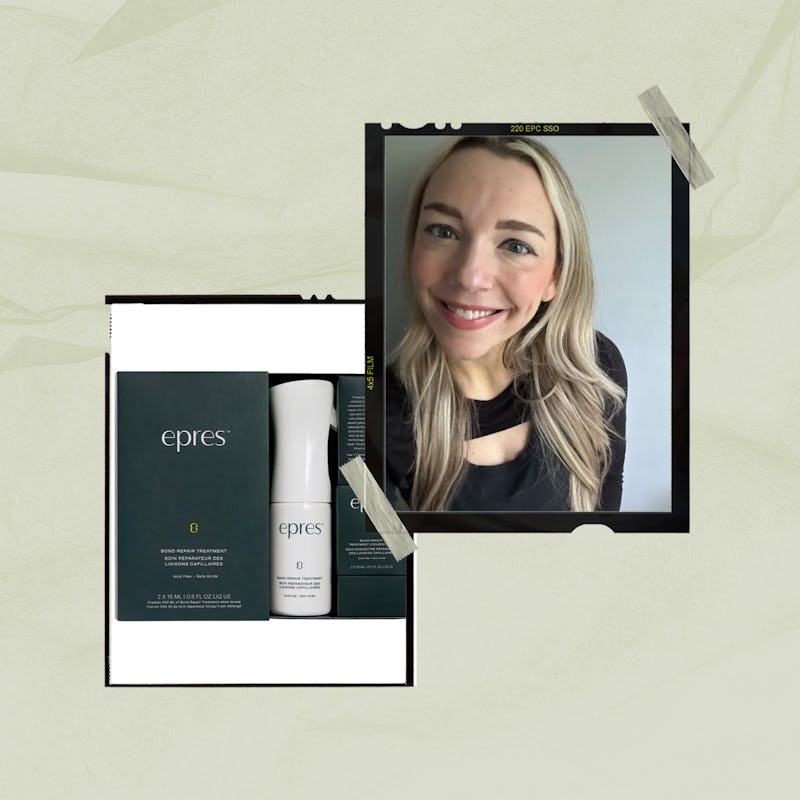 epres
We may receive a portion of sales if you purchase a product through a link in this article.
If my hair were a person, it would need *years* of extensive therapy. Admittedly, I've put it through a lot — from bleaching and chemical straightening treatments to heat styling and extensions. As my hairstylist has repeatedly lectured me about, all these habits weaken and break the disulfide bonds in my hair, resulting in dryness, split ends, and sometimes even breakage. That's where bond builders have been my saving grace: They relink broken structures and repair my strands on a molecular level from the inside out. And when I heard about the new epres Bond Repair Treatment — launched by Eric Pressly, a chemist who helped develop the cult-favorite Olaplex — I knew I had to give it a try.
Olaplex No. 3 is considered the OG at-home bond builder, but it's definitely no longer the only option. (This is a plus for those concerned about customers' claims that the products caused hair loss, breakage, scalp injuries, and potentially fertility-related health risks.) Epres, which just earned its first patent earlier in 2023, offers a new alternative with several advantages.
I used Olaplex for years, so I was excited to see how epres compared — especially since my hair is in an extra vulnerable state after getting a full head of highlights and relying on my curling iron a little too much.
Whether your damaged hair needs as much TLC as mine does or you're just curious about how the epres bond repair treatment stacks up in comparison to Olaplex and other similar offerings, here's my unfiltered review.
Fast Facts
Price: $48
Best for: Anyone with damaged or overprocessed hair
Your rating: 5/5
Brand: epres
Clean/Cruelty-Free? Vegan, with recyclable bottles
What we like: pH-balanced, fragrance-free, and silicone-free; easy to use; and suitable for all hair types (including extensions)
What we don't like: The mister bottle sometimes causes some of the product to get wasted
Epres Bond Repair Treatment
Epres launched in October of 2022 with two treatments: one product for at-home use, and one professional product that's only for use in the salon. Let's just say that its founder, Pressly, knows a thing or two about hair. He holds a Ph.D. in materials science and more than 100 different patents in bond-repair technology — and he considers epres to be his best invention yet. "This is the next generation of bond repair technology," Pressly tells Bustle. "It's not only better performing but it is also easier to use, more reliable, and better for the environment."
Another advantage to epres is that it's acid-free, meaning it won't alter the pH balance of the hair. That's important because when your hair's pH balance is off, it can become dry, brittle, and more susceptible to damage.
Epres' Biodiffusion technology also uses liquid molecules to repair the hair. As Pressly explains, this means you can leave it in longer and use it as a prewash treatment, because the liquid molecules can diffuse around the hair long after the water has evaporated from it.
"Most technologies use a solid molecule, which only allows the molecule to move through the hair while wet," he says. "Once the hair dries, however, these molecules are frozen in place. After that timeframe, not much more occurs. With the Biodiffusion technology, liquid molecules continue to move and explore the hair looking for areas of damage."
How To Use Epres
If you've ever used Olaplex No. 3, the process of applying epres should feel somewhat familiar. The main difference is that you mix the product yourself, but it only takes less than a minute to do so.
Each epres kit comes with an empty mister bottle and two small vials of the bond-building concentrate. You simply empty one vial of the concentrate into the mister bottle, fill up the remainder with the bottle, shake it, then mist the solution all over dry hair until it's fully saturated. Let it sit for about 10 minutes, rinse, and follow with your normal cleansing and styling routine. The brand recommends using it one to two times a week for best results.
First Impression
I found epres to be incredibly easy and straightforward to use. I loved that the mister bottle helped me to get a more even application of the product throughout my hair — the only downside, TBH, was that unless I held the bottle super close to my head, some of the airborne product ended up landing on my bathroom floor and counter. The fact that it doesn't have a scent is a perk, though, since I'm super sensitive to certain fragrances.
Once my hair was fully dry a couple of hours after applying the product, I noticed that it was much easier to brush through — almost the way it feels after I apply a leave-in conditioner. I also found that when I applied shampoo in the shower, it didn't feel as if my strands were stripped and dry, which meant I was able to get away with using a tad less conditioner.
The Results
My hair after using epres.
After epres.
I've only applied the epres Bond Repair Treatment twice so far, and I'd imagine that the benefits continue to become more noticeable the more you use it. Still, I've definitely noticed a difference in my hair.
Firstly, my strands look significantly less dry and feel so much softer. I don't have to slather quite as much styling oil on the ends before and after heat styling because they no longer feel like straw.
Secondly, my hair look so shiny — typically, I always finish my styling routine with a spritz of my trusty Kevin Murphy Shimmer Shine Spray, but I honestly didn't need it after using the epres treatment. My strands were that lustrous.
Note: The first time I used epres I left it on for two hours — just until my hair felt fully dry. The second time I used it, I left it on overnight for good measure. The second application did seem to enhance the benefits, but it's hard to say whether that's because I left it on for longer or because I had already used it once before.
Worth It?
You can expect to get four to eight treatments out of the epres kit, depending on how long your hair is. I have long, fine hair and managed to get three treatments out of each vial of concentrate, so six full treatments for the whole kit. That translates to just $6-12 per use.
Factoring in all the benefits I noticed, I think it's well worth that price. Especially if, like me, you spend a lot on highlighting your hair, adding extensions, or getting chemical treatments, I'd consider epres a valuable means of protecting those investments by improving the overall health of your hair.
Final Verdict
I was pleasantly surprised at not only how easy the epres Bond Repair Treatment is to use, but also how quickly I could see and feel a difference in my hair. I definitely plan to keep using it weekly, and I'm pretty sure my stressed-out strands will thank me for it.
Time will only tell whether or not epres helps to minimize my breakage and split ends — but given that my lengths are already noticeably shinier, softer, and more manageable, I'd say epres might just have been the therapy my poor hair needed.
Studies referenced:
Horvath AL. Solubility of structurally complicated materials: 3. Hair. ScientificWorldJournal. 2009 Apr 27;9:255-71. doi: 10.1100/tsw.2009.27. PMID: 19412554; PMCID: PMC5823165.
Reis Gavazzoni Dias, M. F. (2014). The Shampoo pH can Affect the Hair: Myth or Reality? International Journal of Trichology, 6(3), 95-99. https://doi.org/10.4103/0974-7753.139078
Qu, W. (2022). Improving the Mechanical Properties of Damaged Hair Using Low-Molecular Weight Hyaluronate. Molecules. https://doi.org/10.3390/molecules27227701