Lil Nas X & Camila Mendes Front Coach's New Campaign
Coach is redefining the viral Tabby bag.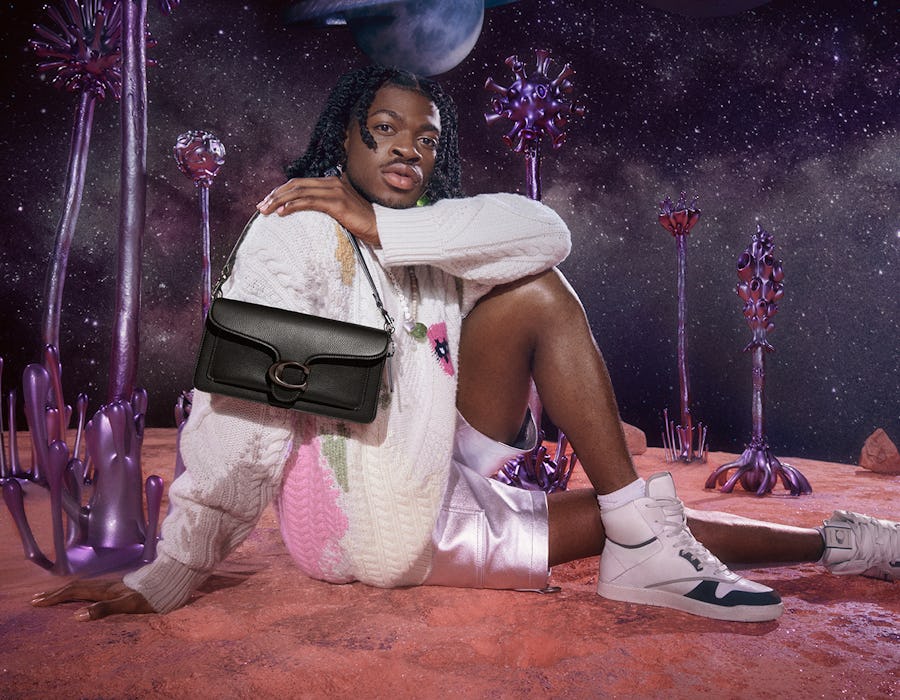 Coach
We may receive a portion of sales if you purchase a product through a link in this article.
What do you carry with you? It doesn't need to be a loaded question, as Coach is proving with its latest campaign. The American fashion brand has enlisted Lil Nas X, Camila Mendes, Kōki, and Wu JinYan to front "In My Tabby."
The viral bag itself has also received the all-star treatment, being reimagined to reflect what Coach Creative Director Stuart Vevers calls the "spirit of individualism, fluidity and courageous self-expression" of the next generation — but more on that later.
Directed and photographed by Charlotte Wales, the campaign conveys the message that "what we carry makes us stronger" through very personal narratives. Lil Nas X reaches for the stars with future aspirations; Camila Mendes, embraces her Brazilian and American roots; Kōki, treads on new ground; and Wu JinYan opens up about turning professional challenges into opportunities. Each a story of courage and authenticity.
As mentioned, Coach Creative Director, Stuart Vevers, reimagined the viral Tabby bag, too. The silhouette itself has a rich history: an archival bag from the '70s, it features the brand's signature hardware, cult design, and craftsmanship. In recent years, the Tabby has gone viral on TikTok, gaining a cult following in the process — see 2021's Pillow Tabby bag, for instance.
"In My Tabby" will be brought to life around the world, with experiences inspired by the campaign's meaningful message. Think colourful pop-ups where customers will have a the opportunity to discover the Coach Tabby bag that best fits their personality and style, as well as a metaverse experience that enables users to discover a world where they can interact with digital artists, and more.
"I've always believed that fashion should be about more than only style, it should be about community, and creating safe spaces where people feel free to express themselves," explains Vevers. "'In My Tabby' brings together our Coach Family and collaborators to celebrate stories of creativity and courage that embody our vision for Coach to inspire people to fully express all of who they are."
Meanwhile, Coach Global Chief Marketing Officer and North America President, Sandeep Seth, described the campaign as a "continuation of our journey to tell stories and connect emotionally with our audiences." Adding, "Our goal is to create an emotional connection through storytelling — and creating human experiences at every touchpoint across channels."
Coach is also set to introduce a brand new "Made To Order Tabby" service that will offer customers the opportunity to designing their very own bag, selecting the leather finishes, colours, and hardware. Though a price has yet to be released, the brand has said it will be "accessible," as a means of showing that the Coach Tabby really is for everyone.
Get your own Tabby below.
This article was originally published on