Gemma Chan On "Serum-Stacking" Her Skin Care & Filming The Actor
Plus, all about her involvement with L'Oréal Paris' Anti-Street Harassment Week initiative.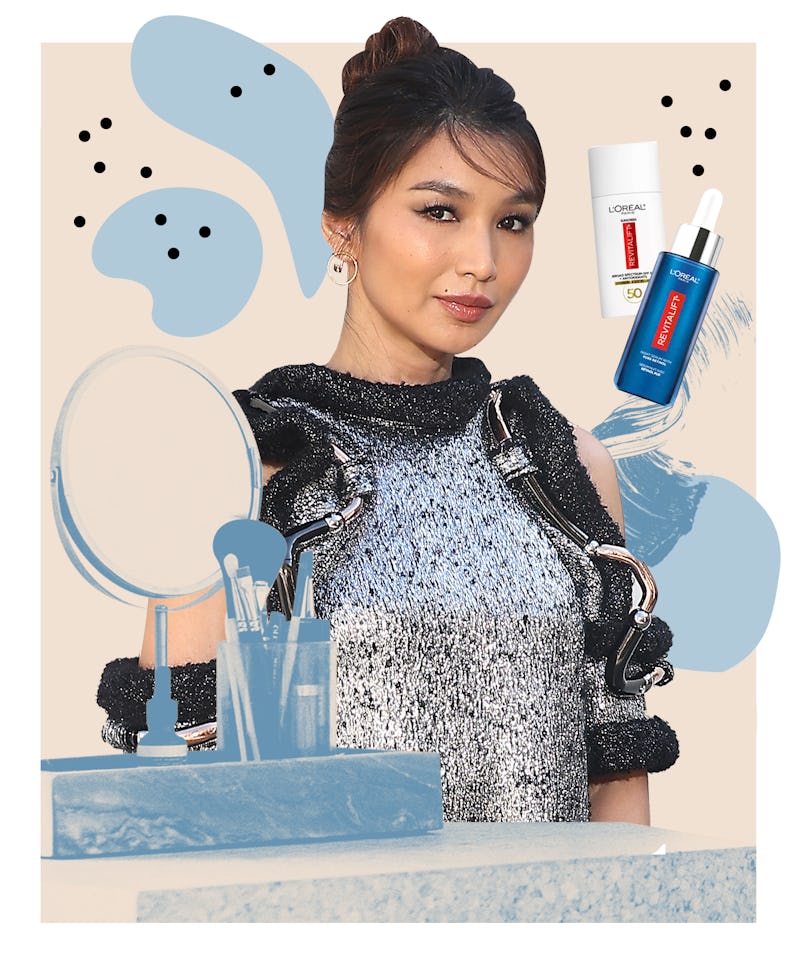 Beauty Detail
We may receive a portion of sales if you purchase a product through a link in this article.
In Bustle's Beauty Detail, we dive into the beauty bags of our favorite talents for intel on the rituals that keep them glowing and the MVPs (most valuable products) they can't live without. Here, Gemma Chan tells Bustle all about her involvement with L'Oréal Paris' Anti-Street Harassment Week initiative, upcoming projects, skin care obsessions, and more.
Gemma Chan has one thing in common with every single character she's played on the silver screen.
Similar to her role as gentle, yet superhero-level strong Sersi in Marvel's Eternals, or even the regal and wise Astrid in Crazy Rich Asians — her true power is found in kindness and grace. And after sharing a conversation via Zoom with the London-born actor and advocate, I quickly realized that the poise and elegance she possesses in film naturally radiates from every word and sentence she speaks in real life, too.
Chan's values are especially apparent when learning about her advocacy: "L'Oréal Paris launched the Stand Up Against Street Harassment initiative back in 2020, and so far, over one and a half million people have been trained in [their] methodology. It's really such a valuable training because it empowers bystanders to safely intervene when they witness street harassment."
She continues on to share some surprising statistics: "76 percent of people have witnessed sexual harassment in public spaces, 80 percent of women have experiences sexual harassment in public spaces, [and] there is something called the bystander effect where the more people that witness something, the less likely it is that somebody will do anything or respond. It obviously takes courage to feel like you can do something, [and with the training], safety is paramount. I've taken the training myself, it only takes 10 minutes online."
While the topic of harassment — sexual, racial, and otherwise — is quite heavy, Chan and I agree that beauty rituals are somewhat of a daily practice that's akin to meditation, and can often act as a form of self-love amidst darkness. And when it comes to her characters in film, she turns to their hair and makeup to dive deeper into who they truly are day to day.