Gigi Hadid & Tan France On Deciding What's Next In Fashion
Plus, why Bella was the "toughest judge" on the show.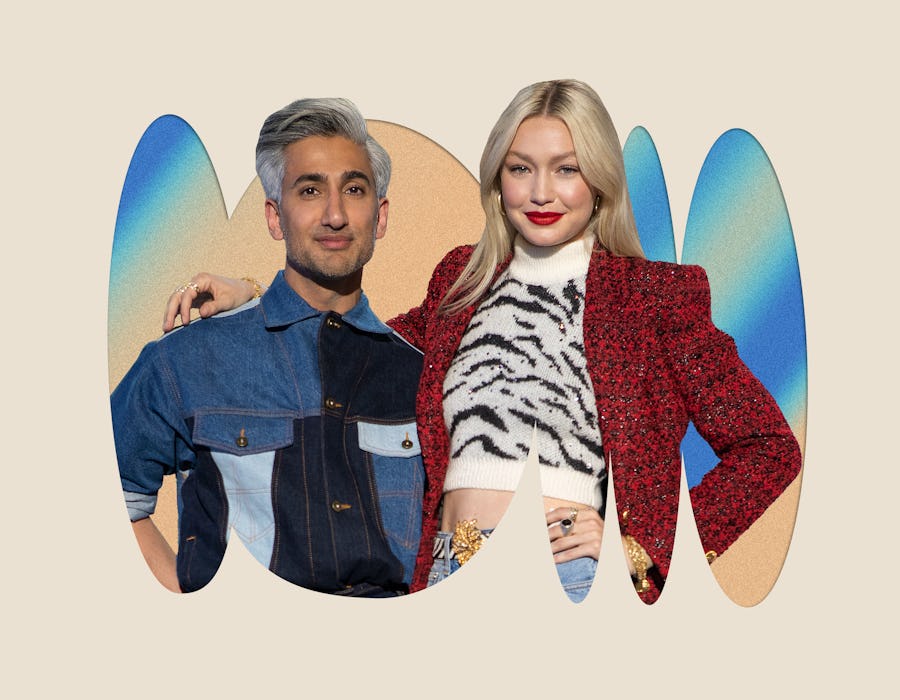 Gigi Hadid and Tan France have been deciding what's next in fashion long before they signed onto the Netflix series of the same name. France is a tastemaker in the menswear space and a household name, thanks to his six-season stint on Queer Eye, while Hadid is a designer herself and one of the world's most sought-after supermodels.
Together, the two are an unstoppable pairing and a logical choice to host Season 2 of the design competition show, Next In Fashion, out March 3. Tasked with serving brutal honesty to design hopefuls (a difficult task for sister Bella, who guest-starred alongside Hadid), they do it for the culture. The goal: bring innovation, inclusion, and individuality to an industry that, oftentimes, is severely lacking. "What it takes to be a creative director is to think that way and give us things that we've never seen," Hadid told Bustle.
Here, the most iconic duo share exclusive insights into the upcoming style series (read: the designs that inspired them most and why Bella was the "toughest judge").
How have the looks you saw on the runway influenced your personal style?
Tan: We saw a lot of oversized on the runway. And up to that point, I just wanted to show body. And then I was like, "Oh, sometimes I can just play with something massive and feel good in that."
Gigi: I'm inspired by just anyone that has uniqueness. And I think James [Ford] puts little touches on things that make it unique. When you see him dress in person or even in little things on the show, to just add little touches of tags or neon or bold jewelry.
Tan: It's like creating a story in your look — we both love that about James in particular.
Gigi: I feel like that's how I dress a lot, so we kind of had that in common. But when you see other people do it, it definitely just encourages you to bring that [style] out of yourself more.
What was your favorite look each of you wore on the show?
Gigi: I'll say my favorite of yours, and you say your favorite of mine.
Tan: My favorite of yours was the Versace [in] episode one. Actually, that was one of my favorites. The full neon I still am obsessed with. You walked out and I was like, "Oh, sh*t."
Gigi: My favorite of yours was... I loved your Met Gala [episode] look with the white lace. And I loved your — the earth [episode], I want to say it was Loewe, but it had graphics of rope on it.
Gigi, what was it like working with your sister Bella on screen, as opposed to on the runway?
Gigi: I loved having Bella. I think that we generally have so much fun together, but I love seeing her in this situation because she doesn't normally like to do this kind of stuff. So she's like, "Hey, I'm going to come for you and Tan" and she's so nervous and then she's so funny.
Tan: It was so cute watching them together.
Gigi: We all had a laugh together because on the runway, she had really great critique. And then she sees the people in person and she is just, she's like, "I love you. You're major, it's perfect." She can't give a critique to people, which obviously just comes from her very sweet heart. But we had to be like, "Bella, you have to say what you didn't like about it. I know they're standing in front of you."
Tan: One of the interviewers asked, 'Who was the toughest judge?' Nobody was tough — nobody was tough, like mean — but if you were to change the meaning of it, the toughest judge was Bella. Because she was just so nice. But I think she said, "No, no, I don't want to critique." And I am like, "Bella, you are here as a judge. You've got to say something."
Gigi: I mean, Bella truly could style and wear anything. So I'm not even saying she's wrong. She could put that [design] on and make it look major. But it was so fun, I loved having her and I was proud of her because it was out of her comfort zone.
All right, I'll challenge you both then: What was the worst look from the show? You've got to be mean judges.
Tan: This person knows I love them so much, but they knew that this was not good. I think the worst look — but the idea was strong — was Qaysean [Williams]'. The Egyptian one. The fabric was wrong, but I thought the idea could have been excellent if it had been executed better.
Gigi: I agree. What we generally went on is they only have eight hours to make this thing. Most of the time we're not going to go off of if it's perfectly made, because that is not realistic. We're going off concept, storytelling. What it takes to be a creative director is to think that way and give us things that we've never seen. And my worst look would be… I really don't like Nigel [Xavier]'s Met Gala [episode] look.
Tan: Oh, yeah. I wasn't keen on that.
Gigi: I just think he can do so much better and if he had rethought that concept, it could have been beautiful and amazing. I just think the shapes were better than the fabric choice, which is actually exactly what you said about Qaysean's. Usually, what it came down to was the concept was really good and the fabric choice [was] wrong.
This interview has been edited and condensed for clarity.