Gisou's Honey-Infused Lip Oil Got A Shimmery Upgrade For Summer
The fan-favorite lip oil now comes in a sparkly version.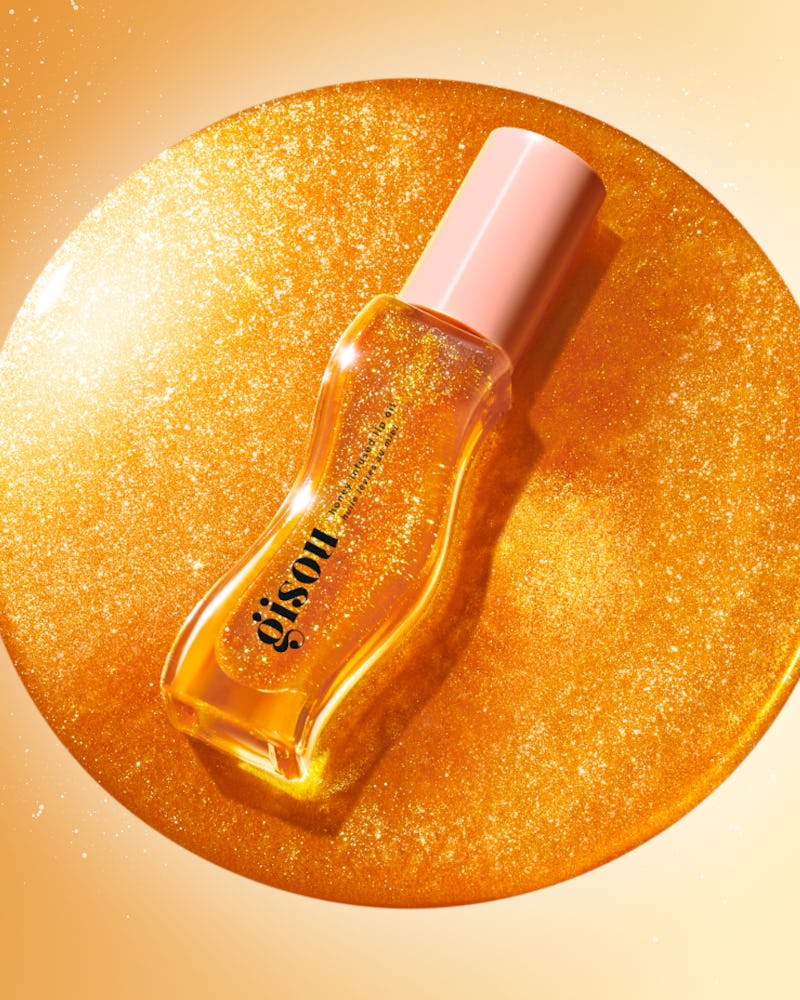 Gisou
We may receive a portion of sales if you purchase a product through a link in this article.
Gisou's Honey Infused Lip Oil earned rave reviews from the moment its uniquely-curved glass tube launched and immediately went viral on TikTok (its hashtag currently has over 68 million views on the platform). The newly launched Gisou Honey Infused Lip Oil Golden Shimmer Glow, a fresh iteration that features a sparkly finish, is bound to follow in its footsteps.
Remember those middle school days when super glossy lips reigned supreme and you could never have too much shine? The resurgence of throwbacks helped inspire the launch. "The '90s and early 2000s are definitely making a comeback, and I love it," Negin Mirsalehi, beekeeper and founder of Gisou, tells Bustle. "A lot of the personality of these nostalgic styles showed in the accessories: hair clips, statement belt buckles, and crimped hair. With so much happening fashion-wise, sometimes all that was needed was a little lip gloss to finish the look." The glitter-packed lip oil adds just the right amount of glow. "Our new Honey Infused Lip Oil Golden Shimmer Glow was definitely inspired by my Y2K girlies," Mirsalehi says. "It's the perfect little bit of shimmer to add to your summer glow look."
Like the OG formula, Gisou's Honey Infused Lip Oil Golden Shimmer Glow also packs major hydration benefits thanks to honey (a potent antioxidant that helps heal, nourish, and lock in moisture), hyaluronic acid, buriti fruit oil, and blueberry seed oil. And while the nourishing formula delivers mirror-like shine, its finish isn't sticky or tacky at all.
Moving forward, Mirsalehi is looking forward to seeing more women in the world of beekeeping. "When most people think of beekeeping they think of an older man probably on a farm," she says. "While that definitely exists, more and more women are becoming beekeepers, like my sister and Gisou's Beekeeper-in-Chief, Negar. There are also so many urban bee gardens developing and there are so many positives to having a bee garden in the city. I'm really excited to continue to teach our community about beekeeping and hopefully inspire a new generation of women beekeepers."