The Gucci Horsebit 1955 Is A Vintage Icon Reimagined
It's beloved by Julia Garner and Halle Bailey.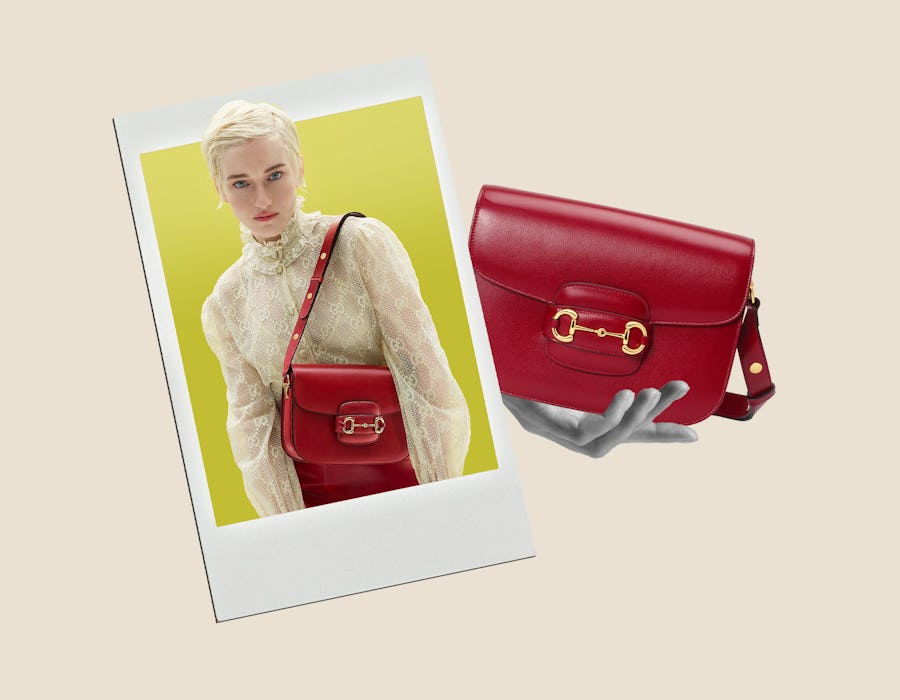 Photos courtesy of Gucci
Secure The Bag
We may receive a portion of sales if you purchase a product through a link in this article.
When it comes to it bags, there's a sweet spot designers must hit when they draw from a label's storied archives to reimagine a beloved item for the modern consumer. Many have tried and, unfortunately, many have failed. But not all designers are Alessandro Michele and not all bags are the Horsebit 1955.
Back in 1953, Gucci first introduced a variation of its now-iconic emblem: the double ring and bar. Though the equestrian-inspired hardware, AKA the Horsebit, was first tacked onto loafers, it made its way onto a handbag two years later. This shoulder bag, dubbed the 1955, would became a heritage accessory for decades to come.
Sixty-some years later, Gucci's former creative director Alessandro Michele revived the OG style in 2019. While the original's edges were more curved, Michele reimagined the accessory as a boxy, rectangular shoulder bag which made its runway debut as part of the label's Cruise 2020 collection. Paying direct homage to its predecessor, Michele named the handbag the Horsebit 1955.
Like everything else Michele launched in his Gucci tenure, A-list celebs including Sienna Miller and Alexa Chung immediately flocked to the bag. Adding to its appeal, the Horsebit 1955 was championed by various celebrities in new campaigns introduced regularly. Singer Celeste starred in the label's 2021 campaign, Winter In The Park, for example, while Diane Keaton toted the bag in the Gucci Beloved campaign a few months after.
Most recently, the label tapped Halle Bailey, NewJeans member Hanni, and Julia Garner early this year to front its latest Horsebit 1955 campaign. Garner, in particular, is a massive fan of the bag, rocking it IRL as well as onscreen. In fact, even her notorious Netflix counterpart Anna Delvey rocked a Horsebit 1955 in the hit series Inventing Anna.
Apart from the bag's ambassadors, the handbag has also been embraced by the likes of Daisy Edgar Jones, Sinéad Burke, K-pop star IU, K-drama icon Kim Si-Eun, and Adwoa Aboah.
Mike Marsland/WireImage/Getty Images
Jamie McCarthy/Getty Images Entertainment/Getty Images
Jacopo M. Raule/Getty Images Entertainment/Getty Images
Victor Boyko/Getty Images Entertainment/Getty Images
Justin Shin/Getty Images Entertainment/Getty Images
Since the bag's launch in 2019, it's been reimagined in a multitude of shapes, sizes, and hues. The generous iterations of the Horsebit 1955 include square, trapezoidal, and rounded shapes (with top handles or crossbody strap). They even come in a duffle and a belt bag.
The bags also come in countless hues and materials including monogrammed canvas, leather, raffia crochet, and crystal-encrusted, as well as exotic skins like lizard, python, and ostrich. Regardless of shape, size, or material, all bags are punctuated with the Horsebit hardware at the center.
Of course, the Horsebit 1955 is not to be confused with the Horsebit Chain. The newest Gucci handbag, launched in Fall 2023, is also a reinvention of a cult-favorite. The skinny shoulder bag (which bears an oversize Horsebit emblem) is an updated version of a Tom Ford-era design that was released in the early aughts.
The mini 1955 goes for $1,200 and can go as high as $31,000 for rarer leathers such as crocodile. Shop your own Horsebit 1955 below.