Celebs Are Obsessed With Audrey Hepburn-Inspired Headscarves
This isn't your grandma's headscarf.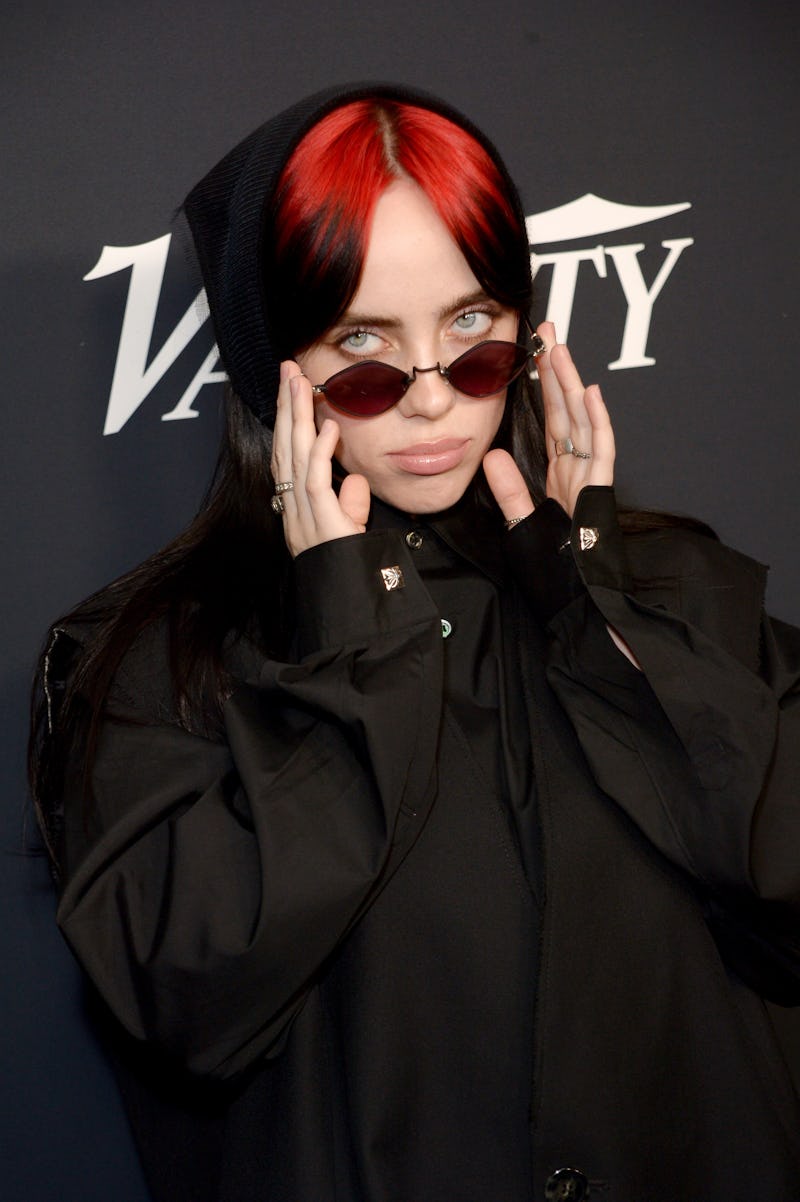 Unique Nicole/WireImage/Getty Images
While everyone else is bundling up for winter in leather gloves, knit beanies, and thick, blanket-style wraps, the likes of Kendall Jenner and Billie Eilish are obsessed with a completely unexpected accessory: delicate silken headscarves.
Back in May, various ways to style scarves for summer went viral on TikTok, highlighting styles ranging from coquette-ish braids to Old Hollywood glam. It seems A-listers have reached a consensus on the chicest way to style these silky squares, however. Recently, fashion's top talent has been tying them under their chins à la Audrey Hepburn.
The posh style is largely attributed to icons like Hepburn and Jackie Onassis, who popularized the look in the 1960s. Now, in the era of "quiet luxury," elegant knotting is making a resurgence. Don't be fooled, though — this isn't your grandma's headscarf.
Billie Eilish Can't Stop Wearing It
The scarf's biggest present-day enthusiast is Billie Eilish, who's been donning the headpiece nonstop in recent outings. In fact, she's worn some variation of the trend five times in the past three weeks — for someone with virtually unlimited fashion access, that's a lot.
A complete departure from the "quiet luxury" ensembles these delicate scarves typically accompany, Eilish has been using them to elevate her famously edgy, streetwear style.
Eric Charbonneau/Getty Images Entertainment/Getty Images
Gonzalo Marroquin/WireImage/Getty Images
Whether she's rocking monograms, retro polka dots, or solid hues, Eilish's go-to route is playfully tying the bandanna in a knot under her chin. The elegant accessory contrasts interestingly against her masculine aesthetic.
Kendall Jenner Is A Major Fan
Another A-lister who loves the look? Kendall Jenner. Over the weekend, the supermodel rocked the same printed scarf tied two ways.
In one pic, she styled the black-and-white piece knotted loosely under her chin à la Eilish. Taking the piece into seasonal territory, she also paired it with a chunky knit sweater and a glass of wine.
In another photo, she tied the accessory behind her head. This time, she wore it with a crop top and a jacket, while nuzzling a mug (of coffee? 818 tequila?) with Hailey Bieber.
Dua Lipa Loves The Look
Other style stars have also been spotted rocking the vintage-inspired look. Dua Lipa, for example, was way ahead of the scarf-as-winter-accessory curve.
Last year, the "Houdini" singer posed in the snow wearing an all-black ensemble. She softened her tough-girl look with a delicate, monogrammed Gucci scarf.
Gear up, because you're looking at winter 2024's hottest accessory.