Everything You Need To Know About Getting Braids & Twists, According To Stylists That Do Them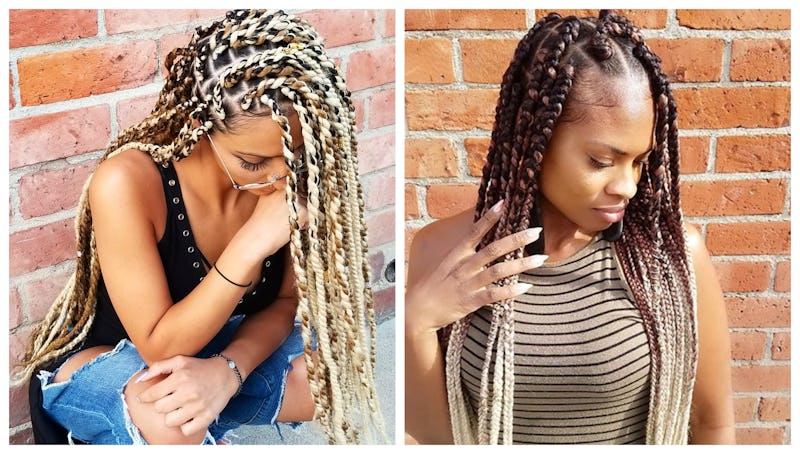 If you're a black woman who grew up in the '90s, chances are that you probably fell in love with box braids courtesy of Janet Jackson in "Poetic Justice," Brandy in "Moesha," and Stacey Dash in "Clueless." In the early 2000s, box braids went on hiatus when nearly everyone started trading in natural hairstyles for glamorous sew-ins and sleek blowouts. In recent years though, braids made a major comeback after Beyoncé, Gabrielle Union, Yara Shahidi, Zoë Kravitz, Kelly Rowland and other celebs started rocking them again on the red carpet, in music videos, during photoshoots and while vacationing. Even Janet Jackson and Brandy couldn't resist paying homage to the iconic '90s look.
Twists, on the other hand, are a slightly more modern style, but they're just as gorgeous. Solange Knowles was spotted wearing Havana twists at the 2013 Roots Picnic, inspiring countless other black women and girls to sport twists as a fun alternative to braids and dreadlocks.
Braids and twists are versatile and low-maintenance, especially during the summer months when you'd rather be out soaking up the sun instead of fussing over your hair all day. With all of the options, styles, and stylists available, it can be hard to know what to choose, and the differences between them. Luckily, master stylists Unique Dandridge and Mo G Taylor are setting the record straight about what to ask for and what to anticipate if you're brand new to the magnificent world of protective styling.
What's The Difference Between Braids & Twists?
The main difference between box braids and twists is the technique. Box braids are installed by intertwining three strands of hair, while twists require only two strands to be wrapped around each other.
If you're not sure what to choose, here are a few factors to consider: Twists weigh less on the scalp and require more maintenance because they're quicker to unravel, but Taylor tells Bustle that they "age more gracefully than braids," because your roots blend in with the twists as they grow out. Opt for braids if you prefer a sleeker look since twists are fluffier in appearance.
Dandridge says that one thing braids and twists have in common is that they're both protective styles, which means you also want to choose a stylist who won't destroy your natural hair.
"I've seen countless women strive for styles that have had detrimental permanent affects to their natural tresses," she tells Bustle. "No style is worth you losing your hair."
Once you've chosen braids or twists and found a reputable stylist, now it's time to narrow down your style choices. "Ninety percent of the time, people come in thinking they have an idea of what it is they want," says Taylor. "But I have to take the time to point out all the differences, so that they know exactly what they're getting into, even when it comes down to the part."
For starters, not all braids and twists are created equal. Box braids, as its name would suggest, are chunkier and box-like in appearance, while micro braids are super tiny plaits that are slightly more versatile since they can be worn straight or wavy, but the downside is that they take much longer to install.
When it comes to twists, there are four types, pictured below clockwise from the top left: Senegalese, Havana, Kinky and Marley, also called Mali.
Courtesy of Unique Dandridge
Courtesy of Unique Dandridge
Courtesy of Unique Dandridge
Courtesy of Unique Dandridge
"Senegalese twists use Kanekalon hair, which is the same hair that's used for box braids," Taylor says. "That's a major distinction from all the other twists, because Kanekalon hair is smoother. Havana, Marley and Kinky twists all use Marley hair, which is coarser and closer to the client's natural hair texture."
Marley twists resemble dreadlocks, so they're perfect for anyone who isn't committed to growing out locs, which can be a tedious process. Havana twists are similar to Marley twists, but they're larger in diameter, resulting in fewer twists. With Senegalese twists, the Kanekalon hair's silky texture creates a tighter appearance, while Kinky twists tend to be smaller, shorter (shoulder length) and curled on the ends.
How Should It Feel?
It's normal to experience some tightness after getting braids or twists, but "If you're popping aspirin like Skittles, then they're too tight," says Dandridge.
To avoid this, ask for a test braid or twist, but also speak up if you feel like your stylist is pulling too tight on your hair. Other signs that your braids or twists are too tight include bumps along the hairline or a throbbing sensation. If ignored, too much tension on your tresses can lead to permanent hair loss — the technical term for it is traction alopecia, which affects one-third of black women.
What Kind Of Maintenance Should You Expect?
Box braids and twists can last up to 10 weeks, but Dandridge warns that the longest you should wear them is four to six weeks — otherwise, these protective styles could prevent your natural hair from getting the moisture it needs. Wash them as needed (check out these YouTube tutorials on washing braids and washing twists for more guidance), focusing on the scalp, since that's where you're likely to have build up.
On wash days, use a sulfate-free shampoo for natural hair and follow up with conditioner to eliminate frizz. Then, massage a lightweight oil onto your scalp and run it down your braids/twists to keep them looking healthy and shiny. Taylor urges her clients to avoid using dry shampoo on braids/twists since it leaves residue behind that you can't brush out.
How Do You Remove Them?
When it comes time to part ways with your beloved style, Dandridge recommends that first-timers get their braids or twists removed by a professional stylist to ensure minimal fallout, even though shedding is normal and expected.
"A stylist can advise the client of proper takedown instructions while actually doing the service," she says. "Both the client and stylist will be satisfied in not only having the protective style removed, but also seeing the benefits that came from it."
The most important takeaway from all of this information? Do your research. Stalking the stylist's Instagram account is a totally reasonable approach to get a better sense of the type of work she does, and make sure he or she understands that keeping your natural hair healthy is as important as getting a great style.
"As black women, we've been taught that our hair is unmanageable, wild and unattractive, but our hair is actually the most versatile and unique," Dandridge says. "Define your own standard of beauty with your hair, because you're the only person who has to live with the hair attached to your head. Healthy hair is good hair."