Hero Cosmetics' New Under Eye Solutions Are An Absolute Dream Team
The brand's CEO gives Bustle exclusive details.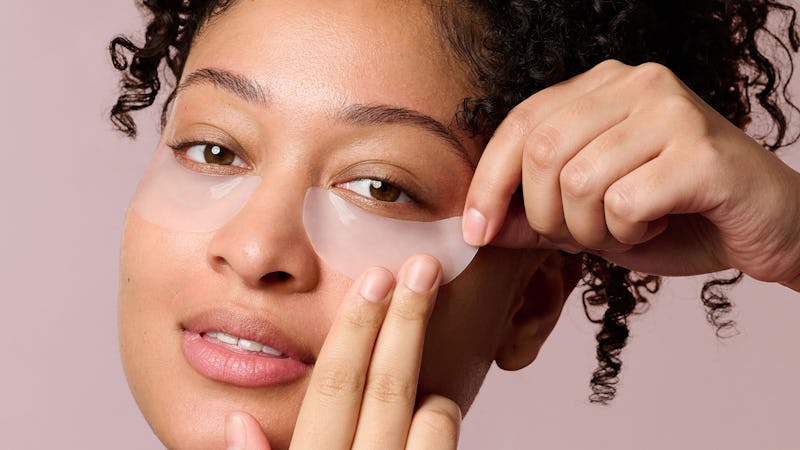 Hero Cosmetics
We may receive a portion of sales if you purchase a product through a link in this article.
When it comes to skin care launches, Hero Cosmetics is known for creating solution-based products that target specific issues. Its pimple patches put the brand on the map, but it's tackling a whole new category as of Aug 15. Say hello to the new collection for under eyes, a duo that includes the Mighty Patch For Tired Eyes and Bright Eyes Illuminating Eye Cream.
"Hero's received so many requests from customers for under eye products," Ju Rhyu, the brand's co-founder and CEO, tells Bustle. "It really reflects how many people struggle with both blemishes and the under eye, and we wanted to create solutions for them. Our mission is to make effective, easy to use, and accessible products for everybody's skin concerns."
First up, there's the Mighty Patch for Tired Eyes, a cooling hydrogel patch that infuses the under eye area with a soothing mix of hyaluronic acid, niacinamide, panthenol, and allantoin. "Over multiple applications, these patches visibly de-puff the under eye and renew the eye area," Rhyu explains. The result? An instant pick-me-up that makes you look "recharged and revived."
And a fun fact about the patches that sets them apart from others: they're white when you first apply and turn clear as the ingredients absorb into the skin. As soon as the patches have transformed, you'll know it's time to take them off.
For those who want to target dark circles (like myself), the brand new Bright Eyes Illuminating Eye Cream will most likely appeal to you. Housed within a tube that has a cooling, stainless steel tip, it's formulated with niacinamide, caffeine, and a subtle tint. After applying in the morning, I found that delivers an instant radiance boost. And after continued use, the eye cream works to improve the overall appearance of the area. "The stainless steel tip applicator helps the product glide on, and it has an extra-refreshing effect if you chill it in the fridge," Rhyu advises.
The brand's products have made waves since it launched, and Rhyu's growth as an entrepeneur is evolving with the brand. "Building Hero, I've learned about the importance of creating connections with other founders," she says. "Entrepreneurship can be lonely since there are only a few people doing exactly what you're doing, and it's so important to have a community of people who can truly empathize with what you're going through. It's always so helpful to have people you can talk to and learn from."
The Hero Cosmetics Under Eye Solutions are available to shop on herocosmetics.com.
Shop Hero Cosmetics' Under Eye Solutions