The Internet's Favourite Hemp-Based Skin Care Brand Just Made It Easier Than Ever To Treat Acne — For Just £20
Meet your new skin care BFFs.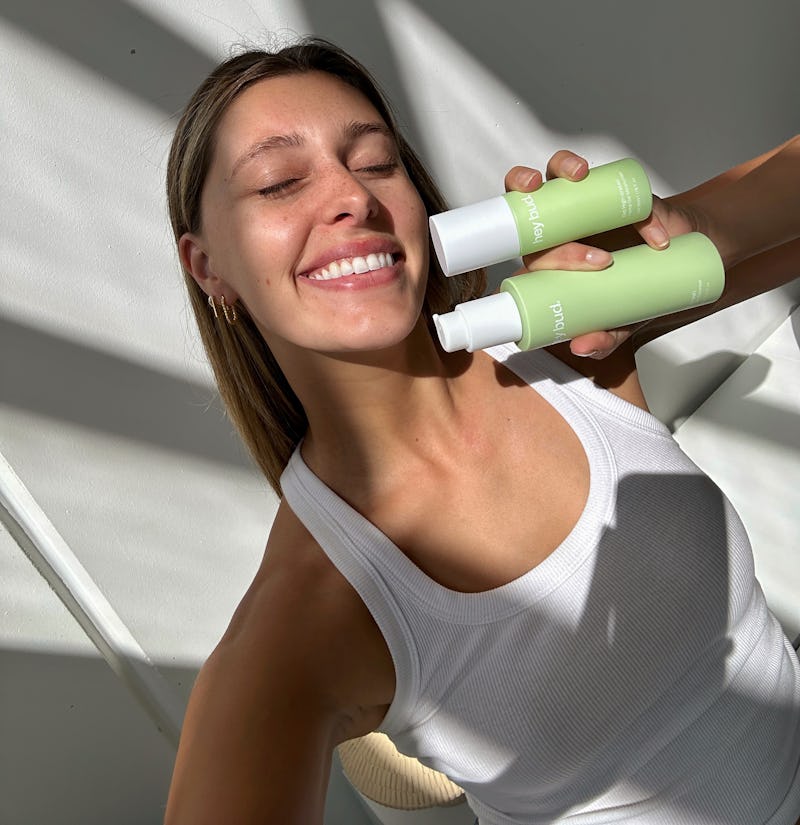 Hey Bud
We may receive a portion of sales if you purchase a product through a link in this article.
Whether you experience the occasional blemish or it seems like you're constantly dealing with breakouts, one of the most frustrating parts about having acne is trying to find a treatment that's effective and non-irritating. That's because many of the most popular active ingredients found in over-the-counter acne treatments can be just as tough on the rest of your skin as they are on acne-causing bacteria. Enter Hey Bud Skincare; an Australian-based company that aims to help you achieve a clearer complexion while also supporting the overall health of your skin.
With a focus on pairing botanical ingredients with heavily researched formulations (that undergo multiple rounds of reformulations based on testing and feedback from customers), Hey Bud landed on hemp seed oil as its hero ingredient. Though still in its early days of scientific research, hemp seed oil is rich in fatty acids that are thought to help reduce inflammation and control oil production, while also providing moisturizing benefits to the skin. (To clear up any confusion, it's also worth noting that hemp seed oil comes from the cannabis plant, but does not contain CBD.)
And the hemp seed oil-powered products have already helped the brand earn a loyal fan base, with customers confirming that the products do, indeed, treat breakouts without causing irritation. "Helped my acne better than any other product I've used," wrote one Hey Bud customer. "Most importantly to me, it helped with the pain and inflammation," they added. If you're curious about putting Hey Bud to the test yourself, keep reading for all of the details on their new Blemish-Busting Duo, and learn about some of the brand's other tried-and-true favourites.
Hey Bud's New Blemish-Busting Duo
To treat pimples as they pop up, Hey Bud introduced the Blemish-Busting Duo, which pairs the brand's Nip It In The Bud Acne Clearing Treatment with its Blemish Buds acne patches. Both products can be used as spot treatments, but they were designed to target blemishes during different stages of a breakout. For breakouts that are still brewing, as well as those more stubborn cystic pimples, reach for the acne-clearing treatment. The clear gel formula contains miracne to kill acne-causing bacteria, salicylic acid to dissolve the buildup of dead skin cells and sebum that contribute to breakouts, and hemp seed oil to reduce oil production. In addition to hemp seed oil, the treatment contains several other ingredients aimed at moisturizing the skin, as well as licorice root extract to help fade unwanted scars and promote a generally clearer complexion.
Then, for whiteheads and inflamed pimples that have already popped up, you can stick on one of the hydrocolloid patches. Infused with hemp seed oil, salicylic acid, and niacinamide, the clear patches help to absorb the gunk trapped in pimples while you sleep (or over a six-to-eight-hour period). Hey Bud's acne patches are biodegradable, and the box contains 48 patches in two different sizes.
Other Hey Bud Products To Try
Looking for more ways to help keep your breakouts in check? In addition to their curated sets, Hey Bud also lets you create your own dream routine at a discount, with offerings from the brand including 10% off when you buy two products, 15% off when you buy three products, and 20% off when you buy four or more products. Here's a closer look at some of Hey Bud's most highly-rated products:
Hey Bud Gentle Jane Hemp Exfoliator
This gentle exfoliator is another recent launch from the brand — one that sold out in 24 hours when it was first released earlier this year. Exfoliation is helpful for acne-prone skin types, as it helps to keep pores clear of acne-causing bacteria and debris. But mechanical exfoliators and those that use high concentrations of alpha hydroxy acids (AHAs) and beta hydroxy acids (BHAs) can also lead to irritation. Hey Bud's Gentle Jane Hemp Exfoliator uses AHAs derived from botanicals like bilberry fruit extract and sugar cane extract, and ultra-gentle cellulose beads to dissolve dead skin cells without aggressively scrubbing at the skin. The exfoliator is a creamy formula that contains ingredients like hemp seed oil, soybean oil, and vitamin E to moisturise the skin, too.
Hey Bud Get High-drated Gel Moisturiser
While it may sound like a good idea to skip the moisturiser in an effort to "dry" out your acne, that can actually make things worse. Instead, use a gentle, lightweight moisturiser like Hey Bud's Get High-drated Gel Moisturiser. Like all of the brand's products, it uses multi-tasking hemp seed oil to help with hydration and calming inflammation. But it's also packed with more commonly used ingredients for soothing and moisturizing, including aloe vera, allantoin, and green tea leaf extract.
Hey Bud Smooth It Over 10% Niacinamide + Hemp Serum
Hemp seed oil teams up with a 10% concentration of niacinamide in Hey Bud's Smooth It Over Serum to further help calm redness and reduce inflammation (whether caused by acne or other skin conditions). While you can certainly use this when you have active breakouts, the serum is particularly helpful when it comes to brightening the overall complexion and fading marks left from past breakouts because it also contains licorice root extract and vitamin C (the latter is made more stable with the addition of ferulic acid and vitamin E).
Hey Bud Clear As Clay Mask
Designed to treat acne as you pamper your skin, Hey Bud's Clear As Clay Mask can be used on oily to dry skin types, thanks to its blend of oil-absorbing and nourishing ingredients. Kaolin and bentonite clays draw out impurities from the pores, while ingredients like hemp seed oil, aloe vera, hyaluronic acid, and avocado oil work to calm redness and leave skin smooth and glowing after one, 10-minute treatment. The mask comes with an application brush for painting the mask right onto your face, and you can use it as many as three times each week (stick to one or two times if you have dry skin, though).
This article was originally published on