How Hollywood Finally Began To Embrace Black Hair
Two film hairstylists reflect on its history in cinema.
Written by Amber Rambharose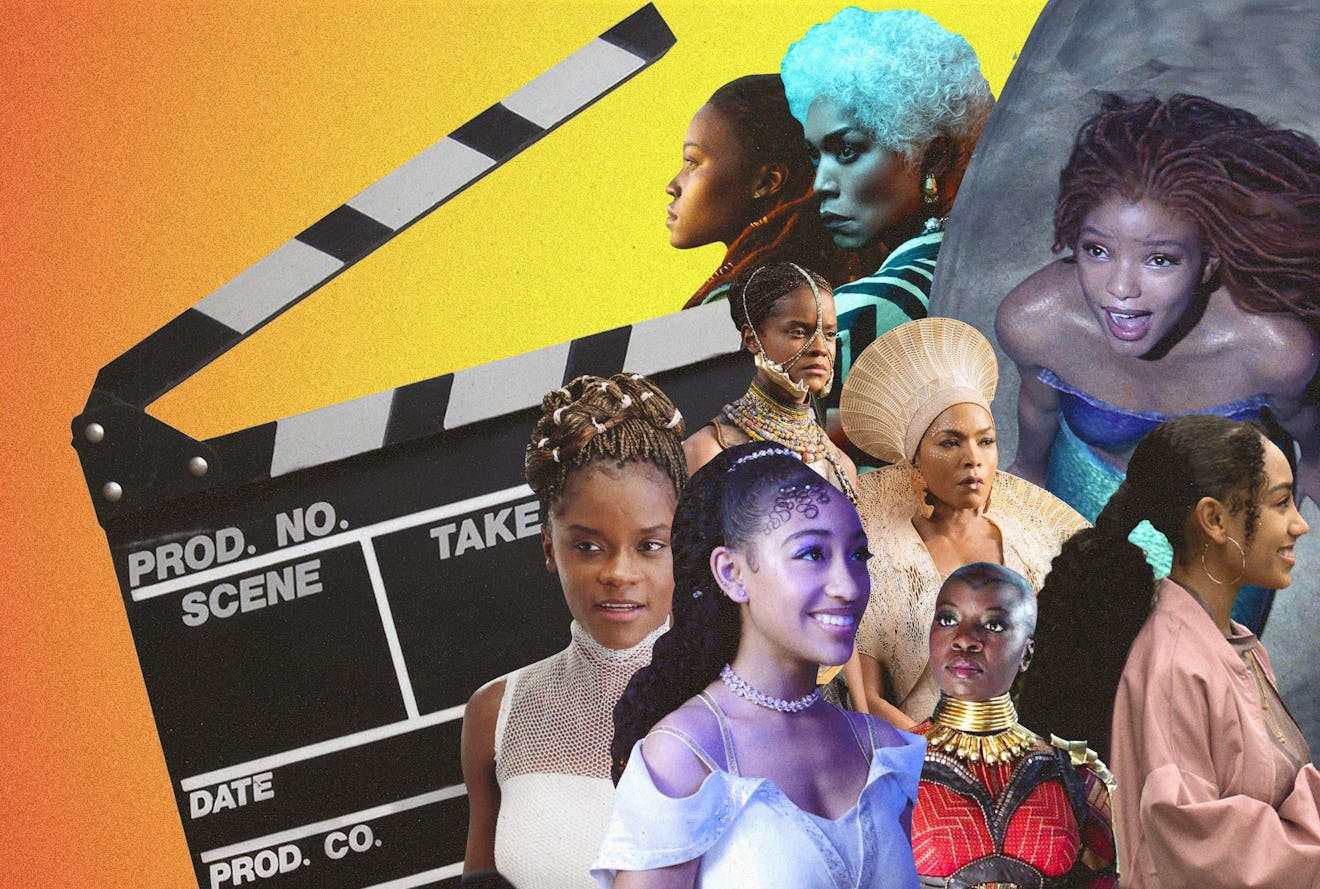 In the year 2023 of our lord Beyoncé, a Black Little Mermaid, and the worldwide renown of her biracial highness, the Duchess of Sussex, it can sometimes be easy to forget that Black women are still fighting to have their beauty celebrated. It's even stranger to think of Hollywood, the land of dreams and movie magic, as slow to catch on. But the world of film and television has had a long history of discrimination when it comes to Black actors and their natural hair — and change has only happened recently.
It wasn't until the late 1960s that Black hair and makeup artists were even involved in the creative process that delivered movie magic to the silver screen. The legendary Robert Louis Stevenson told The Hollywood Reporter that, in 1969, he was "the first Black that they hired as a hairstylist in Hollywood." At that time, he notes that "the Black actors knew that whites didn't know how to do their hair. A lot of actresses would have their hair done before [coming to set]." According to Stevenson, even Dorothy Dandridge, the first Black actress to be nominated for an Academy Award for Best Actress, did her own hair before delivering critically-acclaimed performances on set for films like Carmen Jones.
Things didn't change much over the next four decades, even as more and more Black actors rose to fame. In 2019, Gabrielle Union's hairstyles were deemed "too Black" for her role as a judge on America's Got Talent. Actors like Tiffany Haddish, Halle Berry, and Taraji P. Henson have all spoken out about how hairstylists on set unfamiliar with styling natural hair have caused lasting damage.
Were it not for a historically dark time in human history, things could have potentially stayed much the same, indefinitely. While the #ActingWhileBlack hashtag went viral in 2019, media coverage surrounding the truly harrowing experiences of film and television actors of color didn't come to light until 2020. Suddenly, open letters were written to Hollywood, oral histories were transcribed, and Black actors and hairstylists went on the record sharing the isolating, painful experience of going to work in an industry that was happy to profit off their bodies while refusing to respect them.
According to Emmy-nominated hairstylist Rukey Styles, who has worked on HBO's South Side, The CW's 4400, and Disney's Sneakerella, it's not a coincidence that things changed during the pandemic. "Pre-pandemic, people were dealing," she says. "[Actors] came to work prepared to not [speak up] if their edges would be laid down properly or didn't look presentable, or to their liking." But when lockdown hit, everyone — celebrities included — had a lot of time to sit and think and question the rules that dictated the world we shared. As society stayed home, change began. "People realized what was important to them," says Styles, who also points out that racial injustice was at the forefront of most people's minds during lockdown. "Since the pandemic and since George Floyd, people had time to sit down, really think about things that they did not like, and use social media to get that information out."
Oscar-nominated hairstylist Camille Friend, the lead stylist on Disney's Black Panther and Black Panther: Wakanda Forever also noticed an uptick in studio interest when it came to promoting diversity on set starting in 2020. "Through the pandemic, the world shifted — [as have the] phone calls that I get from movie studios, from HR, and from people who want to do things in a better way," she says.
According to Friend, the new, "better way" starts with creating a space where Black actors feel celebrated, comfortable, and seen. "For me, it starts in the morning, having the right atmosphere, having the right music, the espresso maker going," she says. "So when an actor goes on camera, they have a thousand percent confidence." Her approach hasn't gone unnoticed. "Daniel Kaluuya on the first Black Panther set said to me, 'I walked into this trailer, I saw people who looked like me. I heard music I can identify with,'" she says. "Actors feel it's a hub for them to start their morning, get their day going — like the barbershop or the beauty parlor, it's a place of connection."
Styles begins her hairstyling process by asking the actors a few key questions before ever touching a hot tool — from how they typically care for their hair to their experience with extensions or wigs. Many times, she works with actors who have had traumatic experiences with hairstylists who didn't know how to care for their hair. "It can absolutely start out heavy," she says. "I have to break through that. I have to gain trust." By the time the film wraps, she isn't just a hairstylist — she's also a friend, therapist, and support system.
Both Friend and Styles are eager to look forward to how they can continue creating safe spaces for actors of color on film and TV sets. When it comes to addressing the long history of injustice and discrimination that has taken place in these same spaces, they are less enthused. "We already know the problems," Friend says. "I don't want to talk about it anymore in the sense of talk, talk, talk. No, thank you. What's the solution?"
It starts with opportunities and education. Friend's own company, Hair Scholars, works to not only teach hairstylists to master their craft, but how to gain equity in the industry. Styles, who studied at the beauty school Pivot Point, is also quick to point out that, after obtaining a degree, continuing education classes are available for stylists who want to continue to further their knowledge of working with all hair textures.
And slowly, things are changing. In 2021, the first Black hairstylist won an Academy Award for hair and makeup work. In her Oscar acceptance speech, Mia Neal, who shared the win with makeup artist Jamika Wilson for their work on Ma Rainey's Black Bottom, thanked "our ancestors who put the work in, who were denied but never gave up." In May 2023, Halle Bailey will star as Ariel in Disney's live-action remake of The Little Mermaid — with her hair in locs, no less. Styles, who is the lead hairstylist for the film, shouts out Rob Marshall, the director, and also Disney "for knowing that the world is changing and saying, 'Guess who Little Mermaid's going to be? She's going to be Black, and her hair is going to be in a natural hair texture.'"
Even in the face of hashtags like #NotMyAriel, Friend remains optimistic and happy to direct detractors to the door. "I love that things are changing for people of color and I do believe that things will continue to get better," she says. "Yes, some things are slower to change, but [if we] keep hammering at it, keep hitting that nail at the right angle, it's going in. So let the haters hate, because what we're doing… we're changing the world."