The Truth Behind 7 Common Hair Bleaching Myths
It's not as scary as you might think.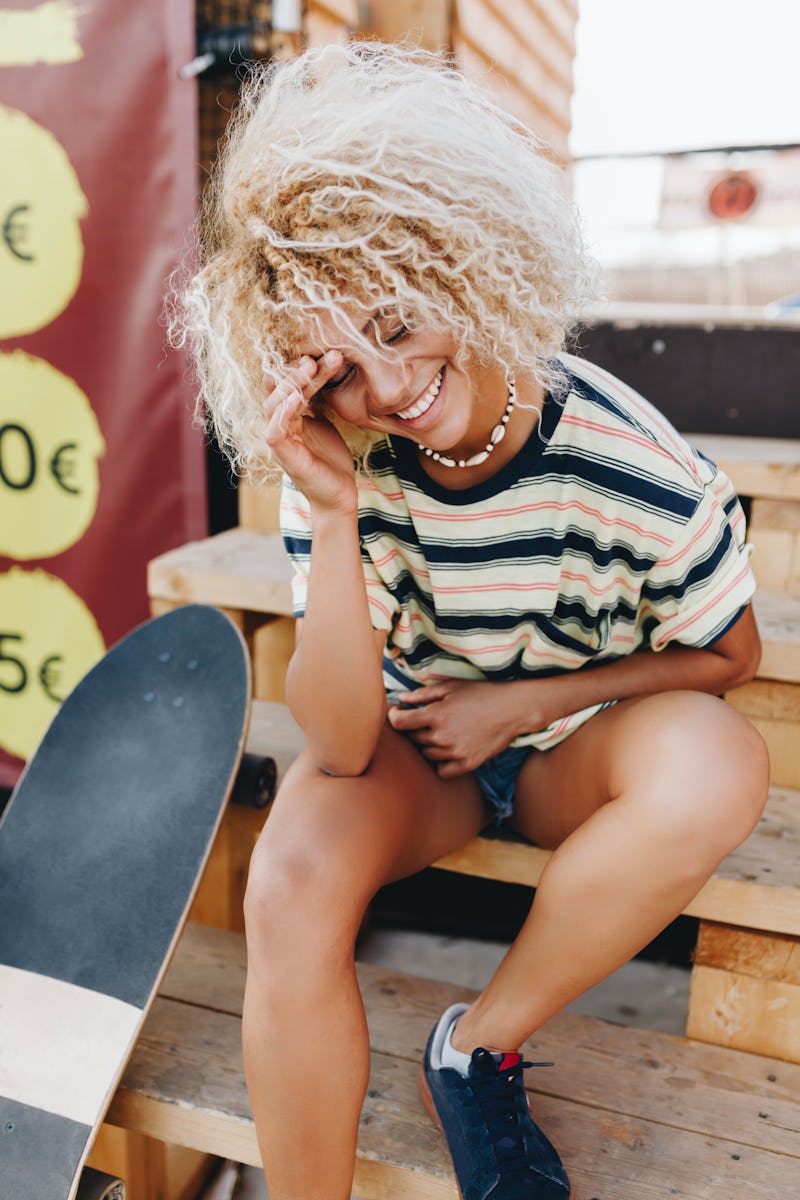 Westend61/Westend61/Getty Images
Regardless of whether you've colored your hair every shade under the sun or only rocked your natural hue, you've probably heard a myriad of myths about bleaching your hair. I personally fall in the former category, and I've heard a ton of questionable information about hair bleaching that's made going to my colorist feel like somewhat of a gamble. I've heard washing your hair before bleaching is a major no-no and that you should never try and bleach your hair at home. I've even heard that if I dared to bleach my hair, it would severely damage my hair beyond repair.
But is that actually true? Is bleaching your hair that bad? Will it really change its texture and health forever? The answer is not necessarily. And that's great news, because celebs like Billie Eilish and Selena Gomez have made swapping your 'do for a lighter hue irresistible.
After speaking to a handful of hairstylists, Bustle uncovered the truth behind seven myths surrounding hair bleaching, so that before you try one of the many super cute hair color trends this summer, you're fully (and properly) informed.
1. You Should Wash Your Hair Before Bleaching
The opposite is actually true. "I usually recommend unwashed hair for bleaching processes, " says celebrity hair colorist Jeremy Tardo. Laura Estroff, hairstylist at The Factory Hairdressing, agrees, saying, "This is a big no-no! The oils from your hair help to protect your scalp during the bleaching process. Not to mention, the act of washing your hair agitates your scalp causing unnecessary irritation." So if you've ever wondered, should I wash my hair before bleaching it?, the answer is that lathering up should be a hard pass.
2. Bleaching Often Goes Wrong, Even In Salons
Have you ever seen platinum princess Gwen Stefani with a botched bleach job? Me neither. Gwen Stefani's locks are an example that with the right expertise, bleaching needn't ever go badly. Tyler Colton, a Honey Hairstylist says, "With today's advances in technology with hair products, there is no longer any reason to worry about bleaching your hair. The only thing you will need to worry about is finding the right hair colorist to do it for you. Without this there is plenty to worry about." Colton adds that this isn't a good DIY project for beauty novices, as it'll likely lead to a subpar result.
Although it might be enticing to bleach your hair at home, Principle Colorist at Antonio Prieto Salon, Lawrence Wesley, agrees that seeking professional help is the best move. Wesley says, "Be sure to see a professional hair colorist when using bleach. It's still a chemical that should be left to the professionals."
3. Bleach Damages Your Hair Beyond Repair
Wesley explains, "The technology of bleach is basically the same after all these years, but there are several new products on the market that are bond protectors. Olaplex is one we use that is added to the lightener to protect and strengthen the bonds of your hair during the lightening process. The second step to this is a conditioning treatment that is done after the lightening."
In addition to this, Wesley says, "Most of the glossing products that add the desired tones after bleaching have no ammonia, low peroxide, and have some sort of protein base which helps to condition your hair and not chemically stress it."
The bleaching process won't damage your hair if you do it cautiously. The key is to check on your hair after you complete each step. "The safest way to bleach hair is to do it very slowly with a low volume of developer," Zach Mesquit, North America Brand Ambassador for Wella Professionals, explains to Bustle via email. Mesquit says that it's imperative to not "rush the process by using a stronger developer or processing the lightener with heat."
If you're bleaching your hair yourself (which Mesquit doesn't suggest, especially for first-timers), make sure you're extra careful, take it slow, and research what bleaching products will work best with your hair texture. If you're going to an experienced colorist, make sure you talk to them prior to bleaching your hair so they can suggest a process and products that are safest for your hair type.
4. There's No Point Bleaching Your Hair Because Your Tone Won't Last Long
The hearsay that your desired shade doesn't last long can be off-putting. Wesley tells Bustle, "When using the proper at home regimen, you can keep your newly bleached locks the tone you want with pigmented shampoos and conditioners like Shu Uemura's Color Lustre, cool or warm conditioners, Davines Copper, or silver shampoos and conditioners."
There are a couple of factors that affect the tone of your hair, but they're avoidable. "The longevity of your toner is dependent on how frequently your hair is shampooed, heat styled and what natural elements your hair is exposed to," Tardo says. "Sunlight will fade your toner, as will hot styling tools. Bleached hair does not get oily as easily as unbleached hair. Unless you have very oily hair, I suggest shampooing 1-2 times a week if your hair is fully bleached."
Purple shampoo your BFF if you have bleached hair. They will protect the tone of your hair and cleanse your hair safely and effectively.
5. Bleaching Your Hair Will Ruin Your Curls
This is just hands-down false. "It's an absolute myth that type 3-4 curls can't be bleached, and that if they are, your curls will be damaged," hairstylist and founder of Rëzo Salon Nubia Rëzo explains to Bustle via email. "There's new technology in hair, and now products have bonding protectors to protect the hair while bleaching. It's vital to use these protects if you have kinky or coily hair."
If you're extremely careful with your coils, and pamper your strands weekly with a treatment safe for color-treated hair, your bleached curls will be popping.
6. Toners Can Fix Bleaching Mistakes
Toners bring down the brightness of your new shade — and if you want a cooler or ashier toned blonde, toner is crucial. It can be easy to believe that if the lightener and developer don't catch the way you want them to (or if there were any mistakes that happened during the lightening process), that toner will swoop into like a superhero and save the day. Sadly, that isn't the case.
"Hair has to be lightened to the right level in order for your correct color result to be achieved," explains Tardo. "Toners are important and helpful, but are not permanent and can not correct improper lightening."
7. Pastel Colors Wash Out Easily & You'll Be Left With Your Original Platinum Shade
Estroff says, "A common misconception is that you can add a fashion or pastel color to your platinum locks and it will just wash out and you can return to your usual platinum. Bleached hair is very porous and can absorb colors unevenly, and hold on to them for longer than expected. There is no guarantee that you can return to your original shade of blonde."
By all means, play about with trendy colors and fashionable rainbow hair, but remember, when it all comes out in the wash you might not end up with your original platinum blonde tresses.
It doesn't always pay to listen to myths and urban beauty legends. Instead, it's safe to say you should always heed this expert advice when it comes to bleaching your hair.
This article was originally published on