I'm Obsessed With Isamaya's Penis-Shaped Lip Balm
There's more to it than its risqué packaging.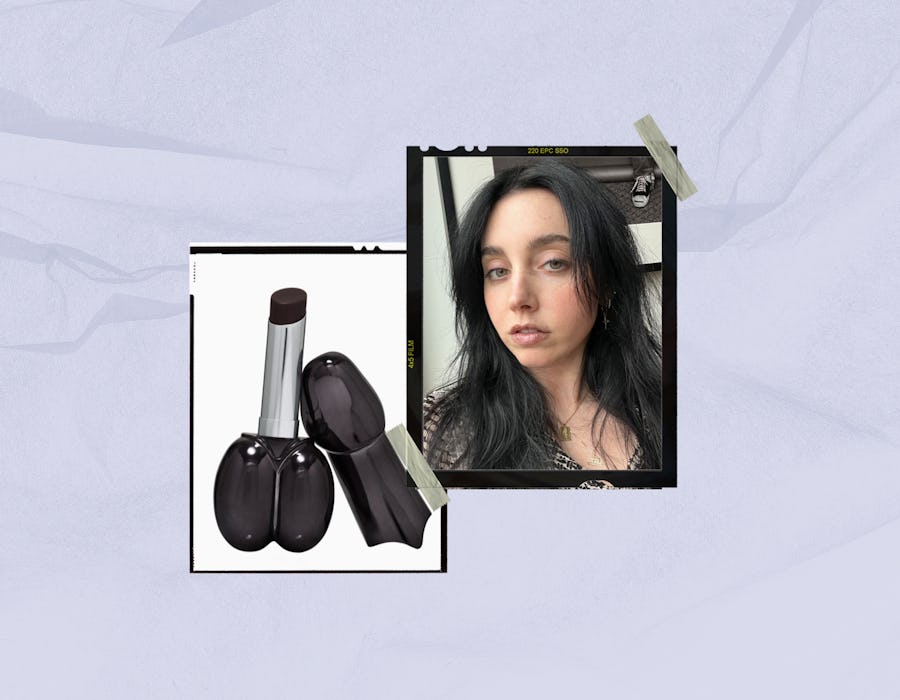 We may receive a portion of sales if you purchase a product through a link in this article.
One might think that a lip balm that's packaged in a realistic penis-shaped tube would solely exist for sh*ts and giggles. As in: serve as a fun tchotchke for your bookshelf, a cheeky bachelorette gift, or something you carry in your purse and pull out when you're in the mood for attention — not a product that you'd actually be all that impressed with from a formula standpoint. But Isamaya's Water Balm is legitimately good.
Like everyone else, I was first drawn to British makeup artist Isamaya Ffrench's Lips Collection because of the phallic packaging. (I've got a dirty mind, what can I say.) There are three products within the line: Cardinal, a red satin lipstick; Flamingo, a sheer, sparkly pink; and Vanity, a black shimmery balm. Since I'm not a red lipstick kind of gal (and I have tons of pink lipsticks), I was particularly interested in the Water Balm, which is meant to douse your pout in pearlescent moisture that reflects light and covers your lips in a subtle veil of dark pigment — perfect for my inner goth girl.
The second I swiped the penis-shaped balm onto my lips, I fell in love. Read on for exactly why the Isamaya Water Balm is more than its controversial packaging.
Fast Facts
Price: $95
Best for: Moisturizing your lips while adding a dark sheen
Your rating: 5/5
Brand: Isamaya
Vegan & Cruelty-Free
What we like: It's really hydrating, the color is gorgeous
What we don't like: The price
The Isamaya Lips Water Balm
If you're familiar with Isamaya Ffrench, you're probably not all that surprised by her brand's Lips Collection. This is the makeup artist behind the Animorph-like prosthetics at Collina Strada's most recent fashion week show that turned models into various woodland creatures, after all — she's not into conventional beauty nor is she interested in launching makeup products that look like everything else on the shelves.
And so, the three Lips Collection products feel like they certainly would be the brainchild of such an experimental artist. While Cardinal delivers an intense wash of red pigment and Flamingo gives you a flush of gleaming pink, Vanity is more like a tinted lip balm. It contains rice water wax to nourish the lips and seal in shine and moisture along with mica and pearl pigments to amplify the wet, shimmery finish. Thanks to the latter two light-reflecting ingredients, it purportedly makes your pout look just a little fuller — so it's kind of like a lip-plumping balm without any burning or stinging.
Also of note: All the lip products are refillable, so when the refills are available later this year, all you have to do is switch out the tube inside.
The Packaging
When I received the Water Balm, I was surprised by how heavy it was. This tube has got some girth. It's also more stunning and phallus-like IRL: There's the ballsack base that leads up to the perfectly rounded head, underneath which you'll find a more recognizable lip product. Vanity's packaging is a gunmetal black, which is really pretty. If you keep the base of the box it comes in, you can keep it standing up on your dresser or wherever you decide to put it — but it's equally cool when casually lying down on a counter.
First Impression
After I stopped admiring the gorgeous packaging, I swiped the balm onto my lips and figured I'd immediately look like Wednesday Addams. Instead, however, my lips looked like they were only wearing a whisper of black pigment. The color is very subtle, but the shine effect is real — my lips were so plump and juicy thanks to all the hydration within the formula. They really looked wet, but without the stickiness I'm used to from glossy lip products.
The Results
If the idea of black-tinted balm freaks you out, know that it just slightly darkens your natural lip color versus actual black color. If you try it on your bare lips, you're left with just a smidge of dark tint — which looks really cool and edgy, IMHO. (This is my favorite way to wear it.) You could also swipe it on over a lipstick, lip stain, or liner of your choosing and it'll merely amplify the color while adding a hint of goth glam.
I've been using the Water Balm for over two weeks now and I'm here to tell you that it's legitimately moisturizing and it's perfect for adding a touch of edge to an otherwise natural makeup look. It's become my absolute favorite portable beauty product to wield, too. Whenever I peer down and see it in my purse, nestled between my wallet and my keys, it makes me smile — it's like my hot little secret. At least until I actually whip it out and apply it, much to whoever's around me's shock and glee and sometimes horror. It's a good time.
Worth It?
I realize that this isn't your average lip balm — especially since it costs $95. Think of it this way: The formula is really good and really hydrating, and if you're into the goth look, it's the perfect addition to your makeup bag. But it's also a great piece of art. Whenever it's not in my bag, I'll set it up on my dresser or credenza so I can admire its design. It's a lip balm that belongs in a museum. Sure, maybe the Museum of Sex, but that's still a museum.
The Verdict
Weeks after receiving the Isamaya Water Balm, I still can't stop pulling it out for my friends to behold. I also genuinely love how it looks on my pout. So, yeah, I guess I'm now obsessed with a lip balm that comes inside of a penis-shaped tube.