18 Foolproof Jackets To Wear With Dresses, According To A Stylist
From mini to maxi, casual to formal.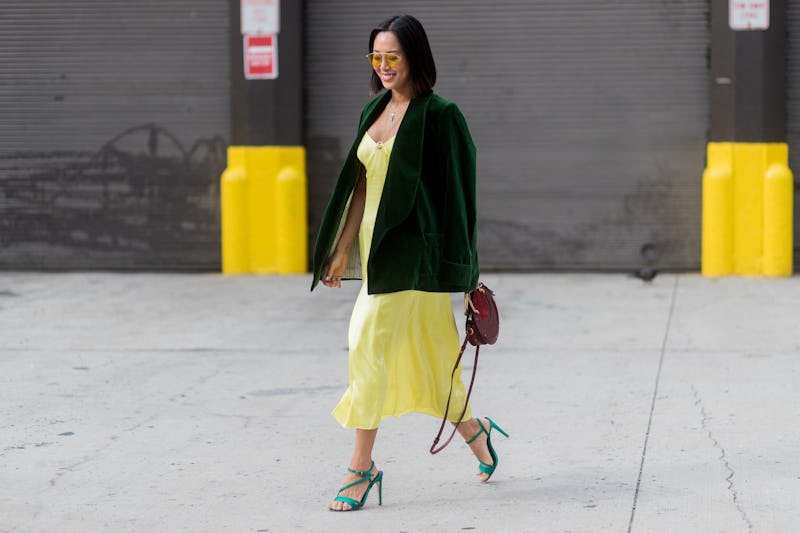 Christian Vierig/Getty Images Entertainment/Getty Images
We may receive a portion of sales if you purchase a product through a link in this article.
Accessorizing a dress can be surprisingly tricky, especially when it comes to outerwear. To make your search as effortless as possible, Bustle reached out to stylist Kim Johnson for expert advice on how to confidently choose the best jacket to pair with any dress in your closet. Whether you're shopping for a jacket to accompany a formal gown, a summer sundress, or anything in between, jackets to wear with dresses are proportional to the dress' hemline, complement the color and material, and they're seasonally appropriate, according to Johnson.
The Expert
Los Angeles-based fashion stylist Kim Johnson has an educational background in both art history and fashion design. She's been curating looks for fashion, advertising, and editorial shoots for 14 years, working with celebrities like Lauren Cohan, major brands including JCPenney, and celebrated fashion photographers.
How To Shop For Jackets To Wear With Dresses
Pay Attention To Proportions
When it comes to choosing a jacket for your dress, proportions are key. According to Johnson, "The main tip is you don't want your jacket and the hem of your dress to match." For example, a long jacket with a short hemline creates visual interest — there's a reason Cake named a song after this very hot aesthetic — and a short jacket won't overpower a maxi dress. There's no reason why you can't pair a cropped jacket with a mini dress, or a duster with a midi or maxi, but for peak proportional harmony, just make sure there's some difference in hemline length.
Consider 5 Key Jacket Styles
Johnson specifically recommends five key jacket styles: Blazers, leather jackets, denim jackets, long jackets, and formal jackets. To simplify your search as much as possible, the curated list below has been organized according to Johnson's recommended jacket styles, so you can easily locate the style that's most likely to work for your dress.
Blazers: When in doubt, Johnson recommends reaching for a blazer. A fitted blazer style "that hits at the hips and pulls in at the waist a touch" is one of the most versatile cuts to pair with multiple dress styles, as it complements minis and won't overpower maxis. That said, an oversized blazer "is a great play with proportions with a mini dress." Johnson also adds, "If you've got a flowy maxi dress you can throw on a blazer and belt it to give some shape and add a new way to bring a blazer some life. Or you can belt the maxi dress and let the blazer be the finishing touch." For the warmer months, consider a blazer in a cooling fabric like linen.
Leather Jackets: A "good motorcycle jacket" will look perennially cool with shorter and longer dresses alike, adding edge to delicate dresses, or texture to simple slip or bodycon dresses.
Denim Jackets: Denim jackets are another wardrobe essential that pairs well with dresses, especially over the warmer months, as they provide a touch of insulation and the stiffer material contrasts well with floatier fabrics.
Long Jackets: If you prefer a slightly longer jacket, consider a classic trench coat. Johnson says, "A light trench in a soft fabric can also look gorgeous with a maxi dress," but the longer style also plays well with mini dresses. A sheer chiffon duster also has the visual impact of outerwear without weighing you down, or overheating in warm weather. In chillier temps, choose jackets in heavier materials like wool.
Formal Jackets: According to Johnson, a bolero jacket in a luxe fabric can "be very chic and dressy over a cocktail or formal dress." Johnson also says that a "cropped blazer can be super chic over a formal dress." A bolero in a floaty fit and fabric is appropriate for formal occasions without any danger of overheating.
Choose Complementary Textures & Colors
According to Johnson, the fabric of the jacket and the fabric of the dress should complement each other. "Make sure the fabrics feel aligned," she advises, continuing, "For dressier moments a sophisticated texture like a crepe de chine, boucle (good for fall and winter) or satin" would work nicely. For casual cotton dresses, she says that "a matted polyester jacket can play well against a soft fabric."
In terms of color palette, Johnson says that "the colors should harmonize or contrast." She explains, "On a colorful dress finding a jacket in a neutral tone can balance the look," while a solid-colored jacket in the same color as the dress "can be very elegant." (The monochromatic look always looks chic.) On the other hand, a solid jacket in a contrasting color from a solid dress "can add a perfect bit of drama."
Scroll on to start shopping the chicest jackets to wear with dresses, no matter the hemline, occasion, or season.
Best Blazers To Wear With Dresses
1. This Long, Oversized Blazer That'll Complement So Many Dresses
Extra versatility points go to this blazer by The Drop. From mini to maxi, casual to formal, the fitted, thigh-grazing silhouette and clean lines will complement so many styles of dress, and it comes in 10 colors, from wear-with-everything neutrals to bright hues like pink and green that would pair perfectly with summer dresses. The single-breasted style features two front pockets and a single-button closure. If you're wearing it over a billowy maxi dress, take a tip from Johnson and add a waist-defining belt.
Positive review: "Looks great with dresses, jeans and athleisure wear - fits perfectly and so happy with my purchase. Will purchase in every color! Just buy it, you will not have buyers remorse :)"
Sizes: XX-Small — 5X | Colors: 10 | Material: 92% Polyester, 8% Spandex
2. This Fitted Blazer With Military-Style Buttons
Gold-tone, decorative military-style buttons adorn this fitted blazer, which also has a cool, V-shaped hemline that adds instant structure. The hip length and slight nip at the waist would look especially chic paired with a midi or maxi dress. Add some gold jewelry to accentuate the buttons and you'll look instantly coordinated.
Positive review: "I wore this to a girl's night out, and my friends were shocked to hear it came from Amazon and said it looked expensive. I love the button detail and fabric. It has stretch, and feels soft and thick. It's not a flimsy thin fabric like some other blazers I've purchased. I highly recommend this one! You can dress it up, or wear it with jeans! Gorgeous!"
Sizes: Small — XX-Large | Colors: 30 | Material: 95% Polyester, 5% Elastane
3. A Single-Breasted Blazer With A Classic Fit
If you're after a crisp, tailored look, consider this single-breasted blazer, complete with subtle shoulder pads for a some serious boss energy. The hip length and classic fit will look good with a variety of dress styles — especially midi and maxi dresses — and the material can be dressed up or down. Key features include a two-button closure and two deep front pockets, and it's available in a few versatile neutrals that are bound to complement most dresses in your closet.
Positive review: "I love this jacket so much I bought different colors. Pockets are usable, jacket is fully lined and the shoulders have a small padding. Very professional and the price is right!"
Sizes: 16 Plus — 26 Plus | Colors: 9 | Material: 96% Polyester, 4% Spandex
4. This Leather Blazer You Can Dress Up Or Down
For casual, semi-formal, and cocktail dresses alike, reach for this blazer. The faux leather material makes it feel a bit more upscale than your typical blazer, and the body-skimming fit makes it easy to dress up or down, pairing well with dresses of varying lengths. The single-breasted style features two front pockets, with a single-button closure.
Positive review: "It has a great fit and looks like real leather. You can dress up anything you wear it with - even jeans"
Sizes: XX-Small — 5X | Colors: 4 | Material: 55% Polyurethane, 40% Polyester, 5% Spandex
Best Leather Jackets To Wear With Dresses
5. A Cropped Faux-Leather Motor Jacket That Comes In Dozens Of Colors
The cropped length of this faux-leather motorcycle jacket would contrast nicely with mini and maxi dresses alike, ensuring balanced proportions. It's full of classic moto jacket details like snap epaulets, a removable waist belt, silver hardware, and an asymmetrical zipper, while one chest zipper pocket and two lower zipper pockets offer handy storage for smaller items like keys or lip balm. And with 46 (!) colors to choose from, you're bound to find the perfect one to coordinate with your dress.
Positive review: "I got this jacket in the grey color and I can't recommend it enough. I love that it's not as intense as a black motorcycle jacket but it still looks really cute. So far I've worn it almost every day since it came in the mail. It looks great with midi dresses and skirts as well as jeans and t-shirts. I love how versatile this jacket is. The quality of this jacket is also awesome. I think it looks like real leather and is heavy. There is really nice attention to detail and I feel that this jacket will last a long time."
Sizes: X-Small — 4X | Colors: 46 | Material: 100% Polyurethane
6. This Genuine Leather Motorcycle Jacket You'll Keep Forever
Crafted from "beautiful," heirloom-quality cowhide leather that'll only get softer with time, this timeless motorcycle jacket is packed with details that will look incredible with dresses, from the asymmetrical zipper to lace-up side details and a hip belt. In addition to three front zipper pockets and a snap pocket, it has interior pockets, and a removable lining so you can adjust for warmer or cooler weather. It's a tough-yet-timeless jacket you'll keep forever. Pair it with a floaty floral dress for delicate contrast.
Positive review: "This is very soft yet heavy leather. The zip out lining makes it adaptable to weather changes. Love it!"
Sizes: X-Small — 5X-Large | Colors: 1 | Material: 100% Polyurethane
7. A Sophisticated Faux-Leather Jacket With An Open Front
This drapey, slim-fit faux-leather jacket will make any dress you wear with it look that much chicer. The clean lines are accented with a dramatic lapel, showcasing the buttery soft lining inside, and two slanted side pockets offer some storage space without interrupting that sleek silhouette. Let the asymmetrical hem and open front take center stage by pairing it with a streamlined bodycon dress. It's hard to believe this expensive-looking piece will set you back less than $50.
Positive review: "I absolutely LOVE this jacket! It's a nice lightweight leather so it's not too bulky or heavy to wear inside over a tank or dress. Color is great and versatile too! Fits true to size"
Sizes: Small — 2X | Colors: 5 | Material: 100% Cowhide Leather
Best Denim Jackets To Wear With Dresses
8. This Wildly Popular Fitted Denim Jacket By Lee
For casual looks that require a little more structure, consider this popular denim jacket from Lee, which has earned over 19,000 five-star ratings to date. It's more fitted than the Levi's style above, so it can balance out flowy dresses, and the addition of rayon and spandex gives it an ultra-soft feel. With a button front and two button-front chest pockets, it's the classic fitted denim jacket you've been looking for; you'll wear this with so many dresses for years to come.
Positive review: "Perfect for wearing with dresses in the summer. I have broader shoulders and have a hard time finding jackets that fit so bought this one in a couple washes. I will get a lot of use out of it!"
Sizes: X-Small — X-Large | Colors: 12 | Material: 62% Cotton, 24% Polyester, 13% Rayon, 1% Spandex
9. A Timeless Levi's Denim Jacket For Casual Looks
A timeless Levi's denim jacket has a place in any wardrobe, and a few Amazon reviewers have commented on how good this one looks with dresses. It features a boxy fit that hits at the hip, with button closure and two button-front chest pockets. The denim can contrast with dressier fabrics, or complement more casual blends. The fit is oversized enough to feel modern, and you can even layer a sweater underneath if you need an extra layer.
Positive review: "I'm glad I bought it, I've worn it a bunch in the summer evenings, it can be slightly dressed up if worn with the right dress, but is really a perfect casual jacket."
Sizes: X-Small — 4X | Colors: 12 | Material: 97% Cotton, 3% Elastane
Best Long Jackets To Wear With Dresses
10. A Classic London Fog Trench Coat In A Longer Length
Embody It-Girl style with this belted trench coat by classic brand London Fog. The longer length would look elegant with maxi dresses, or contrast nicely with shorter dresses, and the timeless style can lean both dressy and casual. With a two side pockets, a removable hood, a light lining, and a water-resistant finish, it's as functional as it is stylish. You'll wear it with all your dresses — and everything else in your wardrobe, too.
Positive review: "I had been looking for a long trench coat - everything was either hip length or knee length, which does not work for me because I wear maxi skirts/dresses so I need a long trench coat. When I saw this, I ordered it immediately because I know London Fog - it's top quality. (They are the staple of the trench coat, besides Burberry naturally.) This is trench coat to invest in. The price is EXCELLENT - I checked other department stores - and could not find this coat at this price; and the quality is, well, London Fog - enough said!"
Sizes: Small — X-Large | Colors: 2 | Material: 57% Cotton, 43% Polyester
11. This Sheer Belted Duster That's Perfect For Warm Weather
For a barely-there outfit accent, try out this duster; the flowy, sheer fabric and rollable sleeves are ideal for warm weather when all you need is a light layer. The open-front, single-breasted style and optional tie belt add minimal structure while remaining relaxed and elegant. Contrast the slinky sheer fabric by pairing it with a bodycon midi or mini dress.
Positive review: "OMG! This was the perfect duster for date nights. I loved it because it covered enough to feel comfortable and was sheer enough to show off my cute dress underneath. Get it!!!"
Sizes: Small — X-Large | Colors: 10 | Material: 100% Polyester
12. A Sleek Belted Trench Coat In A Mid-Calf Length
Here's another classic trench coat to consider, this time in a slightly shorter, mid-calf length that would look great with a mini dress for a little hemline contrast. Add a pair of heels if you're feeling dressy, or pair with white socks and sneakers; either way, you'll look polished. Sleek and minimal, this features two side pockets, a removable tie belt, a water-repellant finish, and a relaxed fit. Choose from five on-trend colors, like olive (pictured), Barbiecore pink, and classic black.
Positive review: "This trench is gorgeous! [...] The length is perfect, and this looks smashing over leggings OR over a slinky slip dress. It's very versatile. The fabric is soft to the touch, and the pockets are at the perfect angle to me. I prefer it open, versus using the belt, but all of the closures are well stitched and of good quality. This is the first item I have from the Amazon Aware line, and I am impressed. This is such a timeless design, I know I will get good use of it for quite a while."
Sizes: XX-Small — 7X | Colors: 5 | Material: 77% Cotton, 23% Nylon
13. This Denim Duster That Would Look So Cool With A Mini Dress
The silhouette of this denim duster borrows from classic denim jackets, but the knee length is a modern touch that will contrast with shorter dress hemlines perfectly. This version features two side pockets and two button-front chest pockets in a classic mid-blue wash, but you'll find other variations in the listing with different washes and levels of distressing. Add a hoodie and chunky sneakers to your dress for a look that's effortlessly cool; and if you'd like more structure, you can always cinch the waist with a belt.
Positive review: "I loved everything about the coat. It looked great with jeans and top +boots or with a longer dress and boots. I ordered a larger size in the event I wanted to layer! Quality fabric! It is easy to put on and take off as that little bit of stretch really works!"
Sizes: X-Small — 4X-Large | Colors: 9 | Material: Denim Blend
Best Formal Jackets To Wear With Dresses
14. A Satin Bolero Jacket
Formal or cocktail dresses require outerwear in complementary fabric, and this highly rated open-front bolero is crafted from a shimmery satin that's elegant enough for dressier occasions. The minimal design won't compete with other patterns or textures, and can be popped on and off easily, in case things heat up on the dance floor. It's fitted, so it will look lovely against both fitted and flared dresses of any length.
Positive review: "I love these! I'm going to buy them in more colors. I have gotten so many compliments. They are perfect to dress up any casual outfit but also nice enough to wear with a formal dress. Great comfy material makes it easy to move around in also and not heavy so can be worn in warmer weather."
Sizes: Small — XX-Large | Colors: 39 | Material: 90% Polyester, 10% Spandex
15. A Shrug Jacket Made Of Floaty, Sheer Chiffon
Pop this shrug jacket over any formal or cocktail dress when you need a light layer. The texture of floaty, sheer chiffon and three-quarter sleeves would look incredible paired with fitted dresses, like slip-style gowns. Featuring an open front with a cropped handkerchief hem, this manages to be both relaxed and sophisticated at once.
Positive review: "Elegant. Light. Just the right chic touch for a formal dress."
Sizes: Small — X-Large | Colors: 8 | Material: 100% Polyester
16. A Pretty Lace Shrug With An Adjustable Tie Front
Sheer floral lace adorns this lace shrug, the sort of delicate accent that would be an excellent partner to so many formal and cocktail dresses, and the ultra-lightweight feel is ideal for warm weather occasions (or if you tend to overheat on the dance floor). The cropped silhouette and floaty, three-quarter bell sleeves won't compete with more ornate dresses — think of it as a piece of jewelry, rather than apparel. The tie-front allows you to adjust the fit, so you can cinch it tighter to complement floatier dresses, or loosen it to contrast with slimmer-fit dresses.
Positive review: "This is the perfect warm weather shrug/wrap/bolero for formal occasions. It is is incredibly light — I almost threw the package it came in away because I didn't feel the weight of it inside! The material is not scratchy but rather soft. [...] if you're looking for a pretty, elegant, and comfortable shrug that won't make you swelter in the heat, look no further!"
Sizes: 1X — 3X | Colors: 4 | Material: 90% Nylon, 10% Spandex
17. This Boxy Cropped Jacket With Cute Pleated Shoulders
Just because you're dressing for a formal or cocktail event doesn't mean your outfit has to feel stuffy or precious, and this jacket understands that perfectly. The pleated shoulders add a delicate touch, but the boxy, hip-length fit feels modern. Decorative front zippers add a bit of toughness to an otherwise crisp aesthetic (note that the pockets are merely decorative). This would look incredible paired with a floaty floral or silk dress to contrast the edgy zipper details.
Positive review: "This is a nice lightweight, well constructed jacket. Goes great with dresses or jeans. Planning on getting more of them!"
Sizes: Small — XX-Large | Colors: 13 | Material: Polyester, Spandex
18. A Fringe-Trimmed Boucle Jacket
The fringe trim and boucle texture of this single-breasted jacket are reminiscent of classic Chanel jackets, sure to elevate any dress to cocktail attire perfection. With snap detailing at the cuffs and an open front, pair this with dresses in contrasting textures like silks, satins, or even add a print to avoid feeling too matchy-matchy.
Positive review: "It's a mid to light weight jacket. Very versatile to wear with jeans or dress pants."
Sizes: X-Small — 3X (availale in petite) | Colors: 7 | Material: 72% Cotton, 16% Acrylic, 7% Nylon, 5% Polyester
Expert:
Kim Johnson, Los Angeles-based stylist