Jennifer Aniston Just Revived "The Rachel" Haircut – With A Twist
The actor's Friends 'do was a defining style of the '90s.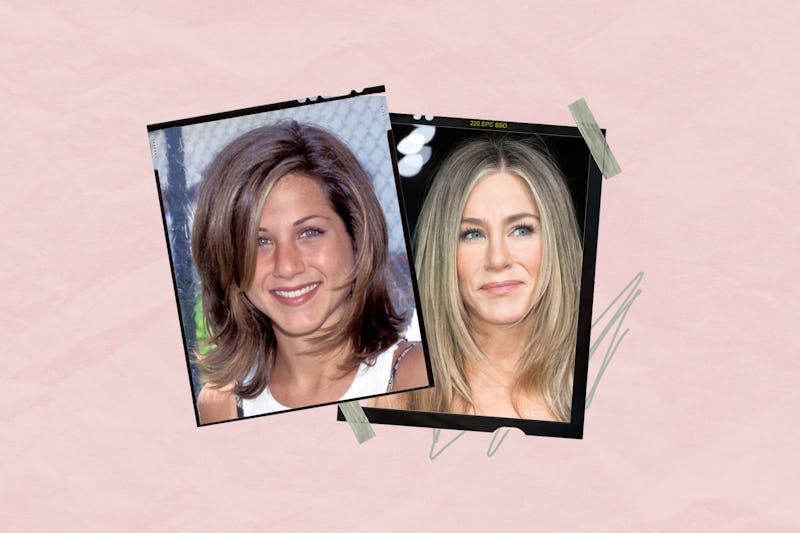 Getty Images/Kevin.Mazur/INACTIVE / Contributor / Marc Piasecki/WireImage/Getty
Back in Friends' heyday, Jennifer Aniston's "The Rachel" hairdo was a defining style of the '90s, and remains a much-desired cut to this day. Aniston debuted the style while playing Rachel Green on the hit sitcom, but more than two decades later, The Morning Show star has revived the iconic Rachel haircut — with a modern twist.
While attending the Paris premiere of Netflix's Murder Mystery 2 on March 16, Aniston opted for a Rachel-inspired hairdo, that, as Vogue notes, replaced the "choppy" style of the original '90s cut with longer, "baby blonde" layers. Meanwhile, Aniston's red carpet attire at the star-studded event included a sparkly gold Celine dress, complimented by a vintage white Gucci jacket.
The actor was joined at the Parisian photocall by the likes of Adam Sandler, Mélanie Laurent, and Kuhoo Verma, among others — each of whom star alongside Aniston in Murder Mystery 2. Directed by Jeremy Garelick, the action-comedy sequel follows the story of two full-time detectives who find themselves at the centre of an international scandal while trying to launch their private eye agency.
As mentioned, appreciation for Rachel Green's iconic 'do stretches far beyond its '90s peak. In 2021, ahead of HBO Max's Friends reunion special, online searches for "The Rachel" haircut increased dramatically. Speaking at the time, hairstylists Trey Gillen and Theadora Guzmán gave Bustle the lowdown on how to properly recreate the style.
"If you want to get the exact cut, it'll require an actual visit to a stylist," Gillen shared, revealing that the crux of the haircut is "collapsed layers on the sides of the head." Meanwhile, Guzmán added that those who prefer a modern take on "The Rachel" should consider styles including curtain bangs and a shag haircut.