19 Years Ago, Monica Geller Wore A Dress So Chic That Jennifer Aniston Stole It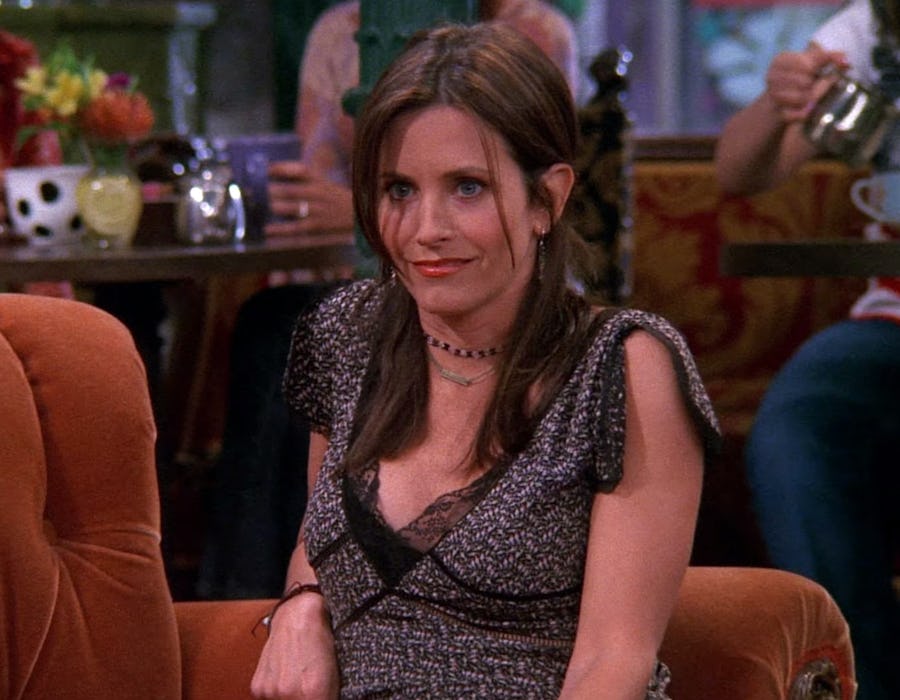 Screenshot via Netflix
With stints at Bloomingdale's and Ralph Lauren, there's no denying Rachel Green was the certified fashionista on Friends. Her chic 'fits ran the gamut — from effortlessly relaxed in capri pants and thong flip flops to preppy in workwear, and spicy in date night slips — giving fans style inspo for *actual* decades. To this day (almost 20 years since the show went off the air), just about every aspect of her style is still celebrated.
While society collectively drooled over Rachel's outfits, Jennifer Aniston, AKA Miss Rachel Green herself, had her eye on a different character's wardrobe: Monica Geller's. One dress, in particular, would eventually make its way from the set to Aniston's own closet.
The dress in question made an appearance in a Season 8 episode titled "The One Where Rachel Is Late." A pregnant Rachel is long past her due date, leading Phoebe (Lisa Kudrow) and Monica (Courteney Cox) start a bet on when she'll pop. Monica herself is in a '90s-style (naturally) midi dress that hits just past her knees — essentially, a fashion *chef's kiss*.
The black number had tiny flowers printed all over and a deep-V neck, lined with a contrasting black lace trim. Delicate, flouncy details on each shoulder (like cap sleeves sliced down the middle) give it an air of saccharine sweetness.
Though there's not much ado about the dress in the plot — nor is it one of Monica's best looks — it's an item Aniston coveted. So much so, that when the show ended in two years later in 2004, Aniston stole the dress from Cox's costume rack.
In a 2019 interview with Bustle, Aniston shared that though she and Cox picked their own outfits weekly ("We'd go to the dressing room and they'd have our rack of clothes and we would just go through them and put outfits together and just dress ourselves"). This dress, however, ended up on Monica.
She managed to snag (and keep!) it IRL, though. "I still have a dress that I still wear to this day that I stole from Monica's closet," Aniston revealed. She doubled down on her love for her stylish contraband in an interview with People. Describing the wardrobe theft for her co-stars, she recalled, "I went into [Monica's] line of clothes and I pulled it out ... I still wear it to this day and it still fits."
True to form, Aniston was spotted rocking the dress a year later. She even took to Instagram Stories last June to share a pic of her in the garment, side-by-side with Monica in the exact same look. The actor wrote, "Does the dress look familiar? Still got it!"
Aniston thinks this dress "will always be in style." Hard agree.