The Story Behind Kate's Dress In The 10th Wedding Anniversary Portraits
This sartorial choice says a lot about the Duchess.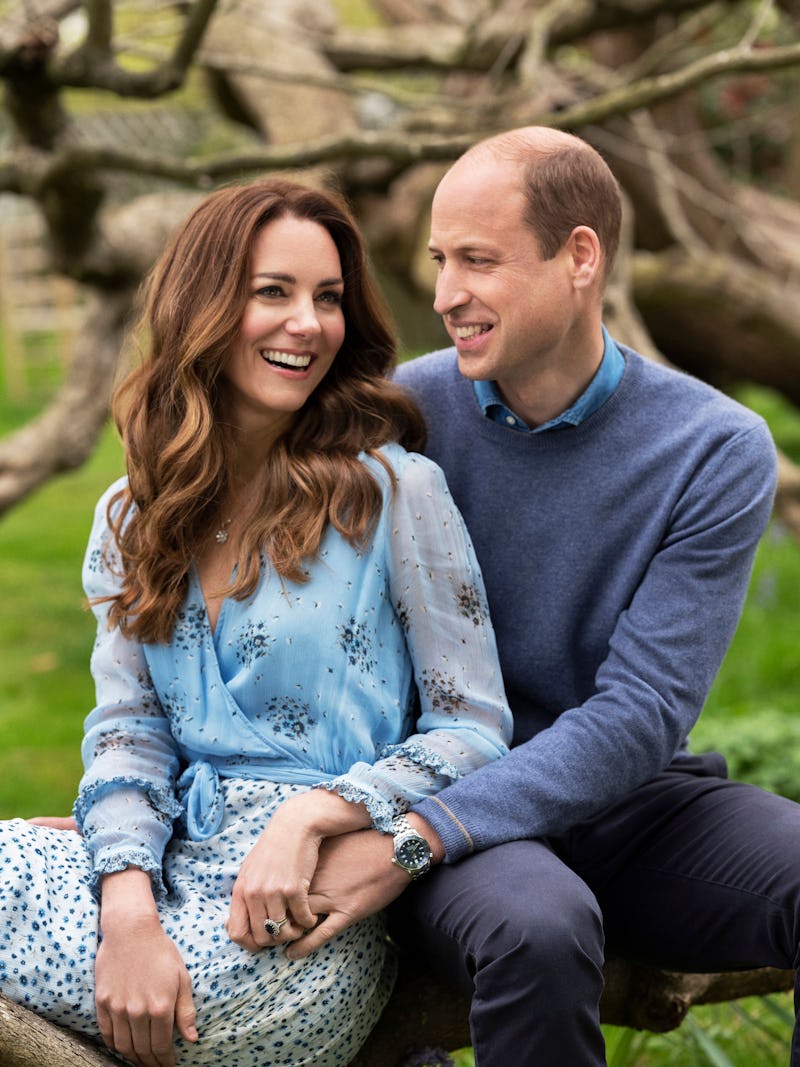 Chris Floyd/Camera Press/Shutterstock
The Duchess of Cambridge is nothing if not sartorially reliable. A dedicated fan of the British high street, Kate Middleton has been known to favour affordable and accessible brands long before joining the firm. Her other style signature? Rewearing old favourites. For her tenth wedding anniversary portraits – historic images released to mark the milestone moment – Kate decided to stick to her style staples, and her dress choice says a lot about the Duchess.
In two touching portraits, captured by celeb photographer Chris Floyd, the Duchess is wearing the same floral frock; a notable cheery note from the more somber ensembles she's worn of late, including the touching tribute paid to the Duke of Edinburgh at his funeral. She could have called on her wedding dress designer, Sarah Burton of Alexander McQueen, or any other designer, for that matter. But no, Kate chose to rewear a high street frock that was already in her wardrobe.
In the anniversary portraits, shared to mark her and William's milestone wedding anniversary, Kate looks her usual beaming self. Her hair is in a relaxed blow out, the ruffle detailing and floral print perfectly matching her jewellery, an Asprey diamond necklace in the shape of a daisy. The feel is overall feminine and cheerful, very in-keeping with the Duchess's style over the past decade.
Per respected Kate Middleton fan account, Kate is wearing a Ghost fashion Avery floral wrap dress, first worn by the Duchess to attend a reception during the Royal Tour of Pakistan in 2019. Royal watchers have noted that though official photographs of the event were not shared at the time, there are a few rogue snaps from guests.
Ghost is a firm favourite of Kate's. She's been known to wear the brand, owned by Dragon's Den star Touker Suleyman, on multiple occasions. Most recently, in those widely circulated pictures taken at the royal couple's Norfolk home from when the whole Cambridge clan appeared on the BBC's Clap For Our Carers special. She also sported the 'Boo' statement collar blouse during Remembrance week last November.
Sadly, the Avery floral wrap dress is no longer available to buy. (As soon as Kate first wore the £195 high street dress in 2019 it sold out.) But the conscious choice of a £195 dress which she already owned harks back to another major fashion moment: her engagement portraits.
In 2010, the royal couple posed for a few pictures which are now engrained in our collective memories. At the time, the future king's fiancée, as she then was, won the world over with her Whistles blouse and Reiss dress, two items she already owned. Much like she did then, Kate is subtly (and stylishly) proving that she remains the same relaxed, reliable, and optimistic woman she has always been.