Dealing With Dry Skin & Acne? This New Launch From Keys Soulcare Has Your Name On It
Pesky pimples don't stand a chance against this powerhouse cleanser.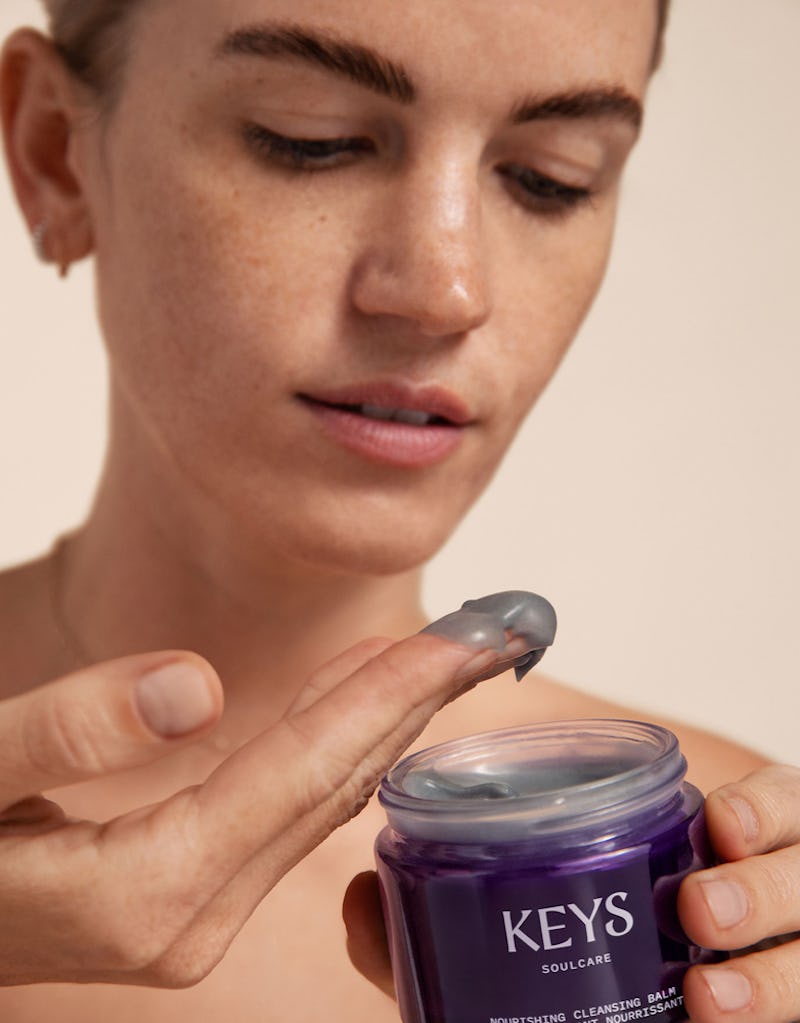 Keys Soulcare
They may seem like totally separate skin concerns, but dry skin and acne often go hand in hand. The reason is simple: When skin is dry and dehydrated, it tends to start overcompensating by making more sebum than needed which can subsequently clog pores and lead to pimples, blackheads, and whiteheads. This issue is especially common during the cold-weather months when humidity is scarce and temps are constantly fluctuating (this really confuses skin). That's why it's extra important to baby your complexion with products that soothe, nourish, and hydrate.
The latest skin-care launch from Keys Soulcare checks all those boxes. The Nourishing Cleansing Balm With Shea Butter + Bamboo Charcoal is deeply moisturizing and a foolproof cleansing option for all skin types, but especially for those with combination skin who struggle with both breakouts and dryness. Here's how it works.
We only include products that have been independently selected by Bustle's editorial team. However, we may receive a portion of sales if you purchase a product through a link in this article.
The Benefits
"The bamboo charcoal incorporated into this cleansing balm helps to eliminate excess oil, making it a great option for those with oily or acne-prone skin," explains Dr. Marisa Garshick, a board-certified dermatologist based in New York City. "It also works to remove makeup, dirt, and debris without irritating the skin." It does so thanks to a calming blend of shea butter, sunflower seed oil, and macadamia seed oil, which also makes it a solid option for those with dry skin. "Because the formula contains manuka honey and oils that are rich in fatty acids, it'll help to keep the skin hydrated and nourished," Garshick says. On top of that, it aids in locking in moisture, which is crucial when it comes to maintaining a healthy skin barrier.
To recap, here's exactly how this unique cleansing balm can boost your complexion:
It keeps oil in check.
It keeps pores clean.
It softens dry patches.
It locks in hydration.
It keeps your barrier strong.
How To Use It
Whether you wear makeup or not, this hydrating cleanser can be used to gently whisk away pore-clogging impurities that accumulate on your skin throughout the day. For best results, massage a quarter-sized amount of product onto dry skin in circular motions using the pads of your fingertips. Do this for at least one to two minutes before adding a touch of warm water to break down the balm into a rich oil — then rinse to remove. While you're at it, make it a ritualistic moment by lighting the brand's best-selling Sage + Oat Milk Candle to invigorate your senses and create a spa-like feel in your bathroom. As with all of Keys Soulcare's products, the Cleansing Balm comes with its own affirmation to recite while using it: "I can start over at any time."
When used on a daily basis, this formula can help keep your skin calm and hydrated. And well, what more could you ask for?