Kylie Jenner's Giant Lion Head Outfit Has A Deeper Meaning
The cosmetics mogul was the leader of the pride at Schiaparelli's couture show.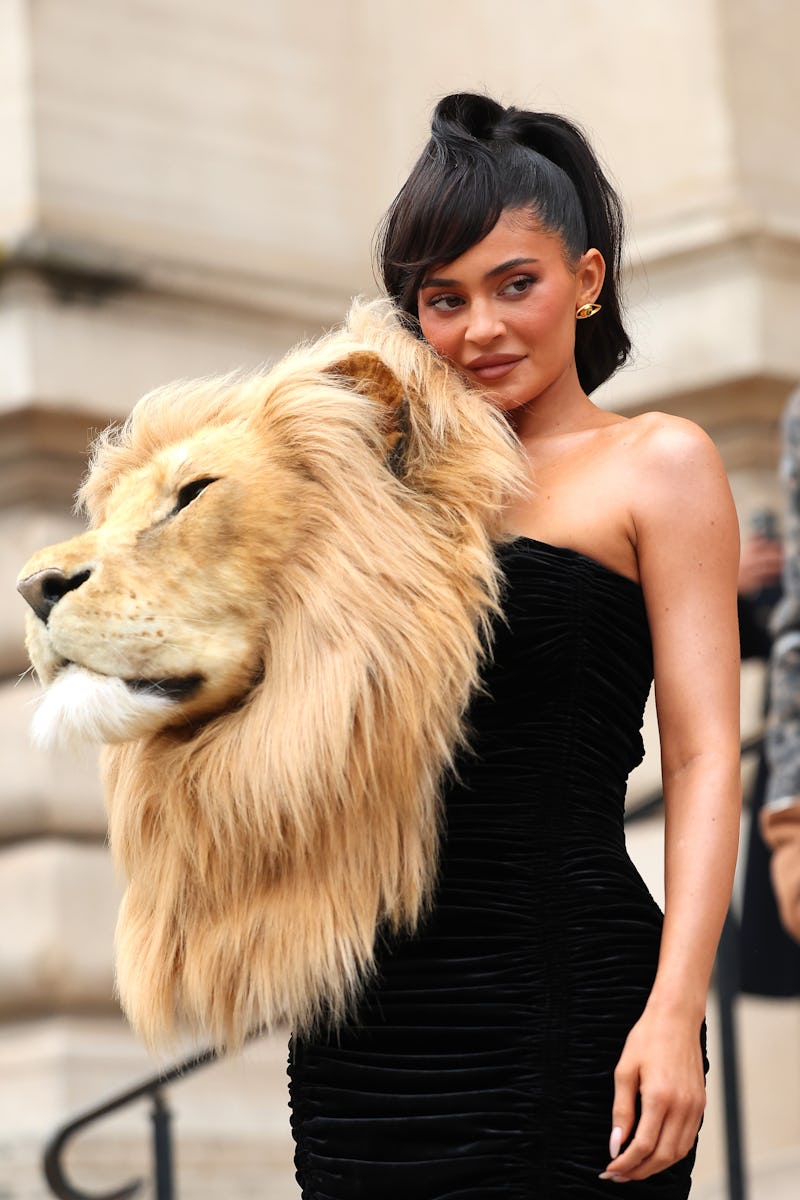 Jacopo Raule/Getty Images Entertainment/Getty Images
Fans of The Lion King, please avert your gazes. Kylie Jenner rocked up at Schiaparelli's Paris Fashion Week show on Jan. 23 with a super-realistic looking lion's head attached to the front of her black gown. Though the beheaded beast is thankfully completely "manmade" and fake, it left fashion fans baffled all the same. Some labelled the look "gross," while others quickly busied themselves with whipping up memes.
Whatever you make of Jenner's outfit, her taxidermy homage was a brand new look from Schiaparelli's Spring/Summer 2023 Couture collection, which includes several other life-sized animal heads. As well as Jenner sitting front row for the event, veteran model Naomi Campbell also made a surprise cameo during the show, wearing a black coat with a striking wolf head attached.
Jenner's wild new look comes shortly after she revealed her son's name is Aire, which has a Hebrew translation of "Lion of God," suggesting a deeper meaning to her front row outfit. Jenner's star sign is also Leo, which has the symbol of a lion. Though she and her ex Travis Scott (born Jacques Bermon Webster) previously named their 11-month-old son Wolf Webster on his birth certificate, Jenner has openly admitted that they weren't 100% sold on it.
"His name is still Wolf," she said during an appearance on The Late Late Show With James Corden in September, alongside her mum Kris Jenner."His passport's Wolf, but that isn't going to be his name. We're just waiting."
Meanwhile, taking to Instagram to share pictures of her lion-heavy look, Jenner wrote: "BEAUTY AND THE BEAST... I loved wearing this faux art creation constructed by hand using manmade materials. Beautiful, beautiful."