Laura Harrier's Eye Cream Application Technique Is A Game-Changer
The actor shares the products that keep her glowing.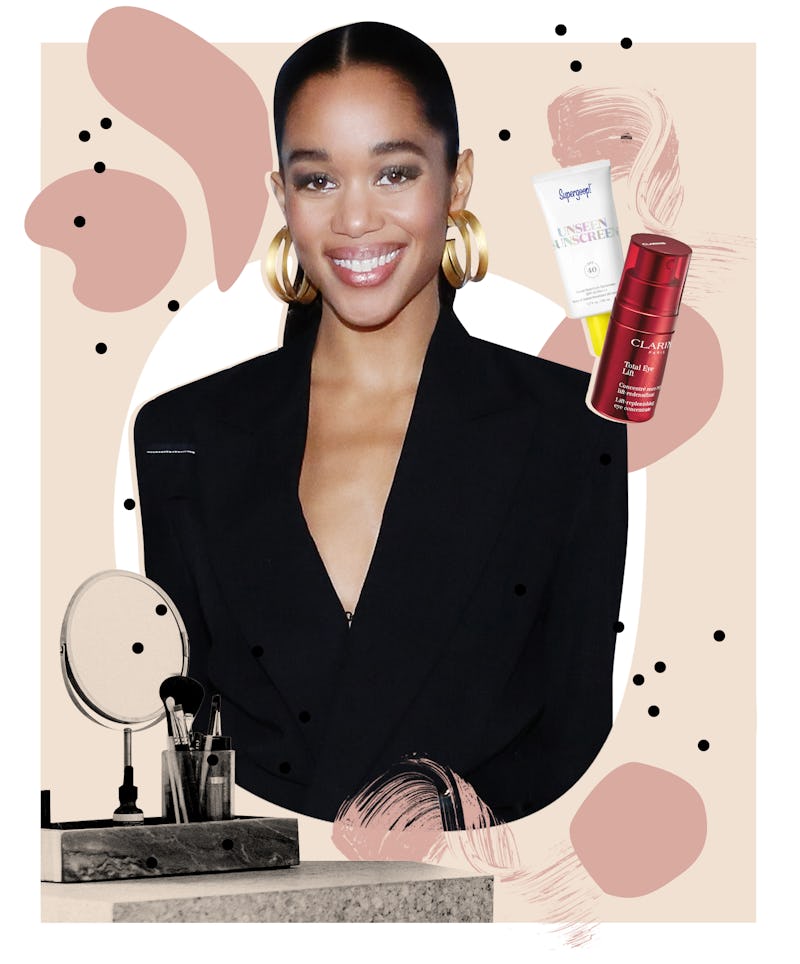 Gabriel Olsen/Getty Images
In Bustle's Beauty Detail, we dive into the beauty bags of our favorite talents for intel on the rituals that keep them glowing and the MVPs (most valuable products) they can't live without. Here, Laura Harrier tells Bustle about her go-to protective hairstyle, the one thing she wishes she knew sooner about skin care, and the '70s icons who inspire her.
When it comes to her beauty routine, there's one strict rule that Laura Harrier always abides by: Thou shalt wash off thy makeup before bed. "If I sleep one night with a face full of makeup, I instantly pay for it the next morning. I'll have bumps on my face," the Hollywood actor tells me over the phone. That's enough to deter her from slacking off. "No matter how late it is, how jet-lagged you are, how many glasses of wine you have, it's so important. Make that little promise to yourself. I think, 'Okay girl, I know you're tired, but you're gonna watch this face.'"
The BlacKkKlansman star also likes to switch things up with her hair (she counts '70s sweethearts Diana Ross, Donna Summer, and Bianca Jagger among her beauty icons), but is careful with her fine texture. "I love a box braid," she says. "[But for me], it's protective up until a certain point. If [the braids have] been in there for too long and it's getting too heavy — or I'm on vacation and the water's weighing it down — I do feel like I'm getting a lot of breakage."
Like most people, Harrier learned a few things about taking care of her complexion that she wishes she knew a lot sooner. She doesn't hesitate when I ask about her greatest skin sins of the past. "I wish I just knew to be nicer to my skin," she says, laughing ruefully. "I have really sensitive skin and I don't think I realized that until kind of late in the game." The actor admits that she regrets using toners with harsh ingredients as a teenager. "I thought, 'Oh, this will get rid of my zit.' It just burned off my face, which was not a good idea."