Marianna Hewitt's Advice For Becoming — & Staying — Relevant
The Summer Fridays co-founder on the future of the influencer industry and how she stays inspired.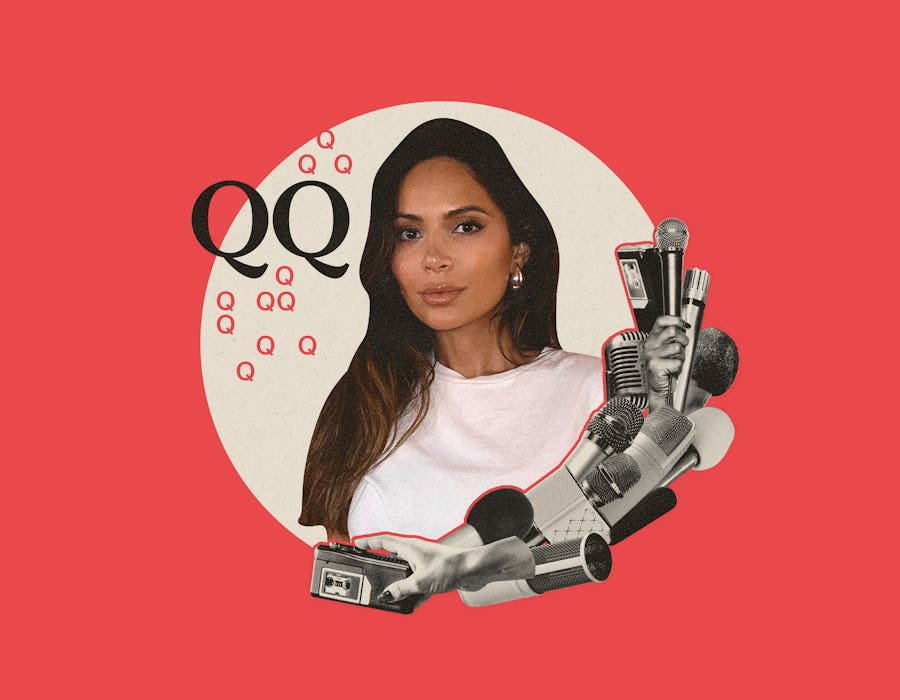 If you're plugged into the influencer world, you know Marianna Hewitt. Known for her minimalist aesthetic, Hewitt first gained attention for her aesthetically-pleasing Instagram feed and laidback-luxe style — and has since grown that into a #1 fashion and beauty podcast, Life With Marianna, and cult-favorite skin care brand, Summer Fridays, co-founded with Lauren Ireland. The brand launched with just one product: the now-iconic Jet Lag Mask, cased in a squeezy blue tube, and has now expanded to include skin tints, blush balms, lip balms and more — each more viral than the last. With each new launch, Hewitt has proven that she has a knack for intuitively knowing what products people truly want.
"Being influencers really helped [Lauren and I] with launching a brand because we understood brand marketing, influencer marketing, and what makes a product stand out on social," Hewitt says to Bustle. These days, it seems like everyone is a social media influencer, but there was a time not long ago when that wasn't always the case. Back when Hewitt started her blog and YouTube channel in 2012, the word "influencer" was just starting to hit the mainstream. Hewitt was undoubtedly one of the first to make a full-time career out of sharing her lifestyle on social media — and her journey to brand founder and lifestyle personality is one that inspires many who hope to follow in her footsteps.
Keep reading for her thoughts on how the industry has evolved, tips for building a personal brand, and what keeps her inspired.
You are one of the OG influencers. What were you doing back then and what made you start sharing your life on social media?
I've always had a passion for sharing the things I love with an audience and telling stories. It was always what I wanted to do as a career when I "grew up," but at the time the only path to doing that was to become a TV host. I was working as a host at the time in fashion and beauty news and downloaded Instagram to share behind-the-scenes of carpets and events I would attend for work. The comments started to ask where I got my dress or how I did my hair and makeup for work, so I took what I was already doing each day and started sharing it with my small following.
Did you see success immediately?
I posted my first YouTube video in 2012. Then I started to organically post on YouTube, my blog, and Instagram when I was getting ready for work, at work, or on the weekends. At the time, my YouTube channel and blog were my primary platforms and I would use Instagram to promote what I was sharing on there. Slowly, some brands started sending me free products in exchange for posting or I would get offers for $50 to post on my Instagram feed, and I couldn't believe I could get free stuff!
When did it transition from just for fun to a real business for you?
While I was at my previous job, it was the very early days of blogging and it was so interesting to me. I started reaching out to bloggers via their sites to interview them and a few of them responded with their agency contacts. I didn't even know bloggers could have agents. I kept in contact with one and showed them what I was creating. They took a risk and saw potential in my content and signed me to help me get sponsored opportunities. By early 2014, I was able to become a creator — at that time it was called being a "blogger" and "YouTuber" — full time.
How has your personal brand evolved over the years?
The core of my personal brand remains the same: beauty in all things. I started sharing tutorials with prestige beauty products and brands like Laura Mercier and Armani Beauty because those were the products I loved and used to get ready for work. I had a passion for sharing my favorite products with my online friends, and that has stayed true for the last decade.
How have you seen social content trends change over the years?
The trends have changed so much over the last decade, especially with new platforms. But what remains the same are creators who focus more on building community, rather than focusing on views or clicks. So many of my peers who have careers I admire have spent many years focusing on slow, sustained growth to keep their community engaged for many years.
Where do you predict the content creator industry to be in the next five years?
The creator industry won't be going anywhere — it will continue to evolve and we'll see more creators emerge of all ages. I'm really excited to see new creators who appeal to an older generation, and to see experts in various niches be given platforms to share what they are passionate about. What I love about TikTok is finding new creators — from cleaning and organizing experts to glass-making experts — and how they create content around their hobbies.
What's your advice to aspiring content creators?
Figure out what you're good at, which platform aligns best with your skills, and what you enjoy doing, and focus there. And just start! Start creating content and the more you post, you'll see what your followers are interested in. Be consistent and maintain momentum.
Summer Fridays reached cult status quickly — what are some things that you feel helped contribute to that?
From years of sharing beauty products, I knew what my followers were looking for. What we didn't know at the time was that they had been an accidental focus group. So when creating Summer Fridays, we had a really good idea of what our communities wanted — plus, we are our own target consumer, so Lauren and I were dreaming up a brand that we wanted in our own routines.
How do you stay inspired?
Travel really inspires me, as it did with our first launch, Summer Fridays Jet Lag Mask. When I'm traveling, I see what is really necessary in my routine and what steps I can't live without when I really need to pare down.
What's the best business advice you've ever received?
To just get started because the timing will never be perfect. You'll figure things out along the way, but the hardest first step is to just begin.
What does a typical morning look like for you?
My morning routine is vital to my day because I can take some time for myself before being present for anyone else who needs me. I get up, make my bed, and then do a quick meditation. I'll write in my journal to start my day with a gratitude mindset, and then I'll listen to a podcast or audio book while I get ready.
What are some of the biggest lessons you've learned as a brand founder?
Enjoy the journey and the people you're along for the ride with.