A New Era Of Matte Liquid Lipsticks Is Upon Us
Bold, non-glossy pigments are back.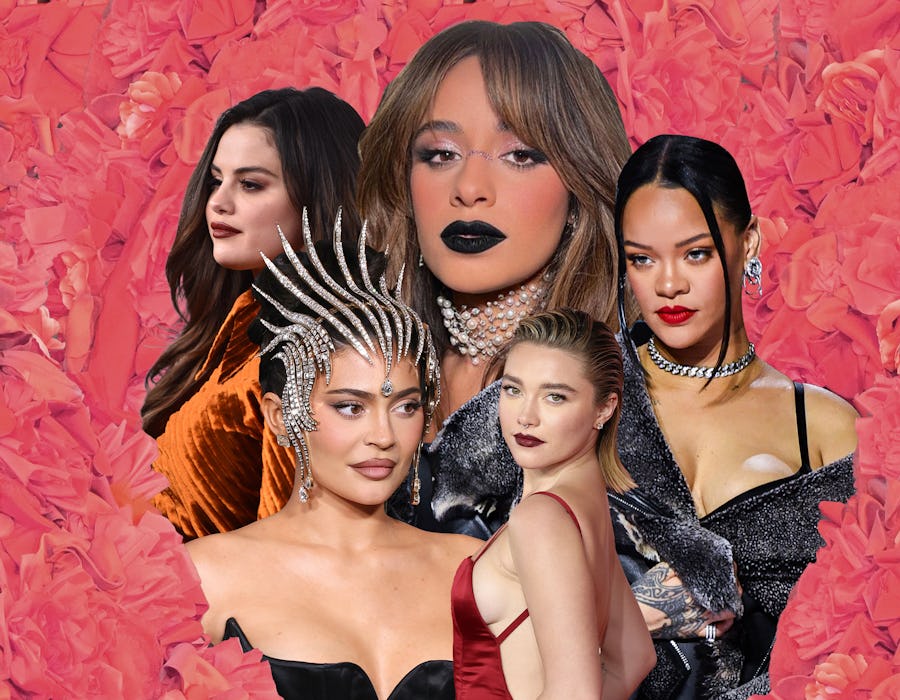 We may receive a portion of sales if you purchase a product through a link in this article.
Juicy glosses, hydrating glazes, and high-shine oils have completely owned the lip category over the last few years. And because of the recent obsession with glistening, Y2K-inspired pouts, matte liquid lipsticks have promptly taken the back seat.
Though after a near three year glossy reign (which was no doubt sparked by the uptick in dewy finishes thanks to the shutdown that shall not be named), a new era of matte lips is here — and spoiler: they are a lot more comfortable and lip-loving than ever before.
But let's jump back to matte liquid lipstick's heyday, way before gloss made its triumphant comeback into the makeup bags of just about every single beauty lover. I'm talking late 2015 or early 2016, all the way up until about 2020. And TBH, it's impossible to speak on the recent history of matte lips without discussing Kylie Jenner.
Turning the beauty industry on its head with her uniquely rebellious marketing strategy of speaking directly to consumers through social media (rather than pricey ad campaigns that were very much the industry norm), the youngest Jenner sister began her Kylie Cosmetics empire in the fall of 2015 with three liquid lipsticks, all paired with identical lip liners to match. And as her lip kits were sold out in mere seconds, with the makeup obsessed setting alarms to not miss the new drop (I am she) — matte formulas quickly became the epitome of glamour, with other cult-fave brands dropping their own takes on the trend in suit.
At the time, however, many loved the *look* of matte lips, but found that they could be drying after long hours of wear, or even uncomfortable on the lips. What's more, the quick-drying formulas often settled into the lips' creases, emphasizing texture and leaving pouts seriously craving some hydration. Hence the return of more moisturizing glossy formulas as soon as the world craved a bit more comfort in our daily lives.
In recent months, however, matte liquid lipsticks have been slowly inching their way to the forefront with countless innovative formulas dropping under the radar. This time around, however? The formulas are a lot more plush and nourishing, brimming with lip-loving ingredients that make them long-wearing *and* comfortable. I call that a major win-win for the matte movement.
KVD Beauty reformulated its cult-fave Everlasting Hyperlight Liquid Lipstick to include hydrating ingredients like raspberry stem cells in response to consumers' needs, to name one in particular. And cementing the long awaited comeback of matte pouts for good, Rihanna unveiled her growing baby bump during her Super Bowl Halftime show, *also* taking the opportunity to launch her newest Fenty Beauty Velvet Liquid Lipstick while wearing an iconic deep red hue.
Back in 2015, the Kylie Cosmetics mogul struck gold with her matte formula (literally). And the queen of matte lips herself shares this sentiment with Bustle by way of email: "While I've definitely been leaning into the gloss trend with my Gloss Drips, I still love a matte lip moment and our Matte Lip Kit is perfect for this. It's been a fan-favorite with our consumers since launch, and is still a staple in my glam routine — it's perfect for when I'm going for a bolder lip look."
Kylie Cosmetics' iconic Matte Liquid Lips glide on smoothly, hugging your lips with a whole lot of pigment. And especially when applied in a precise, thin layer — your lips never feel too heavy, and have a transfer-free finish that lasts all day long. As for Fenty Beauty's latest lip launch, the velvety smooth texture is uniquely reminiscent of a whipped chocolate mousse treat, and the lightweight formula feels all things comfy without compromising on pigment. Though there can be some transferring on your fave coffee mug, the lip looks fresh and bold for hours.
And with fresh new keywords being used to describe this direction of more comfy matte formulas — like suede, velvet, mousse, cushion, and cream — it's clear that matte liquid lipstick's rebrand is one to watch.
Shop Matte Liquid Lipsticks