'Hacks' Star Meg Stalter's Earliest Skin Care Memory Is Hilarious
The comedian shares her dry skin essentials.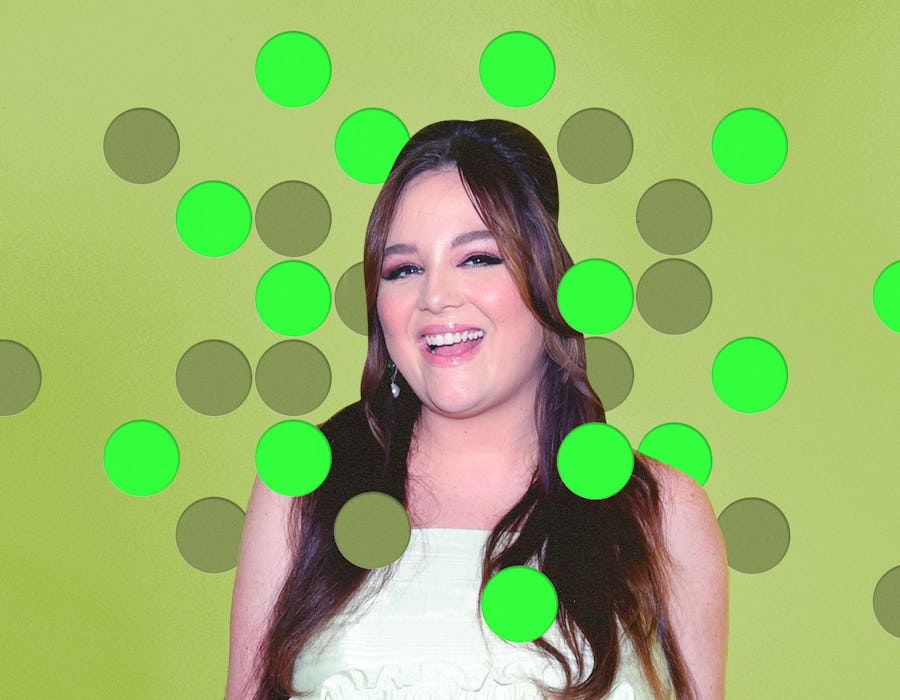 Pore Decisions
We may receive a portion of sales if you purchase a product through a link in this article.
In Bustle's Pore Decisions, celebrities, influencers, and Bustle's own readers recount their personal skin journeys: the good, the bad, and everything in between. Here, Meg Stalter shares her hilarious first skin care memory, the best beauty advice she's ever received, and how she manages anxiety.
For many, Meg Stalter quickly became a real-life comfort character for those dealing with scary, isolating times during the shutdown. Since that shared era of the unknown, the comedian-turned-actor has had a breakout role in the laugh-filled HBO Max series Hacks, with countless other binge-worthy projects currently on-screen (and in the works, too).
When speaking of the ways in which her self-care habits and wellness routines have evolved, she finds a silver lining: "The last couple years, I feel like everyone has taken better care of themselves." (Herself included.) What's more, the longtime Neutrogena stan (turned Neutrogena partner) is much more indulgent with her skin care regime than before, making sure to use SPF and taking the time to pair her favorite Hydro Boost+ Serum and caffeine-filled eye cream with a de-puffing ice roller.
Ahead, Stalter chats exclusively with Bustle about her earliest beauty memory, what her skin care routine looks like now, and the best advice she's ever received.
On Her Comical Skin Care Start
"I hope this isn't TMI — but I have a weird first memory. The first day that I got my period when I was 12 or 13 maybe, my mom figured that would be the day to take me out and get me skin care stuff and makeup. It felt like such an intense day — the way she wanted me to suddenly wear lipstick and wash my face. I don't remember the products, but it's because she bought me all of the products."
On The Need For A Hydrating Routine
"I feel like I'm so busy that having a simple skin care routine is important to me — which is why I really do love [Neutrogena's] Hydro Boost+ line. I've always loved the face masks, serum, and everything — and it makes it really easy. There's the Overnight Face Peel that I use once a week. That's also what I'm looking for in a product because my skin's very dry, so it leaves me glowy and not-so-dry. It's been really life-changing for me."
On The Beauty Fails She Regrets
"In high school, I remember not being able to leave the house unless my hair was straight. I wear my hair natural almost every day now — I mean, of course I straighten it and do all the stuff to it for events and when I go out — but I guess the fail is how damaging to my hair that was, and I definitely wasn't using a heat protector. I also would do eyeliner all around my eye. That was probably not my best trend."
On Her Wellness Routine
"I'm a God girl, so I like to pray and write in my diary. I get very anxious, and I think writing it all out is really helpful for anxiety and self-care. It's a cure for me. I'm really bad at keeping my diaries — I'll lose them — but I would love to have had mine from my twenties to read again. I like to light some incense and listen to music. It's really hard to find time to relax, but if you can find a little bit before bed then it really changes your next morning."
On Just Not Giving A F*ck
"One of the best things I've ever heard, or advice in general, is just like, 'Oh, f*ck what anyone else thinks.' That's so good when it comes to beauty too, because I want to dress and look how I want to, and I'm not ever — at least anymore — dressing for someone else. There's so much pressure, especially in this industry, and the more exciting thing for me is to look how I want to look. It doesn't matter what anyone else thinks of you. We're all different for a reason."
Shop Meg Stalter's Skin Care Essentials
We may receive a portion of sales if you purchase a product through a link in this article.