Meghan Trainor's Go-To Thickening Spray Is "Like Medicine For Your Hair"
The star chats with Bustle.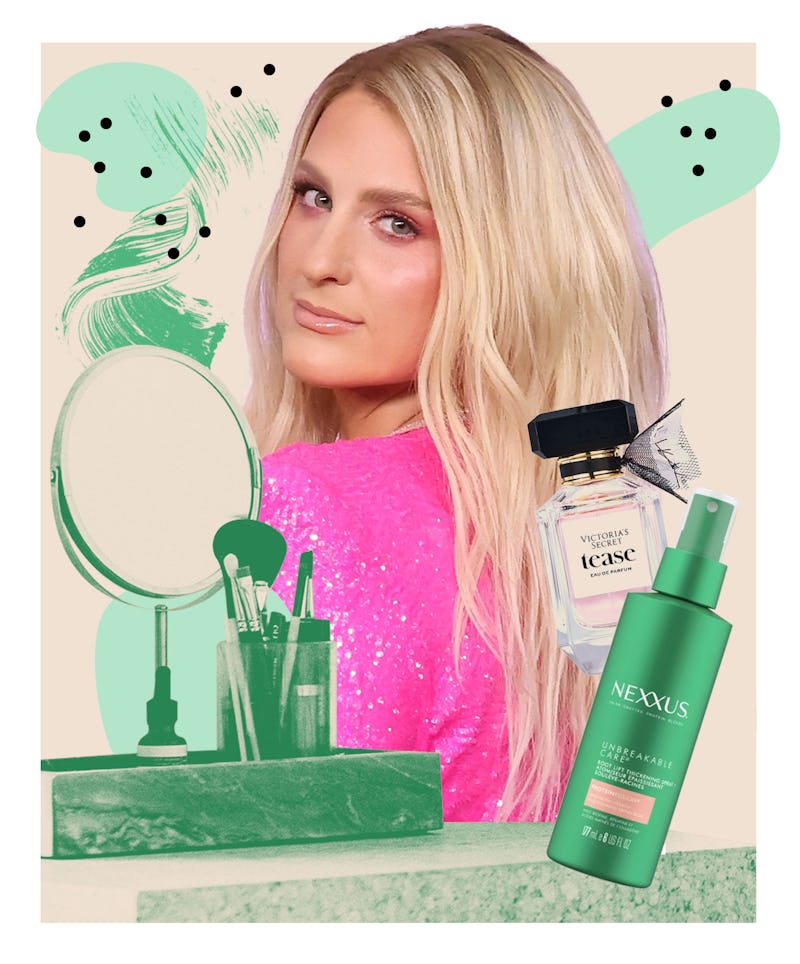 Beauty Detail
We may receive a portion of sales if you purchase a product through a link in this article.
In Bustle's Beauty Detail, we dive into the beauty bags of our favorite talents for intel on the rituals that keep them glowing. Here, Meghan Trainor tells Bustle all about her pregnancy, experience on TikTok, and favorite beauty products.
Tucked away in a brightly lit penthouse, I find Meghan Trainor sitting cross-legged and rubbing her seven month-pregnant belly, with the glistening Manhattan skyline as her backdrop. Immediately, the voice that so many people have fallen in love with through songs like the viral Made You Look — and a bit more intimately by way of TikTok — is just as welcoming in-person.
First, we chat about her growing family and what "me time" looks like these days. "It's actually great," she tells me. "When I didn't have responsibility like that, I would sleep until noon and it was more chaotic. But now, [my son is] on such a routine that our life is scheduled out." Most of her evenings with husband Daryl Sabara actually sound a lot like everyone else's. "At seven thirty, it's a wrap and he's asleep, and we run to shower, get in bed, and have date night every single night," Trainor says. "We get to watch our favorite show, which is Beef right now."
Given that she lives and works with her family members every day — she candidly tells me that her TikToks are "all real" — Trainor prioritizes a life where her passions and family time melt into one. "I'm almost 30, I'm a momma of two, and I feel 16," she says. "I'm dancing on an app and it's the most fun I've ever had. It's not work for me. It's just a fun place where I can be myself. I love it."
She says she is first, and always, a mother and a wife. Her other pop star duties have to fit within that.