This Celeb-Loved Hair Tool Line Is *Finally* Available At CVS
Mermaid waves courtesy of your local drugstore.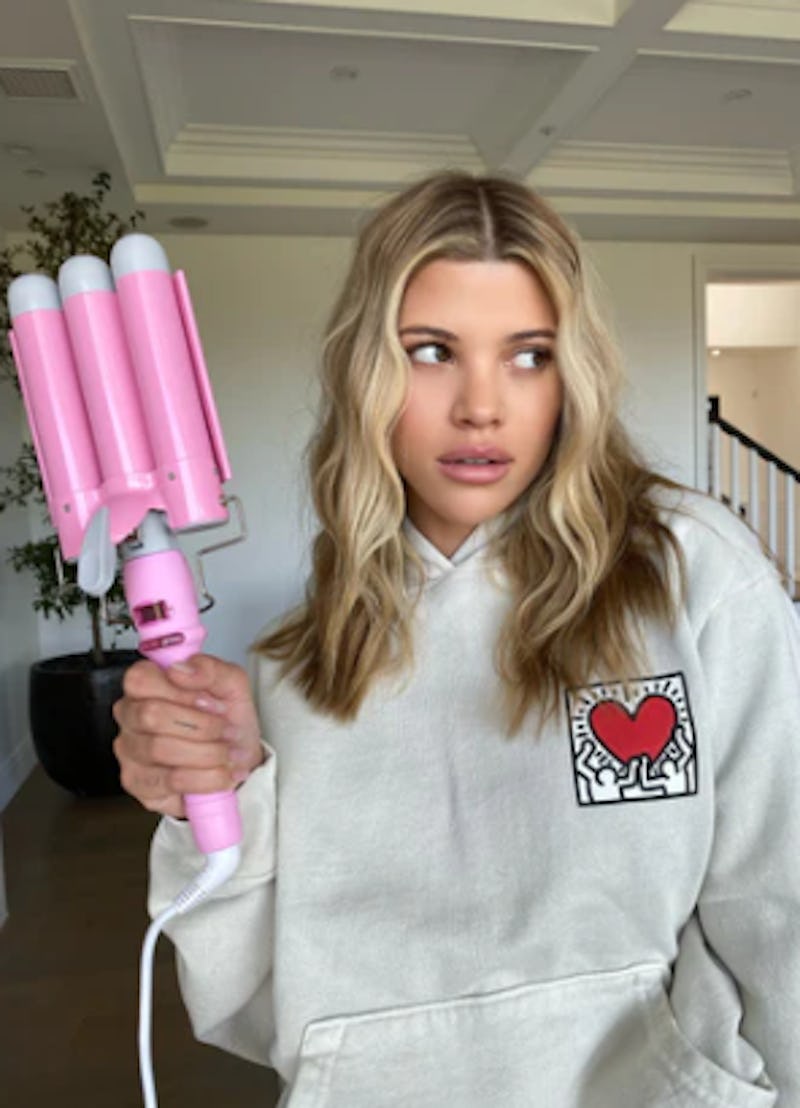 Mermade Hair
We may receive a portion of sales if you purchase a product through a link in this article.
Between all of the fuss over Barbie with her perfect blowout and the revival of The Little Mermaid and her effortless beachy waves, there's never been a better time to up your hair game. And at a very opportune moment, Aussie brand Mermade Hair has catapulted into fan-favorite status with its line of best-selling hot styling tools. In particular, the Mermade Hair Waver has received praise from professional hairstylists like Chris Appleton, celebrities like Sofia Richie-Grainge and Hailey Bieber, and TikTok (the ultimate authority on viral beauty trends). Whether you want to achieve voluminous waves, hair that's impossibly sleek and smooth, or a classic blowout, Mermade Hair carries a range of tools to get the job done, and they've expanded into hair care and accessories, too. Designed to complement the brand's styling tools, the latest launches include daily essentials like shampoo, heat protectant spray, and brushes and clips.
Mermade Hair was previously only available in department stores like Harrods and beauty retailers like Sephora, but it recently made its drugstore debut in CVS' BeautyIRL concept shops, making the brand easier to access than ever before. Ahead, learn more about the brand's OG secret for effortless waves, as well as some of the other best-selling products you'll want to pick up on your next drugstore run.
The Brand's Must-Have Product
Mermade Pro Hair Waver
The Mermade Pro Hair Waver is the styling tool that started it all for the brand, and it's still the one that's the most talked about on social media. Sofia Richie-Grainge has posted about using the 1.25-inch styling tool, and hairstylists like Danielle Priano and Chris Appleton have been spotted using it to give Hailey Bieber and Kim Kardashian mermaid waves. Perfect for beginners and curling pros alike, the triple-barrel waver makes achieving tousled waves as easy as clamping the tool through your hair section by section. Mermade Hair notes that the larger design lets you curl your hair faster than the average tool, and the waver helps to reduce unwanted frizz and add shine because it uses ionic ceramic barrels.
The Pro Hair Waver can be used by all hair types (but if your hair is curly, you will need to blow it out straight first), and it's available in 1-inch and 0.9-inch sizes if you prefer smaller, more defined waves. Additionally, the waver allows you to choose from multiple heat settings when you're styling so that you can better maintain the health of your hair, and it includes features like auto-off, universal voltage, a heat-resistant handle, and an 8-foot swivel cord.
Other Best-Sellers To Try
Once you've got the mermaid waves mastered, consider trying one of the other best-selling products from the brand:
Mermade Hair Barbie Blowout Kit
If a polished blowout is more your speed, the Mermade Hair Barbie Blowout Kit will be your new go-to. The limited-edition collaboration pairs the brand's signature Blow Dry Brush in a custom pink zebra print, with a matching head scarf, 50 silver and pink hair gems, and six pink no-crease clips to help style and accessorize your hair — all for less than $100. The styling tool is the hero product here, and in case you're not familiar, it can best be described as part hair dryer and part round brush. Designed to be used on wet hair of all types and lengths, the Blow Dry Brush works to both dry and style hair at once, using flexible nylon bristles to smooth through hair and ionic technology to reduce unwanted frizz and amp up the shine. The oval shape creates body and gives your hair a soft wave, and the brush also lets you choose from two heat settings.
Of course, the accessories are what take the kit to the next level, and they can be completely customized to suit whatever Barbie-inspired look you're going for. Use the clips to help section off and hold back your hair as you're styling your hair and working on your makeup. Then, finish up with the accessory of your choice. The head scarf can be tied in a variety of ways, and the gems can be placed throughout sleek hair or waves for a Y2K-worthy finish.
Mermade No-Crease Clips
Clips like these Mermade No-Crease Clips are a staple in professional hairstylist kits for helping to section hair while styling, without leaving behind indents. This set of six clips is made with cellulose acetate and includes three translucent and three glitter-infused pink clips that you can use to keep your hair sectioned off as you work, or even to keep hair out of your face while applying your makeup.
Mermade Mist
Prepping your hair with a heat protectant is a vital first step whenever you're reaching for a hot styling tool. Mermade Mist was designed to keep your hair protected against heat, but it also helps enhance your styling results thanks to a film-forming ingredient that encourages curls and waves to last longer. The brand's MeraGuard Complex is behind its efficacy, which uses a blend of 17 amino acids, tara tree fruit extract, and sunflower sprout extract to shield your hair from the damaging effects of heat exposure while also smoothing away unwanted frizz and adding shine. The cruelty-free and vegan mist can be spritzed through hair that's dry or damp prior to styling (working in sections and brushing through will ensure your hair is properly protected), and it can be used by all hair types (it's even safe to use on hair extensions).
Mermade Heatless Curls Kit
When you want to give your hair a break from heat styling without having to actually give up on the curls, there's Mermade's Heatless Curls Kit. Complete with everything you need to achieve waves while you sleep, the kit includes a soft cotton rod that's covered with 100% mulberry silk to wrap your hair around, two mulberry silk scrunchies to secure each side of your hair, and a claw clip to keep the rod in place at the top of your hair. If you're new to heatless curls, there's definitely a bit of trial-and-error involved, but you'll always want to work with hair that's still damp, yet nearly dry, to ensure that your hair completely dries when it's wrapped around the curling rod overnight. Because it's filled with soft cotton and uses mulberry silk on the outside, the rod is lightweight and comfortable to sleep in.
This article was originally published on