Lottie London's Artist In Residence Is Kim Truong, Kim & Kourtney K's Go-To
The celebrity nail tech speaks exclusively to Bustle.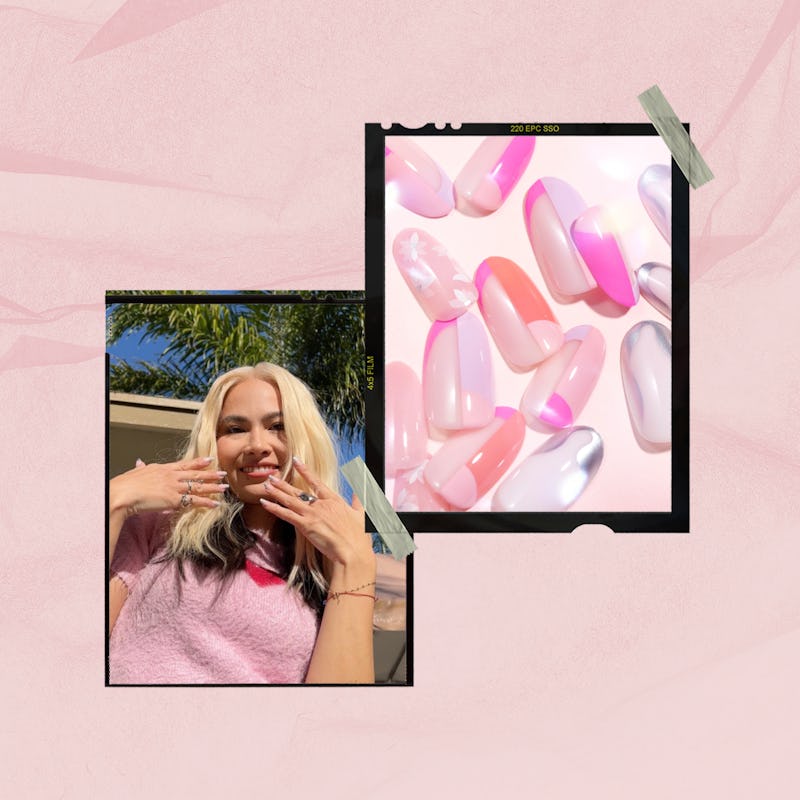 Lottie London
We may receive a portion of sales if you purchase a product through a link in this article.
Celebrity nail technician Kim Truong — better known as @kimkimnails to her 207,000 Instagram followers — has worked with quite an impressive list of Hollywood powerhouses like Kourtney and Kim Kardashian, Kerry Washington, Dua Lipa, and Anya Taylor-Joy (to name just a few). Truong's new collaboration is a bit different: beauty brand Lottie London has recently named her as its latest artist in residence, and her first order of business was curating three sets of press-on inspired by different parts of her life and career.
First there's the soft floral Glazed and Unfazed set, inspired by a set of nails that Truong created to match Kerry Washington's Elie Saab gown at the 2022 Emmys. "For the nail look, I started by layering a white chrome finish on top of an off-white color," she tells Bustle. "This glazed effect mimicked the sheen of the gown's satin material. Then I delicately painted a floral design matching the appliqués, layering the petals to create a 3D effect."
Truong's inspo for the Groovy Chrome design came from a set she created for Kourtney Kardashian Barker, just as the Poosh mogul was slowly venturing into nail art. "This was one of the first times we played with metallics," she says. "The silver chrome effect elevates the mani, making it look creative whilst still being chic and practical."
The Colour Block Party set is an ode to the nail expert's love of color, her favorite season (spring), and French tips. The result is a pastel color block design that is Truong's modernized take on a classic.
The Lottie London x KimKim Nails Stay Press'd Press-On Nail Collection
Whether you're a nail art newbie or a regular at the salon, Truong's manicure tips are true gems. Read on for her genius tips on applying press-ons, DIYing 2023's hottest nail art trends, and more.
How To Apply Press-On Nails Like A Pro
Start With Dry Nails For A Longer-Lasting Mani
According to Truong, the key to press-on manicures that last is proper preparation. "You need to ensure your nails are dehydrated and free of oil or contaminants," she tells Bustle. "If you're someone who likes to soak your nails for a wet manicure, allow your nails to dehydrate by waiting an hour or two before you apply press-ons or paint your nails. This is because when you soak your nails, they absorb water and this can cause the nail beds to expand. If you immediately paint your nails after soaking, the nails will contract back to their shape and may lead to chipping. Doing a dry manicure can ensure your manicures and press-ons last longer."
Remove Excess Oil From Your Nail Beds
The nail guru recommends another step after you make sure your tips are moisture-free. "Using a lint-free wipe saturated with rubbing alcohol to remove any excess oils on your nail bed will help to prolong your manicure and ensure the effectiveness of the glue," she explains.
Try The "Double-Glue" Technique
"Depending on how long you want to wear the nails, you can opt to use nail glue or adhesive pads," says Truong. "If you like to switch up your press-ons every couple of days or just want to wear them for one night, adhesive tabs are perfect for easy and fast removal."
If your goal is longevity, she advises the following method: "Double-glue your nails by placing a thin layer of glue to your nail as well as a drop in the well of the press on tip avoiding the free edge. When you apply the press-on to the nail, the glue will be drawn to each other, creating a bond. This helps to eliminate any air pockets as well."
Truong's Top 5 Nail Art Trends For 2023
Metallics
"Metallics are going to be big this year. In line with the glazed donut finishes we've seen, metallic is the natural next step. More intense than a glaze, it can be achieved in bright colors which will be perfect for the summer. Picture a pastel metallic for your holiday."
3D Manicures
"The most classic embellishments are pearls, rhinestones, and studs, however I expect to see us getting more creative with molding gels. It is referred to as boba gel — a thick, almost solid gel that could be molded to create 3D shapes. We are seeing more people experiment with their nail art [and] stepping outside of what is naturally 'pretty.'"
Shades Of Neon
"For festival season, I'm expecting to see colorful and neon shades, bringing the party to the manicure. Neon greens and yellows are classics that give you the brightest effect. A trick to making your neon polish really pop is to apply white underneath."
Natural Jelly
"This has been referred to as the 'lip gloss' mani, which is a sheer nail with a flush of color and a super glossy top coat. This is perfect for those who like more of a natural manicure as the finish is more subtle and looks stunning in silky, pink nudes.
To create your own jelly colors at home, mix your chosen color with clear nail polish to create a sheer wash of color. To take the trend to the next level, stained glass nail art is perfect with transparent jelly colors. To create this look, place contrasting jelly shades in shapes resembling a mosaic. Outline where the colors meet with a thin black outline, and you have a work of art on your fingertips."
Seashell & Oyster-Inspired Nails
"Seashell nails are an inspiration from beach vacations. They are inspired by what the inside of a shell or oyster looks like. The pearlescent effect elevates a traditional manicure.
The secret to the shell finish is to apply a matte top coat on top of a silver chrome polish. As people love the glazed finish, this look is the next innovation. To really stand out, place 3D gel before applying the color for an abstract texture. You can also try the trend with a different metallic chrome effect."