5 Affordable Nail Polishes That Are Actually GOOD For Your Nails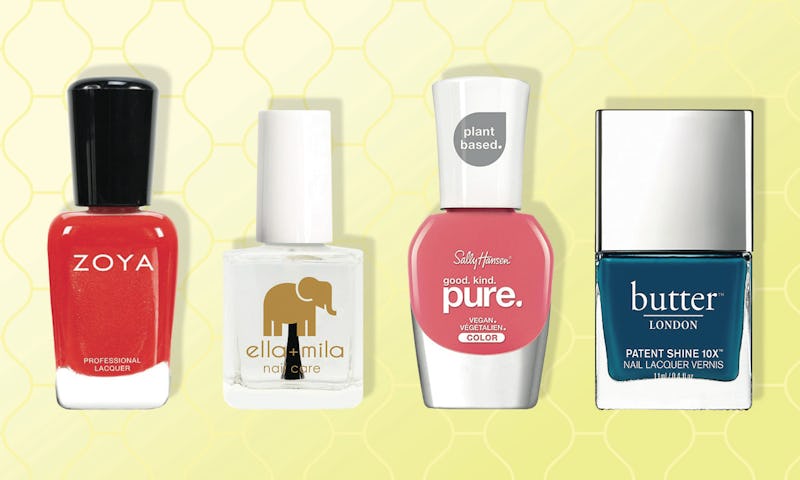 Bustle/Amazon
Nail polish isn't strictly bad for your nails — actually, there are some benefits to wearing polish, other than the aesthetic. "Nail polish prevents water from being absorbed and therefore can be protective," Dr. Dana Stern, a board-certified dermatologist who specializes in nail care, tells Bustle. "It also binds the nail cells together, so nails are less likely to fray and split." So when we talk about nail polish that's good for your nails, we really mean nail polish that's free of toxic ingredients.
In particular, Dr. Stern warns against 10 major toxins that are commonly found in nail polish: acetone, formaldehyde, phthalates (including dibutyl phthalate, DEHP, and DEP), toluene, formaldehyde resin, camphor, triphenyl phosphate (TPHP), xylene, ethyl tosylamide, and parabens. Along with potentially compromising the health of your nails over time, these ingredients may be allergens, immune or endocrine system disruptors, carcinogens, or environmental pollutants. Altogether, nail polishes that don't contain these additives are marketed as "10-free," though you'll also find formulas that are anywhere from three- to even 16-free.
There are a few ways to keep your nails healthy beyond wearing a better polish, too. Even if you're opting for a non-toxic nail polish, Dr. Stern advises taking a break from manicures if your nails are showing signs of weakness, which include dehydrated cuticles, discoloration, ridges, splits, peeling, or rough, white patches.
Use the opportunity between manicures to condition your nails, too. Consistently moisturizing nails and cuticles helps them maintain their vitality over the long-term; and in the short-term, that smooth canvas will make your nail polish look better and last longer. Another word of warning: Most nail-strengthening treatments contain formaldehyde — definitely not good. Instead, Dr. Stern trusts botanical oils rich in phospholipids, like sunflower oil, apricot oil, and mastic oil, for improving nail strength and preventing damage.
With that in mind, scroll on to shop five of the best non-toxic nail polishes on the market right now — each of which is free of at least seven of those major toxins.
We only recommend products we love and that we think you will, too. We may receive a portion of sales from products purchased from this article, which was written by our Commerce team.