The 16 Cheekiest No-Pants Looks That Made Fashion History
The pantsless phenomenon is decades-long.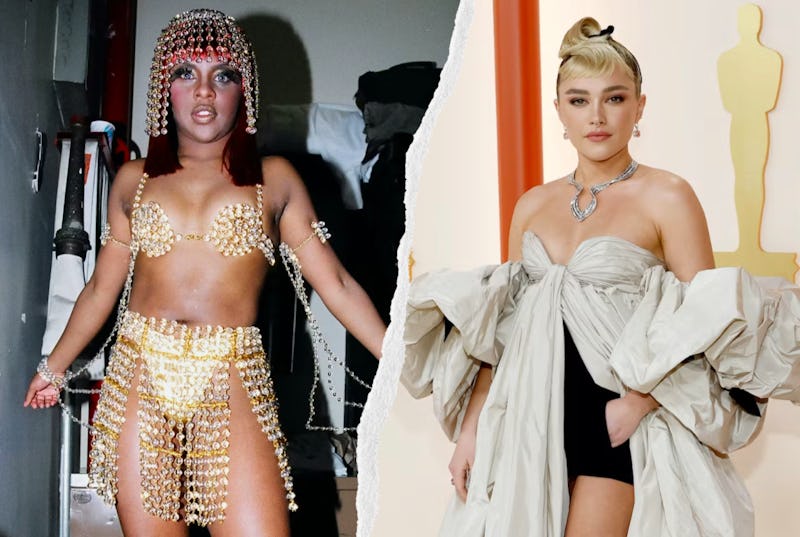 Jeff Kravitz/FilmMagic, Inc/Getty Images/Mike CoppolaMike Coppola/Getty Images Entertainment
In the past year or so, seemingly everyone has sported some version of the no-pants look, including, but not limited to: Florence Pugh, Jennifer Lopez, and Taylor Swift.
The Kardashians and Jenners are also big proponents of the bottom-less vibe — particularly Kim Kardashian, and Kylie and Kendall Jenner, who can be partially credited for the trend's fervent takeoff in 2023.
That being said, the bold trend isn't new, by any means. The underwear-as-pants look may admittedly be much cheekier now — the booty-baring thong is back, after all — but it's always been a go-to for the fashion-forward. Back in the 1970s, 'hot pants,' AKA teeny tiny shorts, were all the rage — and the original take on today's Jenner-approved aesthetic.
As the '80s rolled in, the likes of Olivia Newton-John (and her hit single "Physical"), Jane Fonda (and her workout videos), and Jamie Lee Curtis (in Footloose), all gave way to a new pantsless look: the high tanga, cheeky leotard — worn with very little else.
Ahead let's look back on those and more no-pants looks (read: Lady Gaga, Katy Perry, and more). Ahead, the cheekiest moments in fashion history.