Olivia Rodrigo Rocked "GUTS" Rings On The MTV VMAs Red Carpet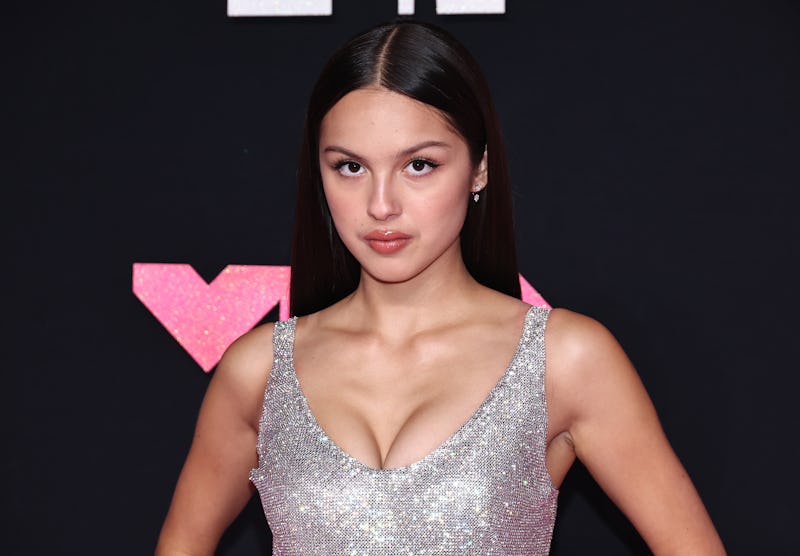 Jamie McCarthy/WireImage/Getty Images
Falling only days after the release of her new album (which, BTW, is already a hit), all eyes were on Olivia Rodrigo at the 2023 MTV Video Music Awards. Even if she hadn't just dropped what's sure to be the year's biggest album, Rodrigo still would have claimed all the attention thanks to her dress alone.
The "Vampire" singer stepped out on the pink carpet wearing a silver gown that looked like it was made of crystal chainmail. According to her stylist Danielle Goldberg, the Ludovic de Saint Sernin number was crafted with more than 150,000 Swarovski crystals.
With a plunging, scoop neckline and an even more revealing back, the look — both elegant and eye-catching — was the perfect choice for the occasion. Tailored to perfection, the column-style gown just barely grazed the pink carpet below her feet — a rare yet impressive feat in the fashion world.
Much like her music, Rodrigo added a touch of her signature punk aesthetic to her outfit in the form of chunky jewelry that sneakily shouted out her album GUTS. Keen-eyed fans would clock that on one hand, the HSMTMTS star rocked a ring on each finger spelling out the title of her sophomore album.
Gilbert Flores/Variety/Getty Images
Doug Peters - PA Images/PA Images/Getty Images
Gilbert Flores/Variety/Getty Images
Jason Kempin/Getty Images Entertainment/Getty Images
Here's a close-up of her silver jewelry.
That ring-embellished hand will soon be clutching a Moon Person — you can count on that.
This article was originally published on