Patricia Field Once Fired An Employee For Being Rude To Beyoncé
"He was outta there," says the 81-year-old New Yorker and visionary stylist. "To have this jerk be rude to them showed how stupid he was."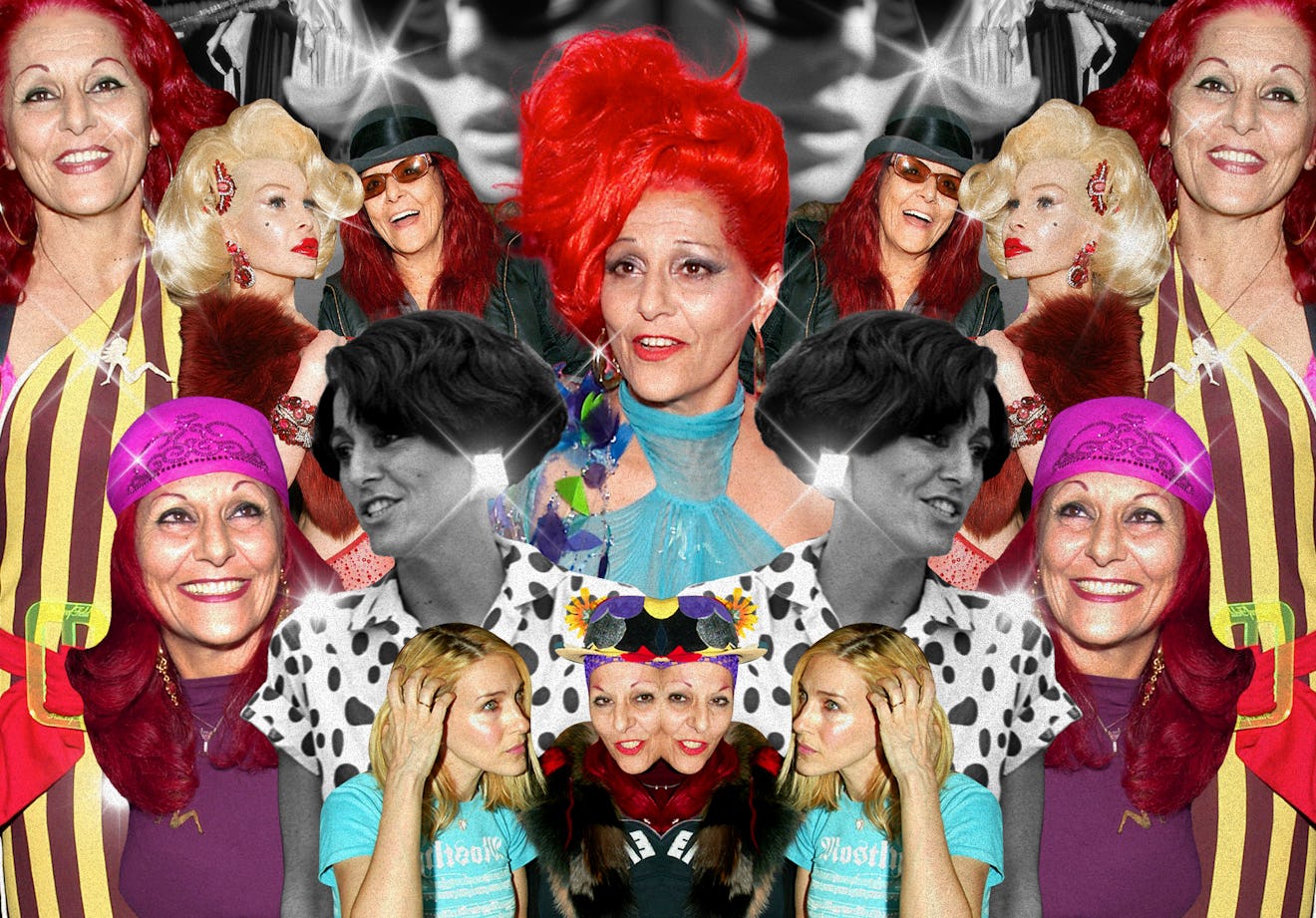 In 1970, 28-year-old Pat Field was about to make a name for herself. The daughter of a dry cleaner and a tailor, she opened a tiny boutique called Pants Pub. It was so successful that by '71 she decided to move into larger digs at 10 E. 8th St. Her then-partner in life and business, JoAnn Salvucci, convinced her to name the new store Patricia Field, and the rest is — quite literally — fashion history.
Patricia Field, the shop and the woman, was a sensation: a short walk from Christopher Street where, a few summers earlier, police had raided the Stonewall Inn, the store was a safe haven for drag queens and disco divas. (Until 1980, homosexuality was considered a criminal offense in New York State.)
"After the '70s, the culture really did open up," Field tells Bustle. "My shop — especially when we moved to 8th Street — was very joyful. It was fun. A showplace. Characters, yes. But mainly artistic people — makeup artists, designers. I probably just took it for granted, because that was my life. But it was quite a time."
In the '80s and '90s, club kids flocked to Field for her high-low mix of merch: graffiti-splattered bucket hats, studded belts, Sandy-from-Grease leggings, corsets. Amanda Lepore ran the makeup counter. Keith Haring painted her front picture window. Jean-Michel Basquiat drew with magic markers on white synthetic jumpsuits, which Field sold for $25 a pop.
"When it came to my staff, I was basically looking for creative people," says Field, author of the new memoir, Pat in the City: My Life of Fashion, Style, and Breaking All the Rules. "If somebody impressed me with the way they put themselves together, I hired them. If you could do it to yourself, you could do it to a client. That was very important to me — that each of my staff had an individual look."
The same standard applied to her customers. Though Lenny Kravitz, Cyndi Lauper, and Patti Smith made the cut, if you dared to descend her entryway staircase looking uncool, her crew might "read you to filth," as they did a young Marc Jacobs wearing "mom jeans." "But I wanted everyone to feel included," says Field.
By Y2K, she had evolved from underground icon to household name, thanks to Sarah Jessica Parker, who — unhappy with the styling on the Sex and the City pilot — requested Field as costume designer. "She was definitely my fashion soulmate," Field says of SJP.
When she was tapped to Anna Wintour-ize Meryl Streep for The Devil Wears Prada, Field was 65 — the age at which many Americans retire. What did that teach her about aging? "It's the same thing I say about choosing clothes," she says. "Don't look around and listen to everybody. Do what your heart tells you to do. Understand that you are an individual. Stake your claim."
Below, Field reminisces about it all: the clubs she'd hit after Studio 54, Madonna before she was Madonna, what happens when you're rude to Beyoncé, and why it took her 81 years to call herself an artist.
Your stores defined fashion in every decade — the '70s, '80s, and '90s. And with your costume design career, you really created culture.
Well, I'm glad I did. I didn't do it with the intention, 'I'm gonna create culture.' I just did what came naturally to me.
Here's a partial list of the trends you launched: black leggings, stacked rubber bracelets, corsets. Were you responsible for Madonna's whole look in the '80s?
Well, she took her cues, Madonna. I've heard so many stories about her in the store that I kind of don't remember — maybe I wasn't there. You know, Madonna is Madonna. I remember Madonna before she became Madonna. She used to work as the elevator operator in a club called Danceteria.
Tell me about Studio 54.
You'd walk in to Studio 54, and you'd immediately start dancing. That was that disco mood. Studio 54 was the it club to go to. All the hobnobby people went there. The girls' lounge, the bathroom, it was a place to hang.
But Paradise Garage — that one was after hours, and it went all night. One snowy night, there were fans going, and the DJ, Larry Levan, had opened up the big windows, and the snow was coming in. It was gorgeous. It was just an experience I'll never forget.
In your memoir, you write about the homophobia back in those days. Even someone who was supposedly liberal like JFK Jr. — when he came into your store, he actually was not.
No, he was not. He was this little rich snob.
Your store's culture could be tough. If your staff didn't approve of a customer's look, they'd let them know. When a pre-fame Beyoncé came in, you said a staffer was rude to her! So you had to look cool to shop there?
Yeah, but I have to say, Beyoncé and the girls were cool. They used to come in for the wigs. It was just somebody new I had hired. And sure enough, Beyoncé and the girls came in with her mom, and he was, like, giving them attitude. The only reason I knew is I read about it in some magazine.
Anyway, I knew they were down in the New Jersey [Performing] Arts Center. So I got in my car and I went down there personally to apologize for that jerk's rudeness. He was outta there. I was honored that Beyoncé and the girls were customers! It was exciting for me. I valued it. And to have this jerk be rude to them showed how stupid he was.
On SATC, when you and Sarah Jessica Parker decided Carrie would never wear pantyhose, did you realize women would later thank you for that?
I didn't think about it. But luckily for me, Sarah Jessica was ballet-trained and she could fly down the street in a pair of spikes, and it didn't faze her whatsoever. She looked great on camera because she's graceful. I have to tell you, Sarah Jessica is very, very strong in her fashion mentality. She gets it. It was a great relationship, professionally.
You did The Devil Wears Prada at 65. At an age when most people slow down, your career exploded.
I always wanted to dress Meryl Streep because I love her as an actor. The white hair was her idea. And I was able to put her into a more sophisticated look. When I finished Devil Wears Prada, I looked at it and I said, 'OK, it looks alright.' I had even forgotten that I got an Academy Award nomination for it. Not that I'm not thankful, but you do what you do and you don't sit there thinking how great you are.
In the book, you grapple with whether or not to call yourself an artist. Why is that a label you're reluctant to wear?
It's not that I don't want to wear it. I just never saw myself that way. I saw myself as a business person, taking after my mom. It's not positive for a person to think that they're superior. Talented is good. That's healthy. But not to a point like John F. Kennedy Jr. — in my store, being rude and thinking who he was.
Everyone is buzzing about your costume design work on Emily in Paris. Anything you touch just lights people up.
Well, that's wonderful. Thank you for saying that. I just do what I know how to do, and that's about it. I take a look at something, it makes me happy, that's the first step.
This interview has been edited and condensed for clarity.