I Tried Peace Out Skincare's Acne Day Dots Under Makeup & I'm Impressed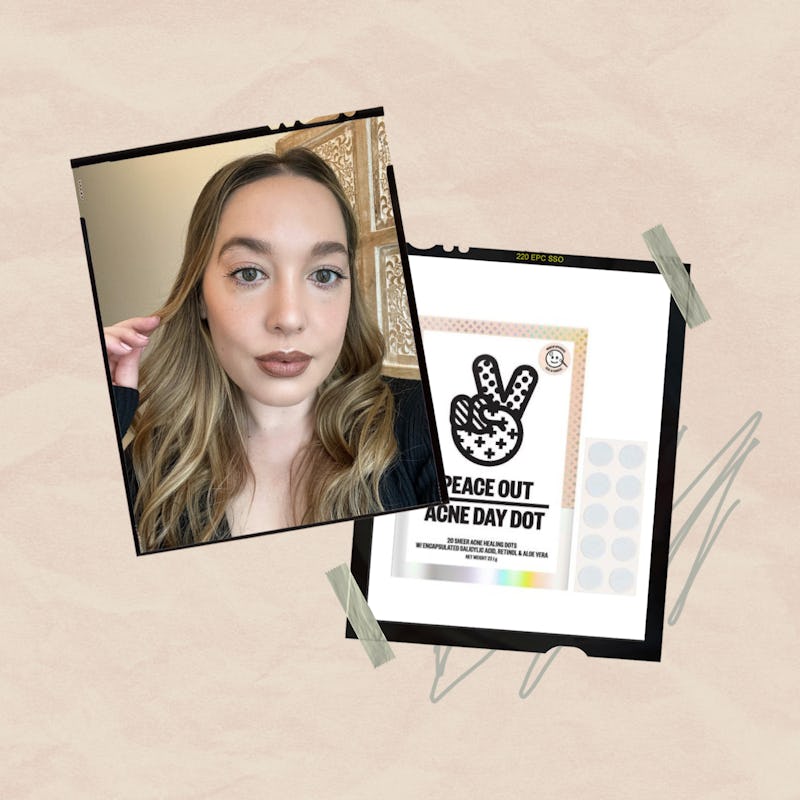 Olivia Rose Rushing
We may receive a portion of sales if you purchase a product through a link in this article.
There is nothing quite as inconvenient as a pesky blemish that pops up out of nowhere on the most *special* of occasions. And while my instinct is to immediately mask it with some high-coverage concealer, it usually only makes matters worse, extending the life of that spot for much longer than it would be if it just had the opportunity to breathe and heal.
As most beauty lovers know, there have been countless zit-zappers to hit the market — from drying lotions and post-picking sprays, to even the (definitely not safe, according to derms) use of ultra-drying toothpaste on blemishes. In recent years, however, healing pimple patches applied directly to the blemish have become a major go-to, many of which are sparkly and star-shaped to encourage embracing how normal it is to have acne.
Some days, however, it's okay to not want to embrace blemishes with eye-catching stickers — which is where Peace Out's Acne Day Dots come in, as they are created to become virtually invisible on bare skin. What's more, the new launch is made to work well with makeup, seamlessly layering beneath your fave foundations while actively diminishing the spot. Count me in.
Fast Facts
Price: $19 (for 20 dots)
Best For: Effortlessly masking blemishes, while working to banish them at the same time.
Rating: 4/5
What I Love: My blemish completely healed after a day or two of wear (especially when tag-teamed with the nighttime dots).
What I Don't Love: After a full day of wear with medium to full coverage foundation, the edges do gather product and become more slightly visible.
The Peace Out Acne Day Dots
Created to adhere to skin completely undetected, Peace Out's new Acne Day Dots are brimming with acne-banishing, skin-loving ingredients. Namely: acne's arch nemesis salicylic acid, toning retinol, and soothing aloe vera leaf extract.
Made to be ultra-thin and almost entirely sheer, the Day Dots not only work to reduce the appearance of blemishes within six hours of wear, but they are compatible for wear underneath makeup.
My Sensitive Skin
While I am grateful to have a relatively blemish-free complexion, I am by no means impervious to the occasional spot. And when it comes to healing and covering any acne I *do* experience, I often find that I don't have a lot of practice dealing with it. In turn, I pick and prod at those pesky zits (which I know is a major no-no), and spot-conceal to the point of looking perhaps a bit too cakey in those areas.
I also have skin that's more on the sensitive end of the spectrum and usually prefer more natural formulations and active organic ingredients that really nourish my skin's barrier. Further, I typically am a minimal skin tint type of girlie from day to day, but I love experimenting and going full glam with more coverage for nights out or special events.
How Peace Out's Day Dots Wear Solo
On makeup-free skin, the Day Dots completely disappear and are entirely unnoticeable (unless you are a couple of inches from the face, that is). After wearing them on a spot I had on my chin, it all but vanished without much of a trace within about two days of wearing the Day Dots by day, and the OG Acne Healing Dots overnight.
Because the Day Dots are so thin, it can be easy to accidentally fold in the edge when lifting it from the sticker sheet. Once you create that tiny fold on the dot, you can't really fix it which makes that area on the patch's rim all the more noticeable to the naked eye. Be mindful of that when lifting up your dot. It doesn't matter while I WFH, but it's a small issue when out in public.
Another note: While my zit happened to be on my chin, I did go ahead and test the Day Dot closer to my mouth where there is a lot more movement when speaking and eating. In that area, the sticker did lift quite a bit as I munched on my breakfast, but was able to be quickly pressed down and secured once I was done eating. Keep that in mind when applying.
How The Peace Out Day Dot Wears Under Makeup
To get the best wear under your makeup, I've tapped Enrico Frezza — Peace Out's founder and CEO — for some advice. He shares: "We suggest applying the dot on fresh, clean skin and then dusting translucent setting powder on your face. To set the dot, mist your face with setting spray, allowing it to sit for 10-15 seconds before applying your moisturizer or primer. We prefer using a brush over a sponge and an oil or water-based makeup formula as it provides seamless coverage and is buildable in case you are looking for a more full-coverage look."
Olivia Rose Rushing
Olivia Rose Rushing
Once my makeup has been applied in this way, the Day Dots really are difficult to detect from afar. However, when up close and personal, the edges of the dots are slightly more noticeable.
For the nights when I want seamless and full-coverage makeup (like, on a special date night or for a wedding, for example), I likely won't be reaching for the Day Dots as heavier formulas cling to the dot's edges after a couple hours. For everyday use under products that are much more lightweight, I will definitely be restocking my stash.
How Do They Compare To Peace Out's OG Nighttime Acne Dots?
Peace Out's original pimple patches are perfect for nighttime wear, so I have been testing them at while I snooze to compare the two — and yes, they are pretty different.
Frezza notes: "We tested countless samples before landing on our final Acne Day Dot product, as we wanted to provide a first-of-its-kind product with a clean formula that lived up to the results of our OG Acne Dots. It's also 61% thinner, making it virtually invisible."
The original dots, in comparison, definitely weren't made to be invisible. But that being said, especially when worn throughout the night, the power of the overnight offering is just as noticeable, if not more effective since you typically wear it for a longer period of time while sleeping.
In other words: They both have a unique purpose in your routine, and when paired together, your pimples have no chance of surviving beyond a day or two.
The Final Verdict
After days of wear-testing the Day Dots on both bare skin and with different foundations layered on top, I think they're an incredible tool to keep in your arsenal. I'll be keeping them in my makeup bag for day to day wear, but will be extra mindful of placing them too close to my mouth or pairing them with heavier base makeup.
For days when you're working from home, rocking bare skin, or keeping your glam super minimal — they are a major win and truly do heal blemishes quickly.