TikTok Is Raving About Primark's Affordable North Face "Dupe"
"Oh my God, I'm obsessed. Absolutely love it."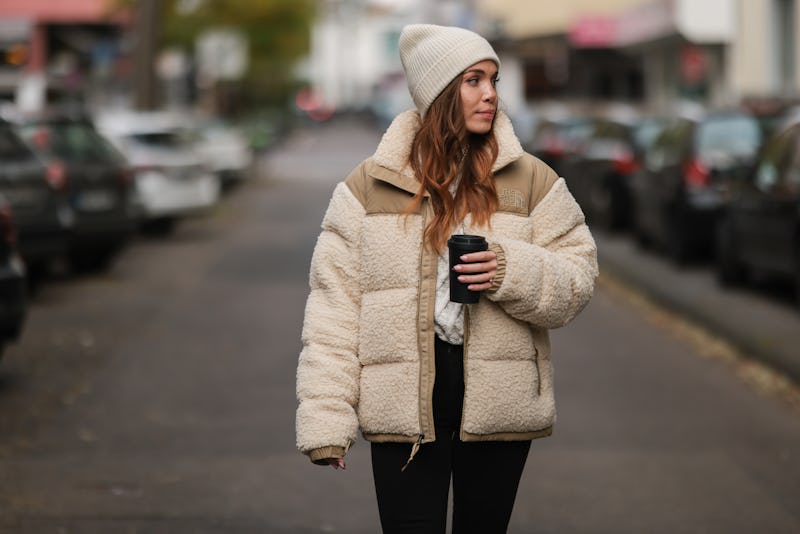 Getty Images/Jeremy Moeller
As the cost of living crisis continues to impact our spending habits, many of us have been forced to cut back on both luxuries and essentials — and with the chilly winter months now well and truly upon us, splurging on an expensive coat or jacket simply isn't an option for those hoping to pinch their pennies. However, thanks to Primark's "perfect dupe" of a £290 North Face jacket, you might not have to spend the big bucks on a winter coat this year.
Yes, a "cosy" £38 alternative to a popular North Face design has caught the attention of high-street shoppers everywhere. The beige and cream garment in question was highlighted by TikTok user Jessica Chelsea, who showed off the "most brilliant North Face jacket dupe" to her 74,000 followers.
After first displaying the equivalent North Face coat to her followers, which would set shoppers back almost £300, Chelsea explains in the clip: "This one [from Primark] is £38, it's insulated. I got it in a large because I wanted it to be super cosy." After trying on the viral jacket, she then gushes: "Oh my God, I'm obsessed. Absolutely love it."
In her TikTok review, Chelsea also reveals that the coat comes complete with a secret hidden hood and internal pockets. "She's waterproof, she's ready for the rain," she continues. "Stop whatever you're doing, run to Primark."
Many fellow TikTokers were quick to express their excitement over the affordable Primark find, with some comparing the "fab" jacket to a "teddy." Meanwhile, another user commented: "Amazing I have it and I'm so warm in it." So, if you do opt for Primark's £38 North Face substitute, you could save yourself up to £252 — and look winter chic while doing so.
This article was originally published on