Puppets & Puppets' Viral Chocolate Chip Cookie Bag Is All Over TikTok
Here's what you need to know.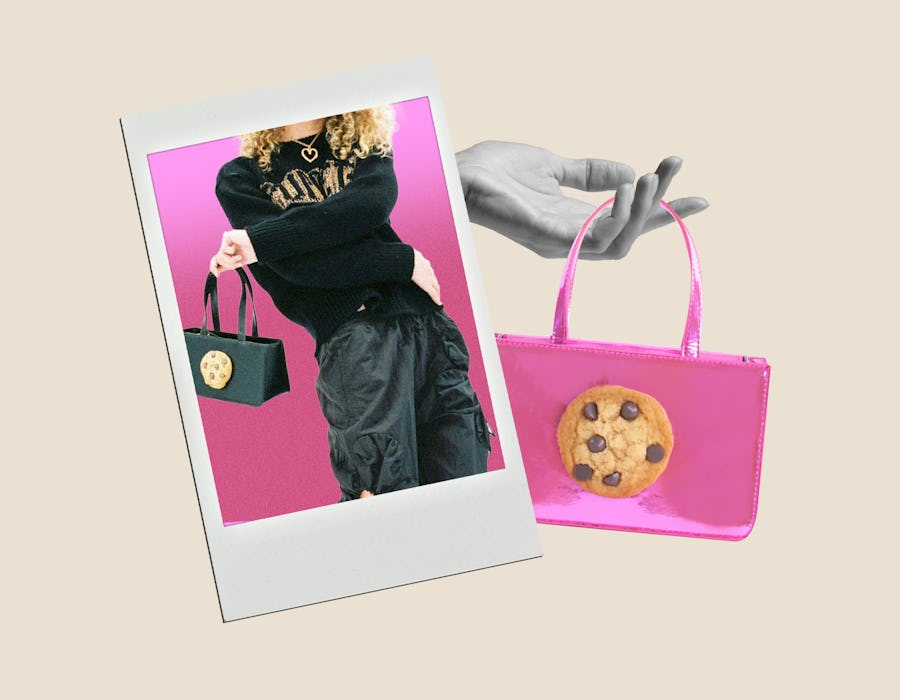 Getty Images
Secure The Bag
We may receive a portion of sales if you purchase a product through a link in this article.
If you're anywhere near whimsical, weird girl aesthetic TikTok, you've likely seen the chocolate chip cookie bag on your FYP. The design — with a hyperreal 3D cookie front and center — even has its own series: "Cookie Takes" New York. Naturally, fans of the buzzy Puppets and Puppets accessory followed suit with their own TikToks, spawning enough vids to make you both retail and dessert-hungry.
The label itself — helmed by designer Carly Mark — has had major success since its 2018 debut, amassing a cult following for its quirky, tongue-in-cheek designs. (Remember the fried egg bra that went viral during New York Fashion Week? Another Puppets and Puppets creation.)
Aptly named the "Cookie," the simple, square handbag comes punctuated with a (resin) chocolate chip cookie attached to the front. It counts stars like Rosalía, Tove Lo, Doja Cat, Ella Emhoff to Julia Fox among its many devotees — a remarkable feat, considering it just launched in the fall of 2021.
"I think fashion wants to be sexy and cool, but fashion also wants to be fun," Mark tells Bustle, theorizing about the kitschy bag's popularity. "It gives a little bit of everything. It's seductive and lighthearted at the same time."
Of the handbag's origins, the Puppets and Puppets founder says: "I originally was thinking of round objects that could be interchanged with a belt buckle. A chocolate chip cookie felt so matter of fact but also obscured the norm in a way that felt strange and fun."
Mark also felt like the rotund snack could serve a sort of calling card — and so it did. "It's round like many brand logos, so I thought, if I place this perfect thing on a black handbag it will feel like a logo but also be incredibly enticing," she continued. "I knew it would do well and I was right."
Since Cookie's launch, Mark has released many more sizes and colorways. She even dropped a black-and-white cookie version, but ultimately, it was the original chocolate chip style that whetted the fashion set's (and TikTok's) appetite. Making its rounds during fashion week, the purse was clutched by some of the most stylish attendees.
Christian Vierig/Getty Images Entertainment/Getty Images
Madison Voelkel/BFA.com
Edward Berthelot/Getty Images Entertainment/Getty Images
Christian Vierig/Getty Images Entertainment/Getty Images
Edward Berthelot/Getty Images Entertainment/Getty Images
Jeremy Moeller/Getty Images Entertainment/Getty Images
If you want to get your own Cookie bag, it's currently shoppable in several iterations: nappa leather (the original black style), as well as kookier alternatives in leopard velvet and or shiny PVC-coated metallics. Some Cookies even come bedazzled with sparkling green jewels instead of chocolate chips.
Prices span from $395 for non-leather options to $545 for the classic black design. You can even branch out to other types of sustenance, say a banana or sunny side up-embellished bag.
And for inquisitive minds, no, it's not made from a real cookie, but resin. So, unfortunately, you can't take a bite when your blood sugar gets dangerously low. Still worth the price, IMO.