Queen Elizabeth's Fashion Transformation Was All About Embracing Color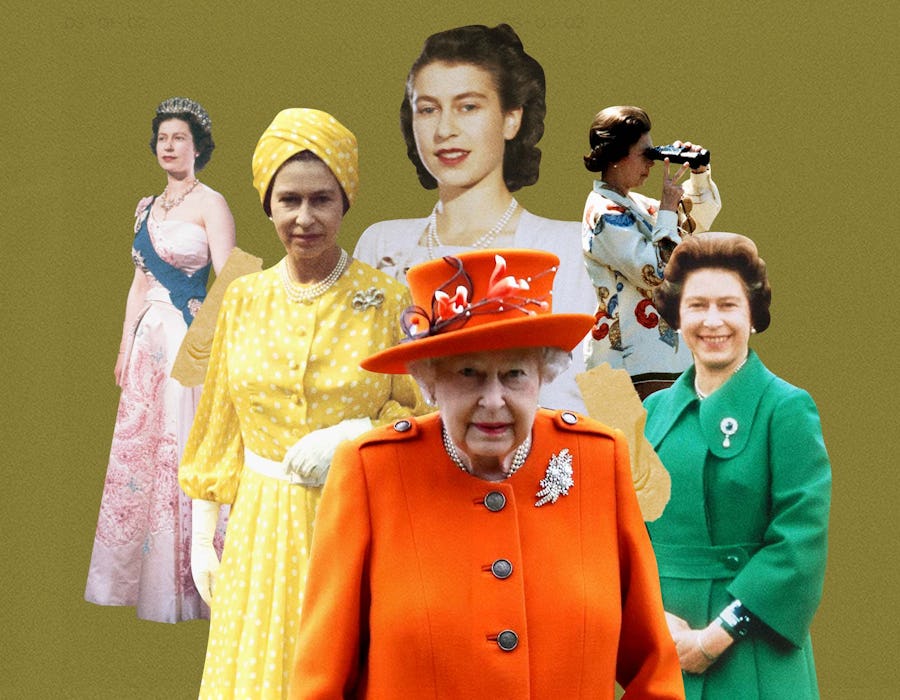 Queen Elizabeth II has passed away at the age of 96. Born into the Royal Family, she held the seat at the head since 1953. That's over 70 years in power, meaning more than seven decades of public events. She was known to stick to the Royal dress code to a T. What that looked like on most occasions was a pair of tights, low-heeled pumps, a mid-length dress, and a matching hat.
Though the Queen sometimes wore prints, it is the solid bold colors for which she was best known. Often matching her dress, coat, and hat, splicing together her looks over even a week's time created a stunning rainbow of outfits.
When it came to jewelry, Queen Elizabeth II kept it simple. She was known for her brooches (many of which contained a hidden meaning or important story), and largely stuck to pearls by day and gems by night when it came to her bracelet, necklace, and earring combination. And of course, for special occasions, the tiaras were everything.
Though she more often opted for long sleeves over off-the-shoulder gowns, lowered her heel height, and incorporated more of her signature hats into her everyday looks, her style over the years remained largely unchanged. In short, the Queen was just as much of a style icon in her most recent years as she was in her youth.
From 1947 to 2022, here are Queen Elizabeth II's best looks, in color.
This article was originally published on