20 Years Ago, Rachel Made Out With Joey On Friends In Her Worst Outfit
A controversial look for a controversial pairing.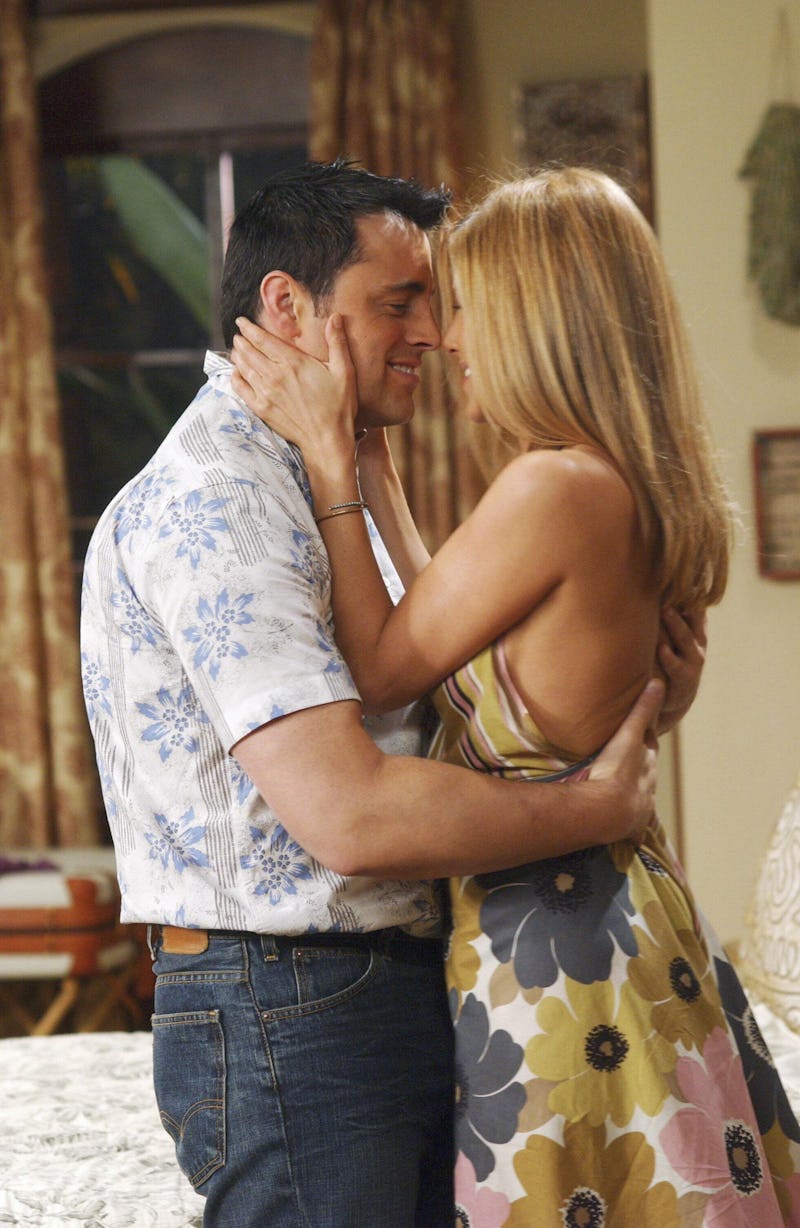 NBC/NBCUniversal/Getty Images
Regardless of your stance on the Ross and Rachel love story (or the infamous "on a break" fiasco), no one else Rachel dated came close to being endgame. Not Mark (sad); not Bruce Willis (also sad); not Russ (thank God). But there was one person who had potential to be the real deal: Joey Tribbiani.
In Season 9 of Friends, Ross Geller (David Schwimmer) and Rachel Green (Jennifer Aniston) were on their nth split-up. At that point, they shared a daughter, Emma, but were not in love. In fact, they're both pining over other people. Ross had feelings for fellow paleontologist and Joey's girlfriend, Charlie, while Rachel had feelings for Joey (Matt LeBlanc). Complicated doesn't even begin to describe it.
Mayhem ensues during the finale, titled "The One in Barbados" — and I'm not just talking about Monica's hair. When the gang heads to the Caribbean islands for Ross' paleontology conference, he and Charlie finally realize they're better suited for each other.
Meanwhile, Rachel confesses her feelings for Joey, but he refrains from making a move out of respect for Ross. When Joey catches Ross kissing Charlie, however, he storms into Rachel's room and finally makes a move. The confusing partner swap was accurately personified in Rachel's heinous halter dress.
Like the mix-and-match love situation, the number included two clashing prints (to represent her clashing romantic interests, perhaps?). The bodice featured vertical stripes and a keyhole cut-out, while the skirt was covered with an oversize floral print in muted yellows, browns, blues, and pink. Like the divisive new pairing, the dress had its critics. (Namely, me.)
As an assistant buyer at Bloomingdale's, the dress was a shocking choice. The momcore aesthetic (which I just made up, but it feels appropriate) was noticeably different from her usual sleek style. Throughout the rest of the show, she reached for on-trend staples, like polished blazers, fitted mini skirts, and saucy blouses — professional, but with a fashion-girl touch.
Rachel was, by definition, the best-dressed character on the show — but not in this episode. Sorry, not sorry.